Now that the second season of this show has come to an end, I have to admit that I am definitely going to miss it. Since I didn't follow the first season, I can't comment on that but as far as this one is concerned, HSY proved to be quite a well-informed host and I can't help praising the fact that this guy does his homework! With each guest, he knew exactly who was he dealing with and the quality of the questions was commendable too. Also, he is friends with almost every other person in the showbiz industry so I guess that did work to his advantage.
I really like the enthusiasm with which HSY introduces his guests- he shares his personal experience relating to the guests, chooses his words very well and keeps the intro brief and catchy.
And yes, I love the music they play behind the entry of the guests.
In terms of hosting, as far as his shortcomings are concerned, like some viewers pointed out, HSY himself has little to contribute to the success or failure of each episode. And I guess in most episodes you'll see that HSY chooses to agree with almost everything his guests have to say.
I'd like to know who was behind the selection of guests because as much as I liked the choice of guests, the pairing didn't quite work for me. I strongly felt that in a few episodes, the guests called together didn't seem to connect to each other at all and since they have this how-well-do-you-know-each-other segment, they should especially make sure that the celebrities they are calling in pairs are familiar with each other.
But on the whole, I would like to applaud the efforts of HSY and the whole team for giving us entertaining yet decent episodes week after week which not only made our Saturdays enjoyable but also gave us a chance to get to know our celebrities even better.
Here's what the recent episodes were all about:
Aamina Sheikh and Mohib Mirza
And another celebrity couple from the industry! The chemistry these two share was evident all through the episode so I thoroughly enjoyed watching it. And the fact that Mohib Mirza has a great sense of humour was definitely a plus :).
Aamina Sheikh spoke about her career- she studied Fine Arts but had always been interested in theatre since her school days. For her family, showbiz was a foreign territory and she was the first person to join this industry. She had been more of a backstage person but when the right opportunities came her way, she decided to make an appearance.
Mohib Mirza was a Commerce student but monetary issues compelled him to do a theatre play called, 'One Way Ticket'. At that time, Aamina Sheikh was also doing a theatre play in English but Mohib's show attracted a greater audience. Even though Aamina and Mohib knew each other through a mutual friend, they were barely even acquaintances. What brought these two together in the true sense, was a show- Mohib was hosting the show under Aamina's direction. That's when the sparks flew, they tied the knot and well, it has been ten years!
Aamina Sheikh flinched at the mention of Operation 021 and was obviously trying to avoid the topic because as surprising as it is, being a part of Operation 021 has not exactly been the best of her experiences. Carefully choosing her words, not taking any names and keeping her tone strictly professional, she explained that there are two directors behind Operation 021 so when the movie finally came to surface, it was not how she pictured it because the director responsible for pulling the whole movie together was not the one she worked with.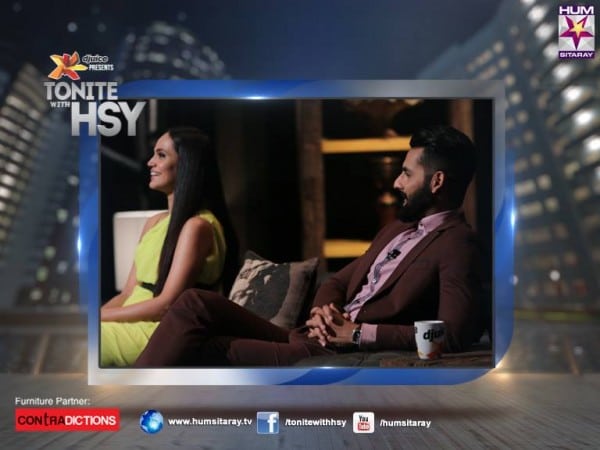 I really liked the discussion on tukka baazi– people these days are becoming a part of the industry with little or no professional knowledge of the field and only a handful of newbies take this field seriously enough to specialize in it. Tukkay pay aya tou jasakta hai magar survive nahe kiya jasakta, I agree with Mohib's views. He explained that earlier on, PTV was the only channel and therefore, there was a great deal of emphasis on quality and content. As a result, only fine and polished, hand-picked artists could make it to the screen. But now, with the overdose of channels, tables have turned and with the pressure to churn out multitudes of plays, it's relatively easier for people to gain access to the small screen so tukka baazi is apparently working!
Aamina likes things organized, neat and tidy whereas Mohib likes things messy and cluttered but the way Aamina puts it, "In mein aur itni khoobiyan hain kay hum nay socha kay paanch saal ki diqqat, mehnat kay baad yeh darguzar kardain."
HSY gave these two one situation: You are sitting on a plane. The plane is about to crash. Out of a choice of three people from the industry, you can save one person, you have to bid farewell to one person and the last one can try saving the plane. For Aamina Sheikh, the names were: Mehwish Hayat, Humaima Malik and Ayesha Khan. Aamina saved Mehwish and bid farewell to Humaima. I have to say that Aamina's comment,"Humaima can work her way around anything'' was witty! Mohib Mirza was given the names of Imran Abbas, Fawad Khan and Ali Zafar. Mohib chose to save Imran Abbas and bid farewell to Fawad Khan. Again, Mohib's comment, "Fawad ko bachanay tou puri dunya khari hojaegi'' had me in bits!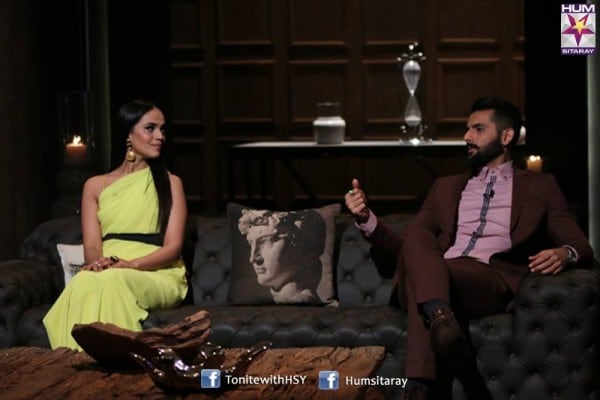 When questioned about their favorite stars, Mohib Mirza named Benedict Cumberbatch and Aamina Sheikh has a high opinion of both Benedict Cumberbatch and Cate Blanchett.
When the favourite co-star question came up, like Mohib Mirza, I was sure that Adeel Hussain is Aamina Sheikh's favourite co-star because they've worked together in so many projects but it turned out that it's Nauman Ijaz. They worked together in Mera Saeein, I guess.
In the Djuice Connect segment, someone asked Aamina Sheikh if she ever wishes to escape the limelight and lead a normal life,to which she responded that she has always wanted everything to be extraordinary- I have never liked the word, 'normal'. Another fan asked them about the secret to a successful marital life and Mohib gave a quick response, "Maximum communication!''
This was one of my favourite episodes of the show and all the rounds were thoroughly entertaining.
Zainab Qayyum (ZQ) and Noor Hassan
I wasn't too thrilled about this episode because I haven't followed ZQ's work and her acting has never been out of the ordinary, and I don't find Noor Hassan impressive at all. Well, like I expected, this episode was bland and boring. I forced myself to recall a project where these two worked together but I was blank. During the show it was revealed that they are working together in a project so let's see!
The first guest to grace the screen was ZQ. ZQ talked about her career- she began working with Vinny i.e. Vaneeza Ahmed, back then she was more like a backstage helping hand but through Vinny, she was introduced to modeling and with the passage of time, opportunities came her way and she established her career as a successful model. ZQ admits that earlier on, her personality required grooming and she used to look up to her prim and poised elder sister- the ZQ today has come a long way. ZQ is a shopaholic and yet, she insists that she is not a fashionista.
ZQ talked about her bad temper and admitted that it's pretty ironic how she doesn't react to matters of grave concern but the pettiest of issues can make her lose her temper.
Speaking about her past relationships, ZQ confessed that she has a lot of regrets and she talked about her marriage which didn't work for her and that's the probably the biggest regret she has ever had.
Then entered Noor Hassan and I don't know if it's just me but he looked kind of sleepy. Well, Noor Hassan confessed that for him, his freedom is everything and the fact that this line of work allows the freedom a 9 to 5 job doesn't is one of the reasons why he is very comfortable with what he is doing. When questioned about their favourite actors, ZQ instantly named Meryl Streep whereas Noor Hassan spoke highly of Robert Downey Jr.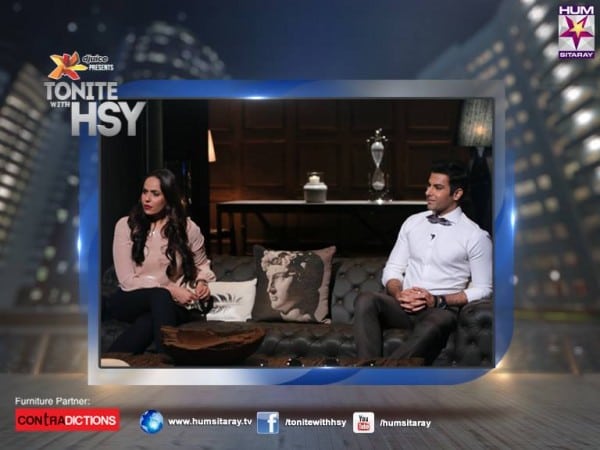 Noor Hassan is brutally honest and doesn't think twice before voicing his thoughts. Noor Hassan's views on his relationship were actually very off putting- he admits that he is in a relationship but it's complicated and I actually feel for the girl he is in a relationship with because the way he puts it, "I can be single if I get a better option.''
The way Noor Hassan talked in the show is not exactly the way he speaks in his plays. It seemed like he was trying too hard to pull off an accent so please, I don't bear a personal grudge against him but he comes across as a wannabe!
Noor Hassan admits that he has anger management issues and he tends to lose him temper over petty matters. Also, he says that he's a great cook- "I love eating my own food.''
The how-well-do-you-know-each-other questions totally fell flat because quite clearly, the two were clueless about the likes, dislikes and interests of one another.
Like always, HSY brought up the topic of social media and both ZQ and Noor Hassan are active on facebook, though the former's account has been hacked seven times!
All in all, it was quite a dull episode and I was actually very glad when it came to an end.
Cybil Chowdhry and Syed Asrar Shah

After a lackluster episode, HSY returned with a decent yet engaging episode and even though I couldn't understand the logic behind calling Cybil and Asrar together, I'd say that I didn't mind watching these two sharing the screen. I don't follow Cybil's work but I am a huge fan of Asrar- his rustic style of singing is definitely a class apart.
The first thing HSY chose to discuss with Cybil was her accent. Born and bred in America, Cybil developed a natural American accent and it's not like she deliberately tries to pull off a fake accent. HSY admits that he too has to put up with a lot criticism because some people consider his own accent a little too artificial but the fact that he studied in the US should be able to explain things.
Hands down, I was taken aback by the fact that Cybil is a mother of two! She tied the knot when she was eighteen but her marriage wasn't the exactly the best of her decisions because it just couldn't work out- her husband remarried after the divorce but Cybil chose to remain single. Cybil's children reside in America and she is the sole breadwinner for them. Cybil has a high opinion of her mother and it's evident that she views her mother as her role model because had it not been for her, it would've been impossible for Cybil to pave her way through the highs and lows of life. I don't know why but I actually found Cybil and her struggle very real and I for one think that she is a living inspiration for all the struggling women out there.
HSY mentioned that many people associated with Cybil view her as a dull and boring person, to which Cybil responded, "Yes I am boring. I've no crazy stories to tell!"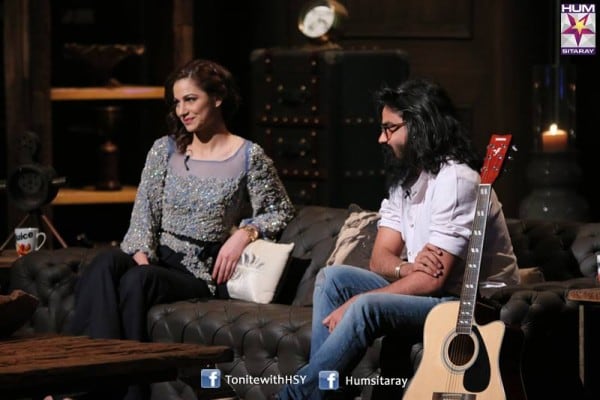 Then of course HSY turned to Asrar and talked to him about his musical journey. Coming from a staunch, conservative Syed family, Asrar had to put up with a lot of opposition to pursue his passion for music. He first tried out for army, abba ji ki khwahish thi, but was disheartened by the rejection. He was already leaning towards music and this rejection gave him more of a reason to pursue his career in music. Peer faqeer, Sufism, spirituality always fascinated Asrar and in Hyderabad, he actually found true inspiration in his Ustad Sultan Ahmed Khan. "Yeh meri nature say qareeb tha, baal kaato na kaato, malang bannay ka shauq pehlay say tha." Needless to say, Asrar is passionate about music and Sufi music in particular. According to him, expression of Sufi thought is not restricted to any one kind of music- Sufi thought ka naam hai, uss mein music koi si bhi add hosakti hai. He sang 'Ishq Hawa Mein' in the show, which is based on Wasi Shah's lyrics. I have to say that Asrar's performances actually radiate energy!
Asrar spoke about the derogatory comments directed towards artists and it really is sad how people don't waste a second before judging and labeling an artist as, 'meerasi'. With no pretenses or fake smiles, Asrar is simple and down to earth. He thinks more, speaks less and I find him very genuine.
Cybil talked about a certain kind of models that rose to fame over a short span of time; she referred to them as, 'fast girls'. I laughed out loud when Asrar asked, yeh fast girls hoti kaun hain, kia walk taiz karti hain? It turns out that these fast girls are shrewd newbies that rise to fame using sharp tactics, contacts etc. Talking about her own work, Cybil is of the opinion that hum clean work kartay hain.
There was nothing exceptionally note-worthy about the segments but yes, Cybil mimicked HSY scolding his models in a fashion show and Asrar sang a couple of lines from one of his unreleased songs.
So, all in all, it was a decent episode and I was actually expecting I'd doze off during this episode but I was pleasantly surprised :).
Ahmed Ali Butt and Fatima Khan Butt
My my, one thing you have to admit about Ahmed Ali Butt- this guy can crack you up! This episode was thoroughly entertaining and I loved watching it! I haven't been an avid follower of Ahmed Ali Butt's work but I do remember Inspector Khoji, a comedy sitcom that graced PTV some years back, where Ahmed Ali Butt played the titular character to perfection. As far as Fatima Khan Butt is concerned, her name didn't ring a bell but HSY mentioned that she is a fashion blogger.
Fatima khan recounted her journey with Ahmed Ali Butt, starting from the point when they were just friends to the instant they tied the knot. From the way he proposed her, "pura Yash Chopra scene set kia", it goes without saying that he a hopeless romantic and like he called himself, 'Overweight Prince Charming', haha!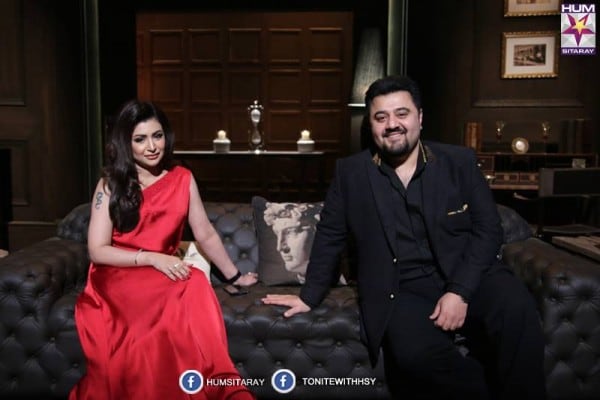 Grandson of Noor Jehan and son of Zille Huma, Ahmed Ali Butt has quite a family background but he takes pride in the fact that the never really used his family name to earn recognition. He talked about his career and it's evident that theatre had a big part to play in establishing his career as an actor. I have always found myself confused when it comes to Maula Jutt and Jutt and Bond. It is theatre, or Jutt and Bond in particular, that brought Ahmed Ali Butt, Vasay Chaudhry and Fawad Khan together- no wonder they're so close! He spoke highly of Vasay Chaudhry and expressed admiration for his work- mein ussay kehta hun kay tu projector room mein bara hua hai.
HSY spoke about Ahmed Ali Butt's active updates on Facebook and Instagram and Ahmed Ali Butt's response was pretty interesting- he wants to document his life and believes that these social networking websites provide him a platform to showcase his work. He is of the opinion that the works of our legendary artists have more or less faded into oblivion but now, thanks to the exponential growth of technology, he aims to preserve his work. The 'mein yeh upload nahe karta kay aaj mein saabun say nahaya' comment was on point!
HSY brought up the topic of this secret WhatsApp group- Boys Club, which consists of ten exclusive members including actors, directors and legends. As much as HSY tried to pry into this matter, Ahmed Ali Butt didn't reveal much because as he puts it- the first rule of Boys Club is that you don't talk about Boys Club! I bet the list includes Vasay Chaudhry, Fawad Khan and Humayun Saeed :P.
The show took a serious turn when Fatima Khan shared the harsh experience of her first marriage – she was very much taken aback by the fact that her own relatives turned out to be quite materialistic.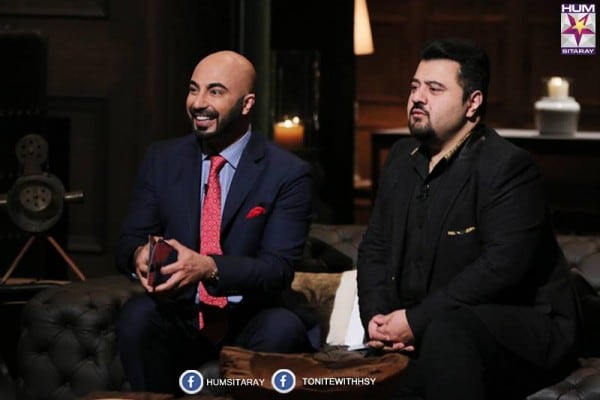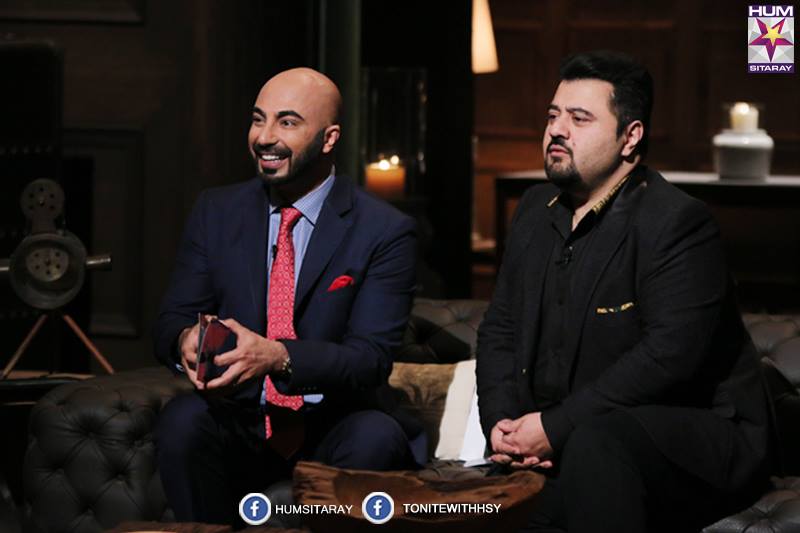 Needless to say, Ahmed Ali Butt and Fatima Khan have a high opinion of each other. They both agreed that the secret to a successful marital life is giving your spouse the space they need. Like all couples, they have fights too and the way Fatima puts it, for him its a discussion, for me its an argument!
Ahmed Ali Butt's presence certainly added the comical punch needed to make this episode work and for me, the funniest bit was Ahmed Ali Butt switching seats with HSY and making fun of the Komodo Dragon statue! On a side note, this reptile is very creepy!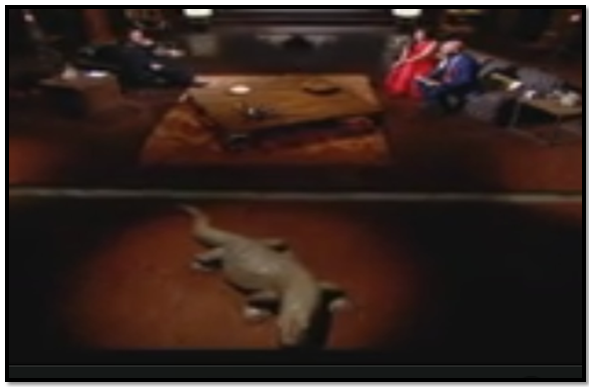 Ahmed Ali Butt was the hip hop rapper of Entity Paradigm (EP) so I guess that's why he was asked to sing a rap song for his wife. I think HSY should have asked a few questions regarding the band because that too was a significant part of Ahmed Ali Butt's career and I wanted to know what became of EP.
All in all, this was one entertaining episode and I must thank Ahmed Ali Butt for his amazing sense of humour :).
Azfar Rehman and Mawra Hocane
This time, Azfar Rehman and Mawra Hocane, two self made, budding young actors graced the screen. I have seen these two together in telefilms and in this episode, it was evident that they're pretty good friends.
Azfar Rehman was very open about his relationship status and the way he puts it, "I like to be in love.'' He admits that he has quite a short attention span.
From Chartered Accountancy and advertising, to hosting and acting- Azfar Rehman spoke about his career and stated that what actually worked to his advantage was his confidence. Azfar Rehman is a happy-go-lucky person and believes in living life to its fullest- you should be partying all the time!
Azfar Rehman is very particular about his pairing and refuses to work until he is aware of his costar.
When asked about his best friend in the industry, Azfar Rehman instantly named Ayesha Omer. Mehwish nay kaha tha Azfu mera best friend hai– HSY was expecting to hear Mehwish Hayat's name so Azfar Rehman cleared it up, saying that he holds Mehwish Hayat in high regard but with Ayesha Omer, the way he puts it, Ayesha aur mera love hate relationship hai- who mujh par ghussa bhi karsakti hai, mujhe daant bhi sakti hai. Going by Mawra's comment, 'Sab ko lagta hai Azfu un ka best friend hai', I guess Azfar Rehman has a way with people.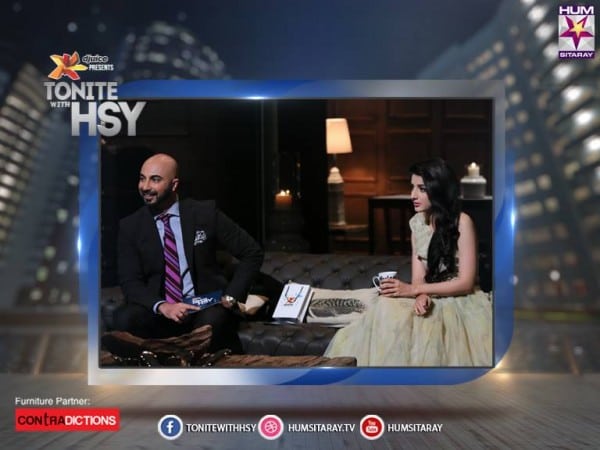 Normally, HSY is all praises for his guests but this time around he did recall his not-so-good memory with Azfar Rehman, which dates back to Azfar's first talk show, where Azfar 'grilled' HSY on spot and even compared him with the other guests!
When questioned about their international celebrity crushes, Azfar Rehman was all praises for Aishwariya Rai while Mawra spoke fondly of Ranbir Kapoor.
I do feel that Azfar Rehman got carried away in the process and he should have been reminded of the fact that it's a family show- those who watched the episode might know what I am hinting at.
Since it is Azfar Rehman who did most of the talking, there's not much I could learn about Mawra. You may find Mawra crying her eyes out in every single play but believe it or not, this girl likes to stay happy! As HSY puts it, Mawra emits positive vibes and I couldn't help thinking how nice it would be to actually see her in roles that suit her happy go lucky nature, lol!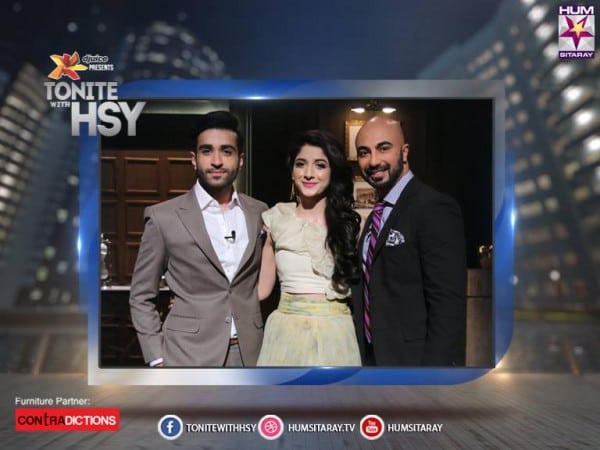 Mawra spoke about her love for pets. HSY took this opportunity to ask Mawra to clarify the rumour about her engagement and Mawra declared that she is single.
Needless to say, Mawra loves to stay connected with her fans and tries her best to live up to their expectations. Mawra is very conscious about her followers on instagram and right when she was bragging about having the greatest number of followers on insta, I laughed out loud when HSY burst her bubble, saying, "No, Mehreen Syed has the highest number of followers!''
Mawra and Azfar share great chemistry and it would be lovely to see them as an onscreen couple. And yes, Mawra looked gorgeous in her cream coloured outfit!
And with this, Tonite with HSY S2 comes to an end!
I will apologize to the readers for the late review, actually I wrote and rewrote this review a lot of times before I was completely satisfied with it, hence the delay. I am looking forward to your feed backs! Did you follow this show? What do you think of this season? Are you going to miss it? Share your views with us :).
Maryam Mehdi