Let me start by saying that I had no idea that Mawra and Urwa were such big stars and internet sensations until I watched this episode of Tonite With HSY. For the first time the celebrity guests on this show took pride in the fact that they were the most liked and followed celebrities on instagram/twitter and acknowledged that the internet and social media played an important role in their career. Sanam Saeed said that she would reject a role or project offered to her because of her popularity on social media, Aamina Sheikh also said that she made a name for herself through her work long before there was social media. In my opinion making a name for oneself through ones work counts much more than being an internet sensation. HSY himself has always in a subtle way criticized those celebrities who have used social media to get famous.
Urwa Hocane talked about people's comments about her wedding and also said that the videos were posted by people who were there and they never planned to make it all public! Mawra was very defensive throughout the show even when she did not need to do that. I also felt that HSY's questions were more relevant this time especially in the first half of the show. After Farhan came, there was too much "excitement" in the studio but there was nothing exciting about the questions. The segment in which they had to guess the names of the celebrities were just plain okay too. The first half of the show was far more interesting. I expected HSY to ask Urwa and Farhan more questions about their marriage and perhaps about Udaari since it was a mega serial in which Urwa and Farhan acted together but he didn't discuss Udaari.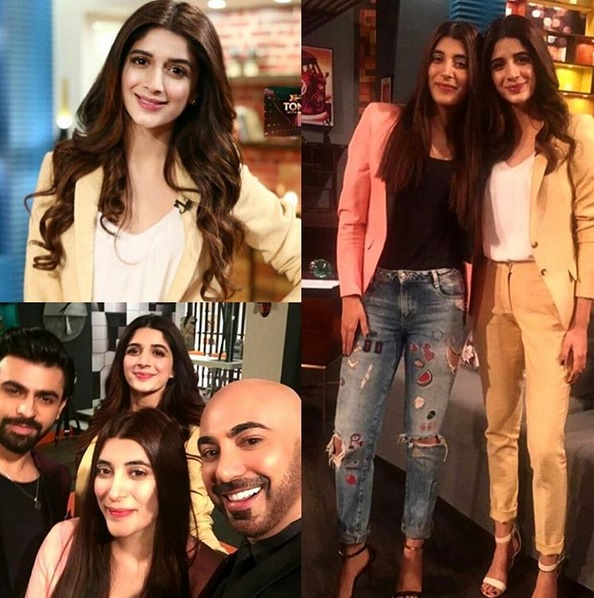 Urwa and Mawra have answered the "Hocane" question so many times and everyone who has watched their interviews already knows the answer therefore this question should have been skipped. HSY through his questions clearly implied that Mawra's Bollywood debut didn't do well on the box office and Urwa singing skills weren't impressive but both of them were quite happy with their work and said they will do it all over again, if they got the chance. "I can run an entire film" statement took me by surprise because most of us who have watched Mawra perform on screen know that she cannot even run an entire drama on her own!
"Good scripts come to good actors" was an interesting question which was followed with a long explanation by Urwa which I thought wasn't really needed since she has so much confidence, she could have said she thought she was a good actress! Mawra explained how some people were bent on treating her like a kid although she had worked hard to get where she was today. It seemed like she was saying that people who have been around for decades should accept her star status without questioning it. My advice to Mawra is that if she wants to be treated like a mature star, she should start acting like one! Ranbir, Ranbir, Ranbir is getting old and does make her sound like a teenager!
This statement by Mawra will probably be the most talked about statement in this show, once people are done watching the show,
"I think the reason why he (Shan) started this hashtag (#BanMawra) is that he knows that when my name is there, the hashtag will trend!!!"
The fact is that Shan is a much bigger star than Mawra and he has never banked on controversies and shortcuts to get attention simply because he does not need to!
The "Mein Hu Adakara" segment was not very interesting mainly because of the fact that Urwa did not deliver. Urwa revealed that she is doing 3 Pakistani films and Mawra's first Lollywood film will be released this year. The show was going fine until Urwa and Mawra were the only guests, it was all over the place when Farhan joined them. This could have been a better show if Mawra was invited with some other celebrity and Urwa and Farhan came together, the questions then and the interview as a whole could have been far more productive.
How many of you watched this episode Tonite With HSY? Don't forget to share your thoughts about it.
Watch the show here: