Ayeza Khan is one of the most beautiful faces of Pakistani showbiz industry. Over the years, Ayeza Khan has slowly worked her way up the ladder and has now made a name for herself. Ayeza Khan is one of those very few Pakistani celebrities who are loved by all the TV viewers and this immense love and support is the result of the way she carries herself with grace, elegance and modesty. Ayeza Khan is gorgeous and this is the reason why she is the choice of all the leading brands and fashion designers to be the face of their promotional campaigns, this is the reason we get to see Ayeza Khan in bridal photoshoots quite often. Ayeza Khan has the kind of ethnic face that carries the traditional Pakistani bridal makeup and overall look perfectly and those who choose her always make the right choice because she grabs the attention with her beauty.
Bridal photoshoots are a perfect way for brides to be to actually see what they like and the kind of bridal look they want to go for. This is the time when all these bridal photoshoots come in handy and make things easier for the brides to conceive the idea they have in mind for themselves.
Let's take a look at the top 10 bridal looks of Ayeza Khan:
Floral Fantasy
This look of Ayeza Khan is absolutely stunning. A smoked out brown toned makeup without the eyeliner and colored lense is giving this bridal look a very different vibe. It is modern yet the dress is purely traditional. This ensemble is a perfect option for the mehndi function because it has all the bright colors to make the bride shine and be the center of attention. The floral headpieces are making this look unique and feminine, a perfect touch to a mehndi bride's getup.
Glamorous Mehndi Bride
This photoshoot of Ayeza Khan is absolutely stunning. From makeup to floral jewelry to the dress and its colors, everything about it absolutely perfect. This makeup look is all about matte face makeup, winged eyeliner and fluttery eyelashes. Ayeza Khan tends to diffuse the lip line when she applies lipsticks and she always opts for ombre lips but in this makeup look, she has an opaque coverage of one terracotta shade lipstick, and her lips have been lined perfectly. Ayeza Khan looks stunning in this kind of makeup look. The dress speaks for itself, it is a perfect dress which can be worn on both mehndi or walima functions, depending on the kind of makeup and jewelry is chosen with it.
Rajhistani Bride
This was the look that Ayeza Khan chose for herself on her mehndi function and it was spectacular. This vibrant and colorful dress was inspired by the Rajhistani culture and fashion. The way Ayeza Khan opted for layered necklace and circular tikka made her look completely Rajhistani. The motifs on the dress and the colorful patterned border on her dress reminded everyone of the colorful Rajhistani dresses that they had seen in different Indian movies. Ayeza Khan's mehndi look was beautiful, she looked young, fresh, vibrant and radiant. Ayeza kept her makeup look simple but went for a bright pink lipstick to go with the colorful dress. All the colors compliment each other and the entire dress was perfectly festive for one of the most fun nights of the wedding – the mehndi.
The Traditional Pakistani Bride
This gorgeous bridal look has Pakistani bride written all over it. Starting from color combination to jewelry pieces to makeup, everything is what a Pakistani bride opts for while planning her bridal look. This gorgeous ensemble designed by Nomi Ansari is specifically going to cater to all the brides who do not want to experiment with the looks but want to have the assurity that they are going to make a perfect bride. This is a recipe for perfection. The subtle hints of blue and orange in this overall maroon and beige dress allows the bride to wear any kind of jewellery she likes. The mathapatti is a classic piece of jewellery which compliments every face shape, every bride of any era. It has been a timeless piece in Pakistani bridal fashion. The makeup is a simple golden lid, thick winged eyeliner, radiant skin and bold red lip. This look is a classic and the kind which will suit every single Pakistani bride.
The Gorgeous Green
This is one such color that is rarely seen on Pakistani weddings. This is the kind of color which is unusual and the brides do not really go for it but seeing it in this photoshoot with Ayeza Khan looking uber stunning in it is definitely going to make this shade of green a norm. This gorgeous green ensemble has a fully embellished blouse and lehenga. The embellishment on the lengha gets heavier on the bottom whereas there is motif work on the rest of it. Ayeza Khan has gone for a muted brown look with it but has kept the rest of her makeup radiant and shimmery. The jewelry is heavy but the statement piece in this look is the forehead tikka. This is again the kind of dress that can be worn on either mehandi or walima function.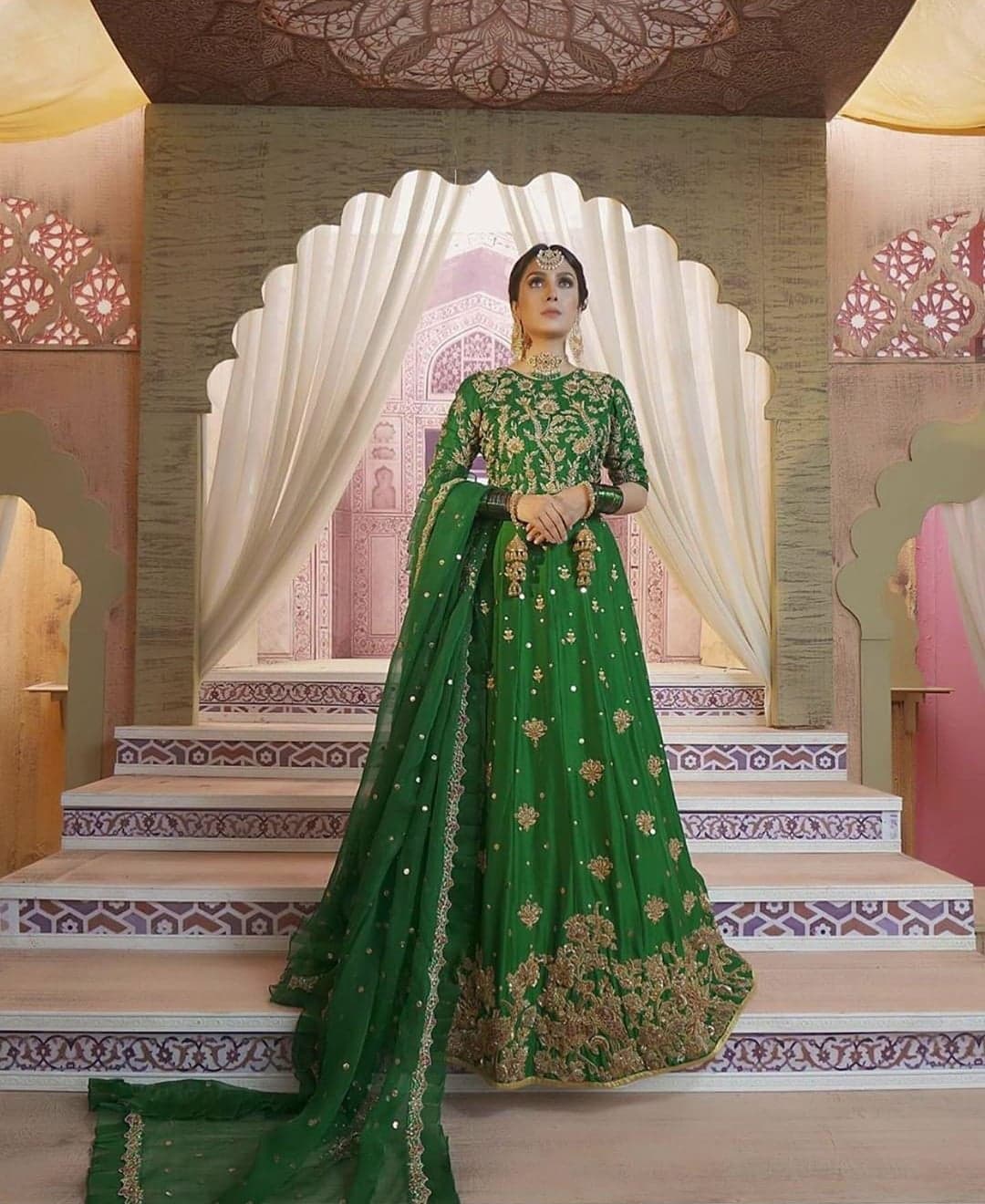 Timeless Walima Bride
This was the look that Ayeza Khan carried in her recent drama Koi Chand Rakh. This is the kind of perfect walima look which can never go wrong. The beige and silver combination is a classic. The two-legged sharara adds vintage look to the entire ensemble and makes it look timeless. Ayeza Khan has added elegance to it by draping the dupatta all around her, this makes this bridal look modest and comfortable for the brides. It also adds charm and grace to the overall bridal look. Ayeza Khan has kept the jewelry simple with jhumar making a statement. The makeup is modern and classic bronzed look with glowy complexion and nude lips.
The Regal Bride
This bridal look of Ayeza Khan is to die for. The dress is a beautiful beige with red accents and that red has been depicted in the makeup with red lipstick, which is catching the eye and drawing attention to itself. This dress is absolutely gorgeous and fit for a baraat or nikkah function. The statement emerald and ruby jewelry is the perfect choice to amp up this pastel toned dress. The makeup look is matte and perfect. In this makeup look, the makeup artist has gone a couple of shades lighter than Ayeza Khan's skin tone but it is still working well and complementing the overall look. Thick liner, fluttery lashes, sharp contour and subtle highlight complete the makeup look. The best part about this bridal glam is the red lipstick, it can never go out of fashion and Ayeza Khan looks a total stunner in this bridal look.
Modern Walima Look
With the advancement in every industry, bridal fashion has changed a lot over the years. Now brides are seen experimenting with their looks and where the brides go for traditional look on their rukhsati, they opt for modern look on their walima day. This look of Ayeza Khan which she carried recently in Pakistan Bridal Fashion Week shows the kind of modern look a bride can go for. This gorgeous silver grey dress is a unique choice. It is heavily embellished and despite the cool tones, this dress has a lot going on to make a statement. Ayeza Khan has gone for a black smokey eye, highlighted face and glossy nude lips. This makeup look is definitely complimenting this lighter shaded bridal dress.
Peach Perfect
This bridal look of Ayeza Khan is perfect for most of the Pakistani brides because these kind of shades in both makeup and dresses suit the generic Pakistani complexion the best. This bridal look is valima appropriate with peach dress and silver embellishment. Usually when the brides opt for darker richer tones on baraat, they tend to go for lighter or pastel shades on walima. This ensemble is perfect for walima function. This makeup look is absolutely gorgeous which has enhanced the features beautifully. The cheekbones have been accentuated not with the harsh contouring but peach blush which goes with the dress. The lips are pink, glossier and the eyes are a beautiful smokey golden which the brides love and usually choose to wear.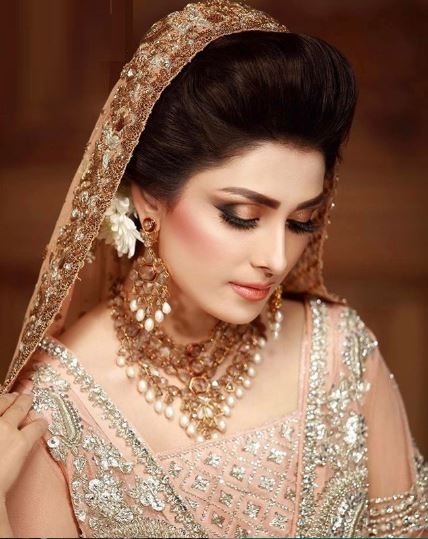 Sheer Elegance
Ayeza Khan looks absolutely stunning, graceful and elegant in this green ensemble designed by Nomi Ansari. This is again the kind of dress that can either be worn on Walima or on Nikkah, if the bride wants to wear a color and not go for a very simple look on Nikkah. This beautiful shirt and lehenga plays heavily with all shades of green, ranging from rich to pastels like emerald green to sea and mint green. The dull gold embellishment all over the dress adds another depth and dimension to the dress. It allows the makeup artist to play with the colors they want in their makeup look. This beautiful dress comes with dual dupattas and the way Ayeza Khan has draped it is absolutely elegant. The textured and curled braid with flowers and ruffled layers on hair make this hairstyle ultra modern and gorgeous. These kind of hairstyles do not add age to the bride. This kind of dress will definitely work well with emerald jewelry like the one Ayeza Khan is wearing in this photoshoot.