Color coordination and donning matching outfits always plays an important part in couples lives. It is a very easy way of making a statement as a couple. This is something that never goes out of fashion and shows two individuals as a pair together sharing a bond of love and togetherness. Wearing matching outfits and color coordinating them always holds a special place in couple's hearts. This happens to be something that always brings a limelight to the couple in a most simplest and positive manner.
Pakistani celebrity couples are also very much in touch with the trend of color coordination. These days with all the celebrities being in contact with their fans make sure to put in an extra effort in the way they get photographed, the way they style themselves and the kind of outfits they wear. This is the reason why every now and then, people get to see beautiful pictures of famous celebrity couples who are often wearing similar shades of colors and outfits which bring themselves together.
Let's take a look at the top 10 color coordinated outfits worn by Pakistani celebrity couples:
Hamza Ali Abbasi and Naimal Khawar Khan
Hamza Ali Abbasi and Naimal Khawar Khan have been in the news ever since they got married. The couple has garnered nothing but love and appreciation for everything they have done – be it their simple wedding or the way they projected themselves after their wedding. Hamza and Naimal have posted quite a few pictures of themselves where they have worn mostly black outfits, letting everyone know that black happens to be their favorite color. This is the reason while attending their friends' wedding, Hamza and Naimal showed up wearing matching black outfits. Their choice is great and these outfits are simple yet stunning. Hamza wore a simple black shalwar kameez and draped a shawl over it which had gold border detailing to it. This outfit of Hamza was perfectly complemented by Naimal's black pishwas. It was a flared pishwas with embellishment at the bottom. She also draped a net dupatta which had golden sequins and border to it as well. They both looked stunning in color coordinated outfits.
Ayeza Khan and Danish Taimoor
Ayeza Khan and Danish Taimoor have definitely made a statement over the years that they take their photographs very seriously. This is the reason why all of their photos seem to be perfectly planned and captured. They always pour love and effort into their pictures and make sure that their children are a part of those beautifully planned photos as well. Ayeza and Danish have had a lot of color coordination moments but this one happens to be the recent one which was captured on their son Rayyan's second birthday. Ayeza and Danish sported a modern elaborate look with their beautiful blue outfits. Ayeza Khan wore a gorgeous chiffon gown which had a lot of layers and flares. Danish complimented her outfit by wearing a blue suit. They both looked absolutely stunning and blue surely is their color.
Nida Yasir and Yasir Nawaz
Over the years, Nida Yasir has groomed herself and it is nice to see her amping up her styling. Nida Yasir does not only put an effort into looking good herself, she also pays a lot of attention to the way her husband Yasir has been styled and the kind of clothes he wears. At an event held recently and while following a theme, Nida and Yasir took color coordination to a whole new level by wearing matching yellow articles of clothing. The shade of yellow they both have worn is not only bright and perfect, it suits them to the T. Nida wore a yellow coat, while Yasir wore a yellow nike hoodie and voila, they made a perfect statement as a couple.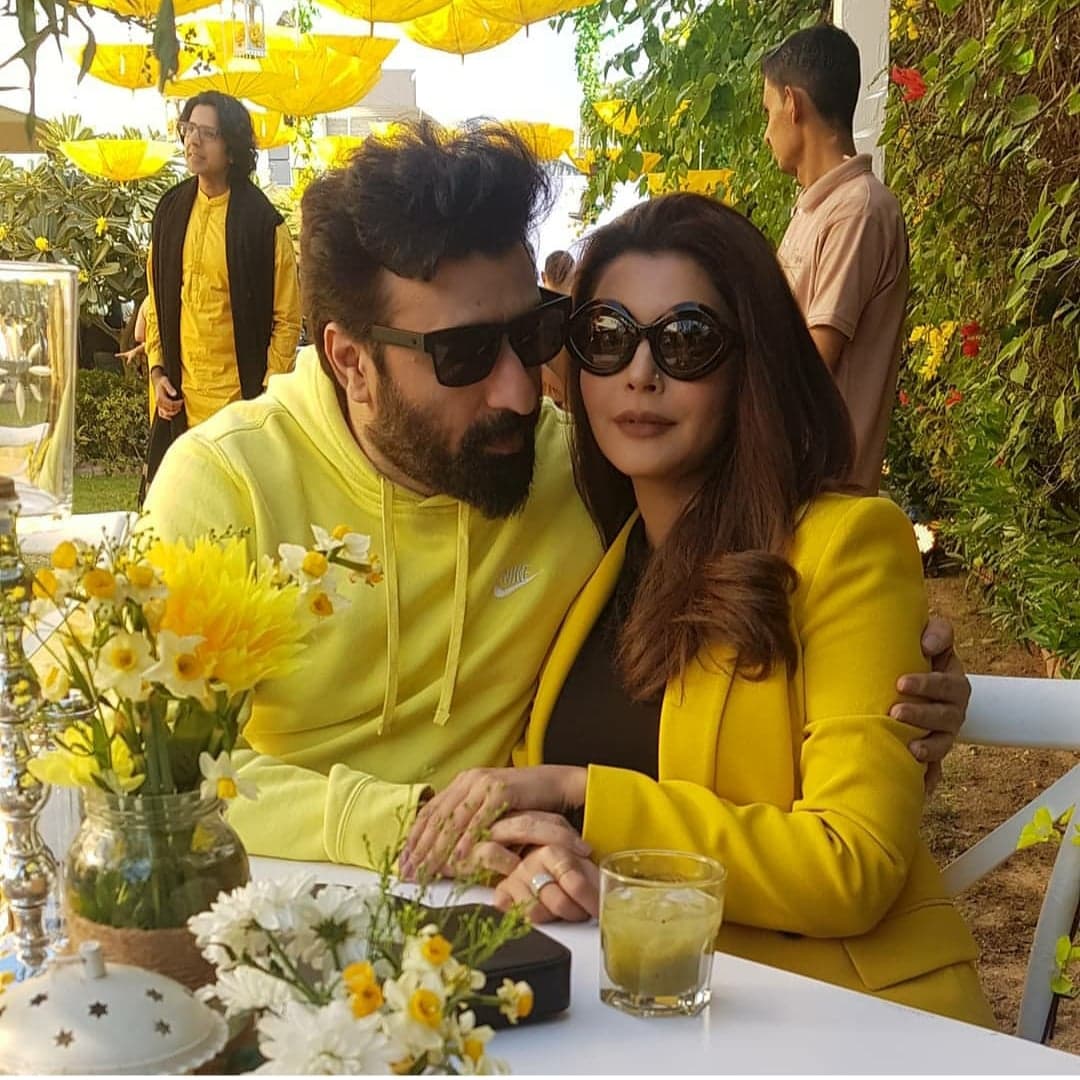 Aiman Khan and Muneeb Butt
Aiman Khan and Muneeb Butt is also one of the most loved celebrity couples of Pakistan. They have taken their fans and supporters along their journey which started off with their courtship, engagement, their marriage and then the life after. Aiman and Muneeb always pose candid pictures and just share their special and happy moments with their fans. This was one of those special moments in their lives where they celebrated the first Eid as a couple and this is why they had to wear color coordinated outfits. The color they chose happens to be the gorgeous shade of mint green. Aiman wore a pishwas, while Muneeb wore a kurta matching the color of Aiman's dress. Their smiles are endearing and their outfits are beautiful.
Sajal Aly and Ahad Raza Mir
Sajal Aly and Ahad Raza Mir are those celebrities who like to keep their personal lives private and they do not share much of each other on their social media. However, everytime they are spotted together or they post a picture together, that is a reason enough for their fans to get excited and rejoice. This picture came today when Ahad Raza Mir wished birthday to his beautiful fiancee Sajal Aly and we could not help but notice the casual and effortless color coordination happening in this picture. They are at their utmost comfort, wearing black articles of clothing, which is perfect enough to make a statement as a couple. They look stunning and can we just take a moment to appreciate how Sajal Aly is looking at Ahad Raza Mir.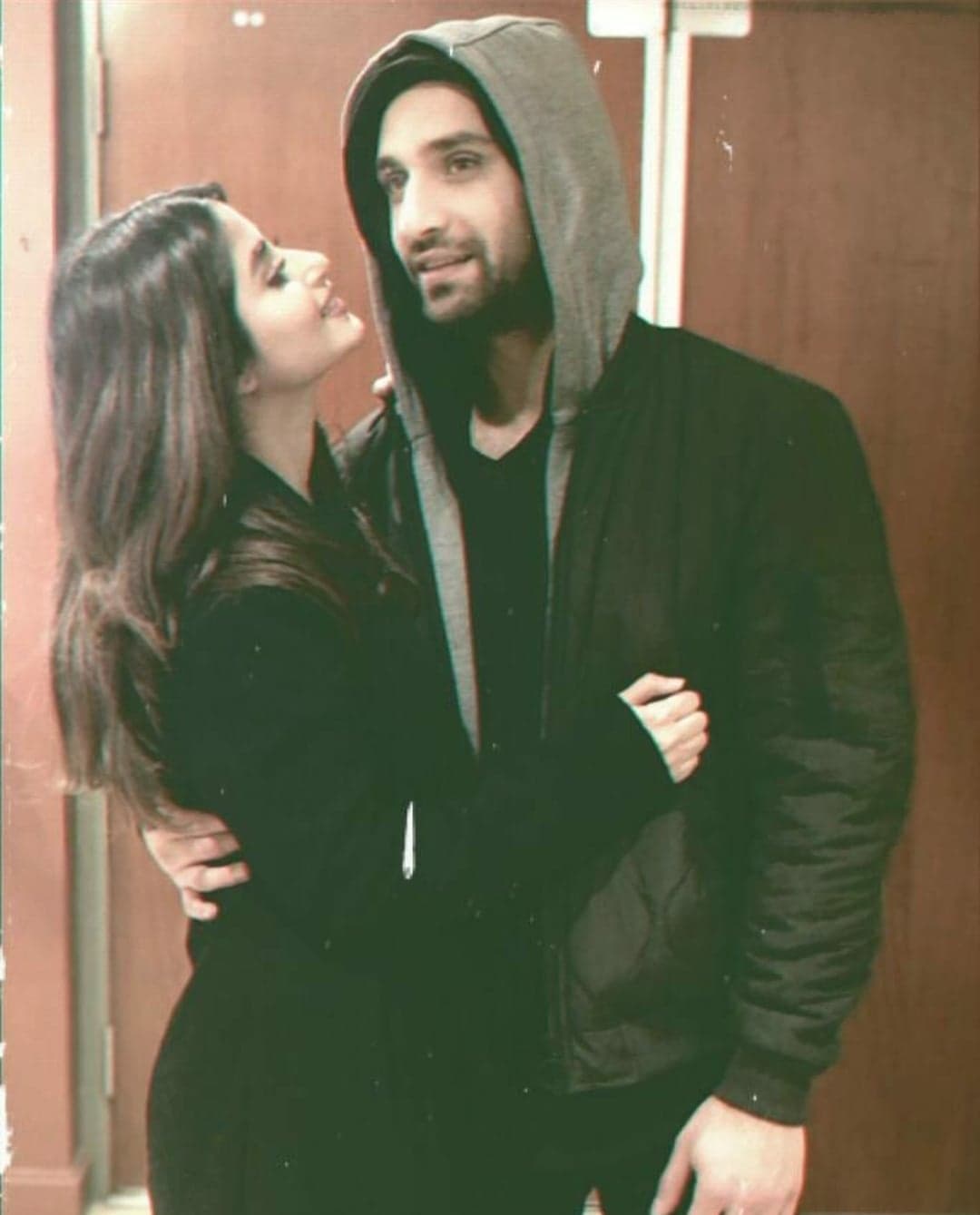 Urwa Hocane and Farhan Saeed
Maroon and Beige, this is one such color combination that can never go wrong, can never go out of fashion and is always going to make a statement in a most flattering manner. Urwa Hocane and Farhan Saeed do love their color coordination and they love wearing similar outfits every now and then, be it for their photoshoots, while attending award functions, on eids or like seen in this picture, attending a friend's wedding. The ensembles they have worn are elaborate and stunning. These formals outfits scream traditional bridal wear. Urwa is wearing a beautiful maroon and beige lehenga choli and Farhan is complimenting his beautiful wife in a stunning golden beige sherwani which he has paired with maroon trousers. Both these ensembles are heavy adorned with gorgeous traditional patterned embellishments and they make quite a perfect statement as a married couple on someone else's marriage.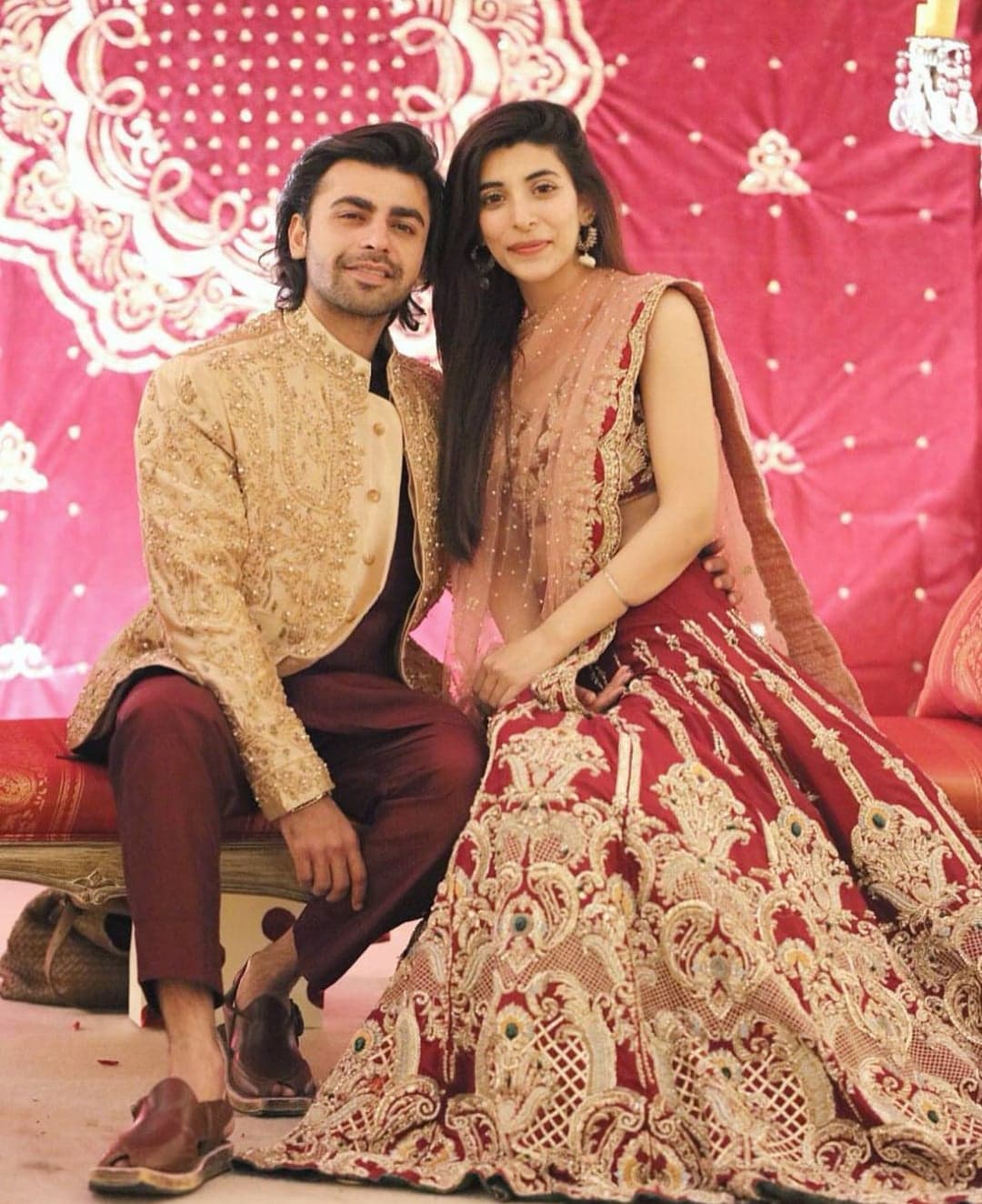 Hira and Mani
Basic white shirt and pair of denims, this is the kind of color photoshoot which is simple but makes quite a statement. These kind of photoshoot turn out to be such which are later printed, framed and when placed on the walls or mantelpiece inside the house, make one of the most beautiful memories of the couple. Hira and Mani chose that kind of attire and went for the similar vibe in this photoshoot. Their outfits are basic white shirts and similar shades vibrant blue denim. Their poses are beautiful and radiate the kind of energy which Hira and Mani are known for. We are sure they love this photoshoot and we love it just as much.
Sarwat Gillani and Fahad Mirza
This photograph has been shot to campaign for HSY's bridal collection, however, it has given us a perfect color coordination celebrity couple moment and we are grateful. The ensembles speak for themselves – they are afterall a creation of HSY and a gorgeous shade of crystal blue. HSY definitely chose one of the finest celebrity couples of the industry and gave them beautiful formal outfits. Sarwat Gillani looks ravishing wearing this gorgeous shade of blue. It is a sleeveless gown which has been layered on top of a plain blue silk trousers. The dupatta is heavy and gorgeous too. Fahad Mirza looks dapper in this graceful sherwani and he has also paired it with the similar shade of blue trousers. The embellishment on these formals is simply stunning and there's so much that meets the eye. It is a beautiful creation and both Sarwat and Fahad look their absolute best.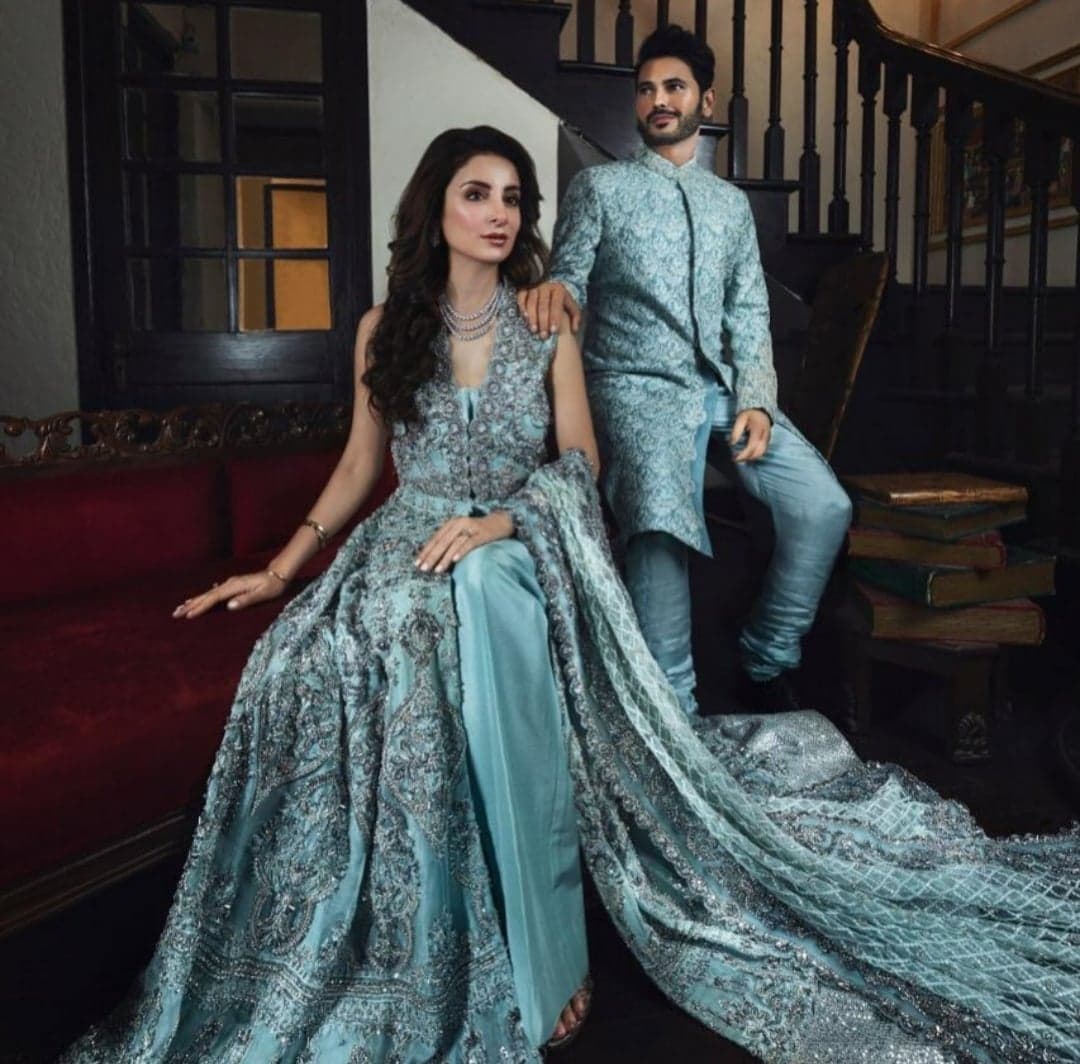 Imran Ashraf Awan and Kiran Ashfaque
Imran Ashraf Awan has now started to pay a lot of attention to his styling and he has prioritized it to an extent that he always makes a statement. Imran and Kiran make a beautiful couple and the way they express their love for each other every now and then is beautiful. Imran Ashraf and Kiran Ashfaque chose Lux Style Awards to make a statement as a couple, right after his popularity skyrocketed with Ranjha Ranjha Kardi being one of the biggest hits of 2019. Imran Ashraf and Kiran Ashfaque kept their attires simple and elegant. The color they also chose for matching happened to be black. Imran Ashraf and Kiran Ashfaq opted for beautiful traditional eastern wear where he wore an elegant sherwani with modern styling and Kiran Ashfaque chose a simple black long shirt and trousers. They surely looked elegant as ever.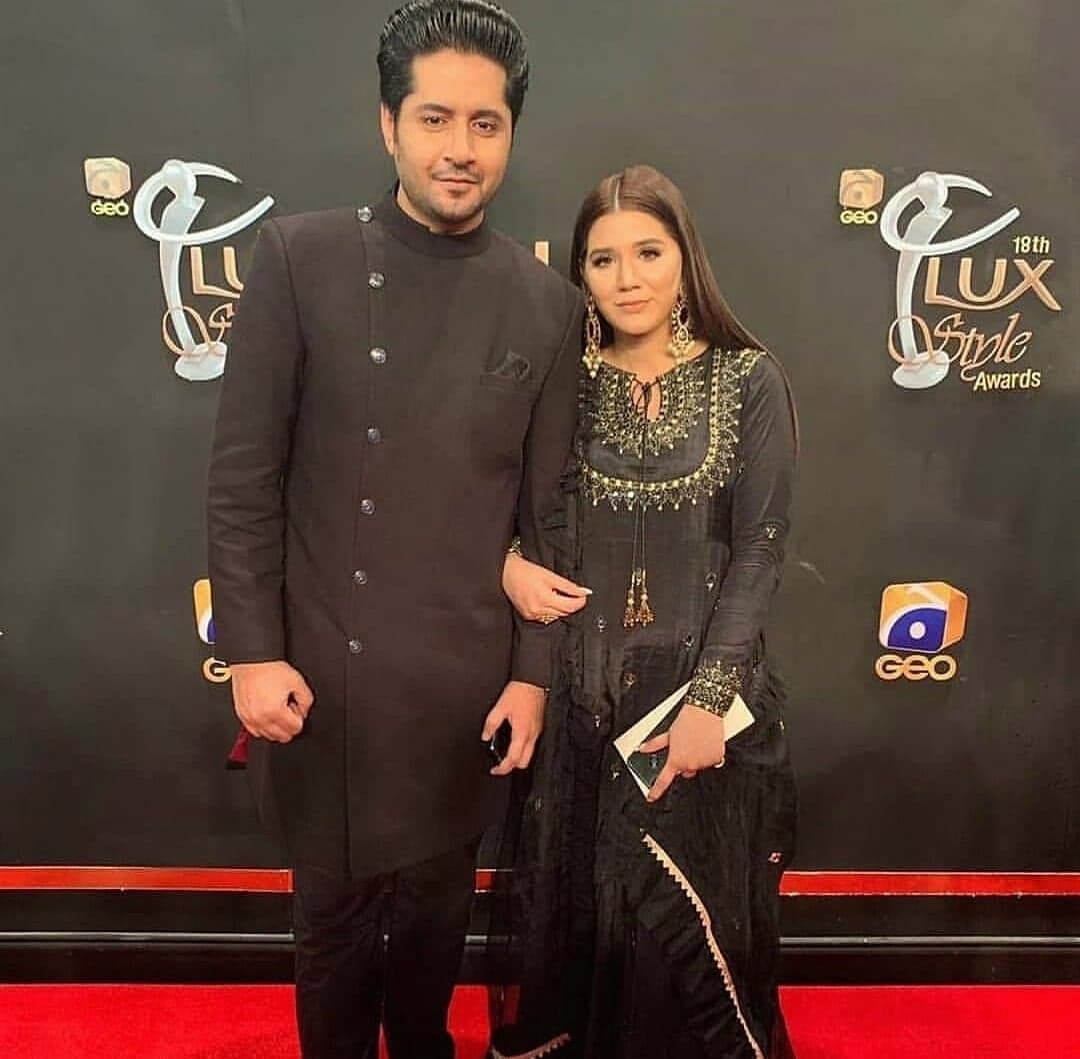 Sanam Chaudhry and Somee Chauhan
Sanam Chaudhry got married to the love of her life Somee Chauhan. The news of her moving to USA and settling there circulated but Sanam denied. However, when the time was right, she not only got married but also shared the news herself. Sanam made a beautiful bride and now she keeps on sharing snippets of her marital bliss with her fans and followers. Sanam Chaudhry shared a couple of pictures with her husband where they both are wearing animal print jackets which they have paired with black basics and trousers. They are even wearing similar kinds of chains. This choice happens to be quirky and fun, and shows that a statement can easily be made with any kind of matching outfits. They both look perfect.
This concludes the list top 10 color coordination done by Pakistani celebrities and the matching outfits worn by them. Which one of these is your favorite? Please feel free to share your thoughts in the comment section below.