The developments in tonight's episode were quite predictable but at the same time they were very believable. Yes, the script has done-to-death written all over it; rich boy falls in love with not-so-rich cousin and the zalim samaj won't ever let them be together. But to be honest there are no glaring flaws in the script, the characters are typical but still likeable and believable and the direction of the play so far has been very smooth. All these factors make this drama enjoyable. Unlike many other plays so far none of the characters or the developments make you wonder why and how everything happened. The script is clichéd but the execution is not over-dramatic. The writer has played it safe by keeping the story and characters simple. The fact that all the actors in this drama are standing out in their respective roles also gives this drama an edge over others with similar stories. The production values are impressive and the overall feel of the play is refreshing too because different locations have been used to shoot the scenes.
This episode opened with Javeria and Zarbab's meeting which once again showed how incapable Zarbab was of taking a stand for himself. He cannot take the pressure from his mother and siblings but Javeria on the other hand is very confident about what she wants and she will go to any extent to get it. The primary reason for this difference in their personality is that Javeria's mother supports her but Sharafat has made it very clear that she will not allow Zarbab to marry Javeria. Zarbab is clearly someone who cannot rebel against his mother therefore it is highly unlikely that this marriage will ever take place. Sharafat knows that her son runs the house therefore she wants a sidhi sahi lrki who will not cause any trouble which is why Elma is the perfect candidate!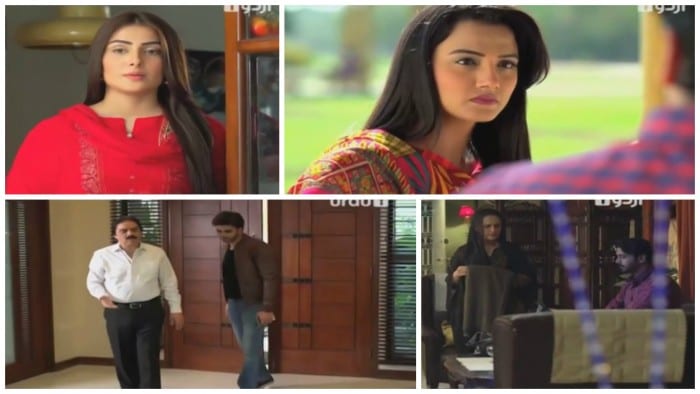 The difference between Ramish and his father's thinking was once again highlighted in the conversation (argument) they had next to the pool. Ramish's father has absolutely no respect for Waqar and he wants his son to stay away from him. Even after this conversation Ramish still thinks that he can somehow convince his parents to go to Elma's house probably because in the first episode we saw him convincing his father of doing something he did not want to do at all. For a change one of our heroes was intelligent enough to talk to the girl's father first before talking to his own parents. Also, for once the girl's father could tell that this boy was interested in his daughter and had the courage to say everything he felt in front of him although he has great regard for Ramish. This was the best scene of this episode mainly because of the brilliant acting by both the actors involved and the dialogues. Even after Ramish assures Elma's father that his parents will come to ask for her hand Waqar Ali is still not very sure how he feels about it. Later on the conversation he had with Elma went to show that he was also happy and optimistic that Ramish might be able to convince his parents. . Muhammad Qavi Khan is an exceptional actor who has made his character extremely likeable, you feel nothing but respect for Waqar Ali. Hira Tareen plays the character of Sunbal in the play; she is the one Ramish's parents want him to get married too. Her character and family was introduced in tonight's episode.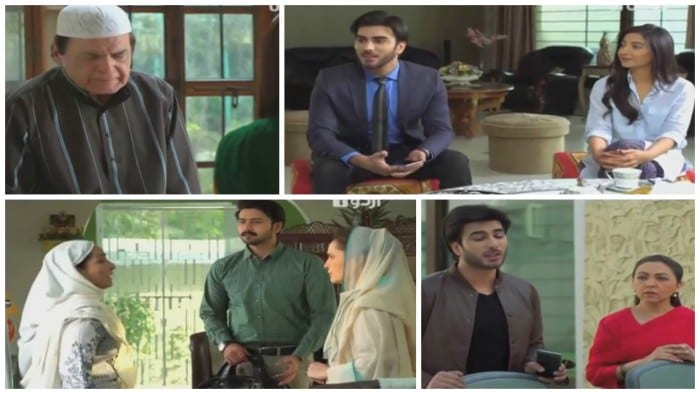 Quite a few scenes in this episode were dedicated to showing Sharafat's 'strong' personality. Although Sharafat's role doesn't have a lot to offer but Hina Bayat never fails to make her presence felt. You understand why Zarbab would be so scared of her mother and why someone like her never let her son grow into a more confident individual.
You don't realize this while watching the drama but when you sit down to write your thoughts you realize how many times marriage/rishtas are mentioned in this drama! Both the stories revolve around the boys finding the right suitors. Imran Abbas and Ayeza Khan have incredible on screen chemistry which comes naturally. Normally these love at first sight situations in dramas are very difficult to relate to but Ayeza Khan and Imran Abbas make this whole scenario very believable. I honestly believe that the kind of chemistry the leads share can make or break a drama. The overuse of the OST in the background every time Elma and Ramish meet is distracting and it is getting highly repetitive. The visuals, like the dreams they see and the way they look at each other definitely help more than the background score.
So far, so good is the best way to sum it up. Tum Kon Piya is not a masterpiece, we didn't expect it to be one so that helps!! But overall it is a decent play which keeps on giving you something to look forward to. The preview of the next episode suggested that Ramish's father might give Waqar Ali a good reason to marry Elma elsewhere since his dignity is very important to him.
How many of you watched this latest episode? Don't forget to share your thoughts about it. If you missed it, watch it on http://www.dramasonline.com
Fatima Awan