This was another interesting episode of Tum Kon Piya which did have a few developments to its credit which were not very predictable. Every episode of this play is entertaining and it makes you look forward to more even though most of us know only too well how the story is going to unfold in the future. There wasn't a single filler scene in tonight's episode which is nothing short of an achievement! The pace of the drama is steady and it isn't over-dramatic.
This episode opened with Ramish's visit to Waqar Ali's house. He told his father in the previous episode that he was going to do whatever it took to let Waqar Ali know that he was truly sorry for what had happened. His chacha welcomed him and the meeting between the two was shown very nicely. I must say that Qavi Khan has made Waqar Ali's character memorable because of his brilliant acting. He has great chemistry with all his co-stars and his acting is very natural. You feel for Waqar Ali more than any other character in the play and watching him being 'cheated' and 'blackmailed' is very upsetting. Mehmood Akhtar has also proved that he was the perfect choice for playing this role.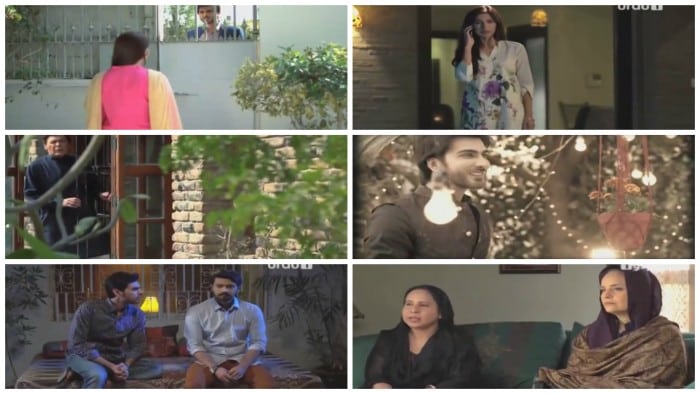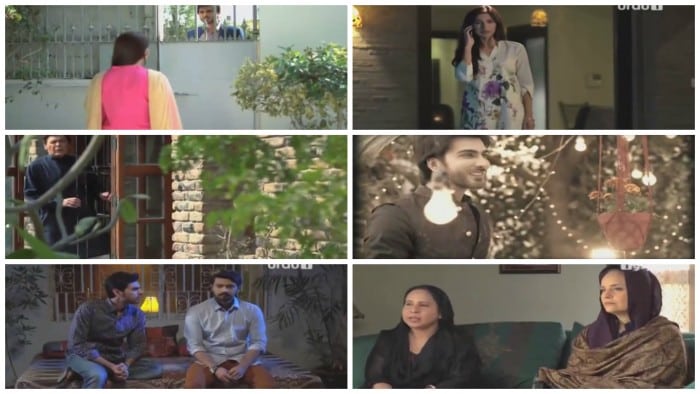 Waqar Ali is a very honest person therefore he expects everyone else to be equally sincere with him. Although he knows that Muzzafar Hassan has never given him the status he deserves but even then he does not think twice before forgiving him and moving on. The step that Ramish's father took was unpredictable and an interesting development in the story. He knew that he could never force his son to change his decision but it would be far easier to convince Waqar Ali to marry Elma to someone else so that Ramish does not have that option anymore.
Ramish and Sunbal's track has to be the most clichéd and the only annoying part of this story. Ramish told Sunbal that they were not compatible which obviously meant he did not want to marry her. Is Sunbal's IQ level so low that she didn't get the message because it was pretty loud and clear!!! It was however good to see Sunbal's father giving her a choice to refuse this proposal if things did not work out but something tells me that this marriage is bound to happen.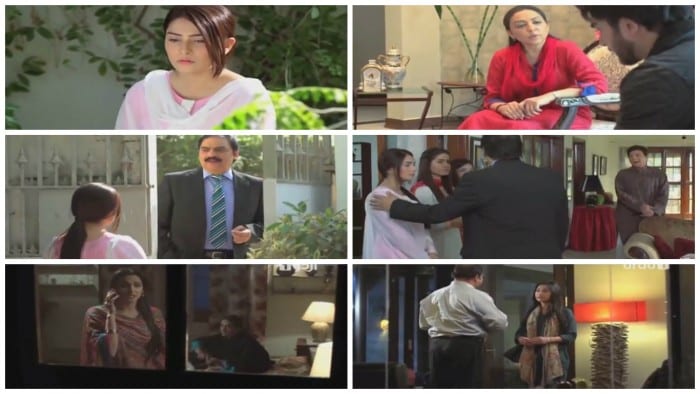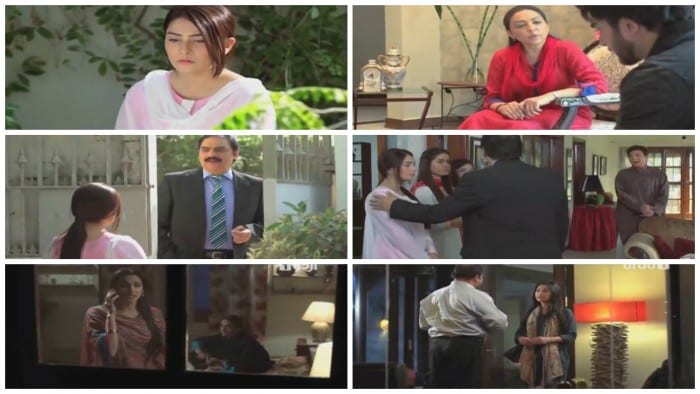 Zarbab finally revealed his true feelings when he talked to Arif. He does not even love Javeria but is only going along with this relationship because he is scared of the repercussions if he leaves Javeria. Like every other character in the play I have absolutely no trouble relating to Zarbab's character. He is a coward who will never take responsibility for anything in life but at the same time he is too scared of leaving Javeria because her mother or father might turn up on his door step. Arif gives Zarbab the wrong suggestions but at the same time he informs his mother what he is planning to do. Sharafat already likes Elma and now she has an even bigger reason to speed up the process! Ali Abbas's performance has been flawless right from the first episode. His dialogue delivery is always perfect. Yasir Shoro is also playing his part really well.
Ayeza Khan is very convincing as the bholi bhali Elma who is in love with the man of her dreams. Usually such characters are annoying but Ayeza Khan makes Elma very likeable. Imran Abbas' dialogues in tonight's episode were written beautifully but his dialogue delivery was very rushed. He did not pause at all when he was talking to Sunbal, maybe because he was angry but even when he was talking to Waqar Ali, it seemed like he was reading the dialogues and not delivering them with proper emotions and pauses. Yasir Nawaz has made this play a visual treat; his direction has made all the difference and the cinematography is captivating. The scenes in all the episodes so far in which Elma and Ramish are day dreaming about each other are beautifully shot. The script doesn't have anything new to offer but so far it is very logical and the dialogues have been written very beautifully too.
The preview of the next episode showed Zarbab's mother convincing him to go to Elma's house and Waqar Ali asks his daughter for the big sacrifice!
How many of you watched this latest episode? Do share your thoughts about it. If you missed it, watch it on http://www.dramasonline.com
Fatima Awan