Muzzafar Hassan's plan worked like a charm only because he knows Waqar Ali too well. Yet again the developments in tonight's episode were quite predictable with the exception of Zarbab's track. I am glad there won't be a two nikkahs scenario in this drama. For the first time since this drama has gone on air some of the scenes in tonight's episode seemed forced. So far every single scene fits right into place but this time around there were a few conversations which were just used to kill time. Elma's sisters day dreaming about their sister getting married in a rich house and sharing every detail as if it was too good to be true was the most disappointing filler scene of this episode. It made it look like they were fascinated by Ramish's wealth and not his personality. I find it funny the way all these sisters stand in a line to say hello or goodbye to guests. They stand according to their heights in a way that all of them can be seen properly:) This goes to show that Yasir Nawaz made sure that every scene was picture perfect but sometimes too much perfection seems unreal. I actually found this funny because in the last episode too they were standing like this when Muzzafar Hassan came.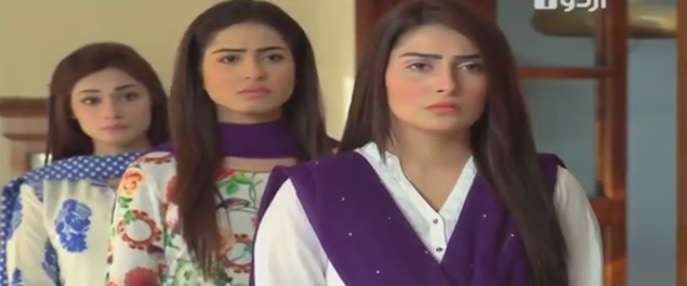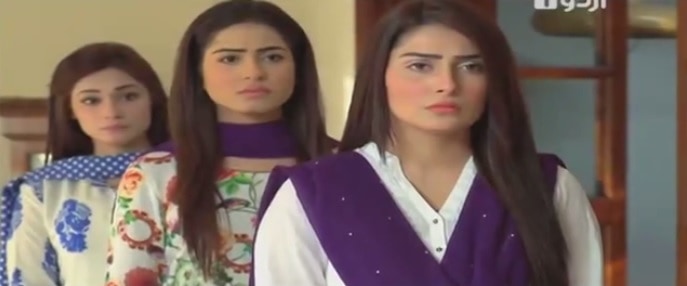 The dialogues in tonight's episode yet again were very well thought out. The story is most certainly done-to-death but the dialogues are not ghisse pitte and Yasir Nawaz has directed the drama with dedication. Tonight for the first time it seemed like someone took advantage of Waqar Ali. Although whatever he did was completely in line with his character because he will never let his daughter get married to someone whose parents look down upon them but even then Waqar Ali shouldn't have let Muzzafar Hassan 'use' him like this. It was good to see that Ramish figured out that his father had something to do with this sudden change in Waqar Ali's decision. Elma trusts her father with making the right decision therefore she is willing to go along with anything he decides for her. Although Waqar Ali is clearly doing all this because he loves his daughter but even then it was sad to see someone like him sacrificing his daughter's happiness in order to save his own dignity. Ramish's mother tried her best to blame Waqar Ali and Elma but the trick did not work.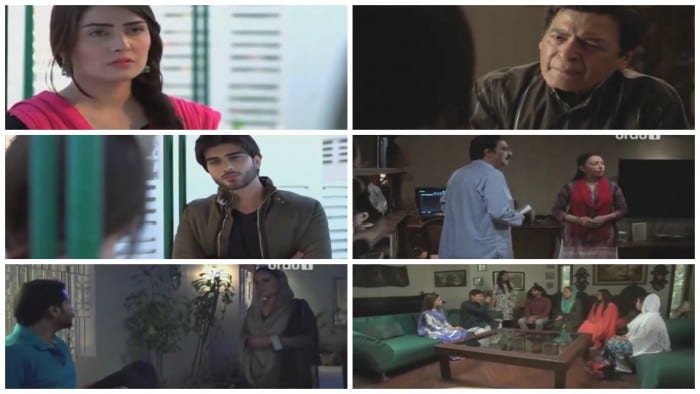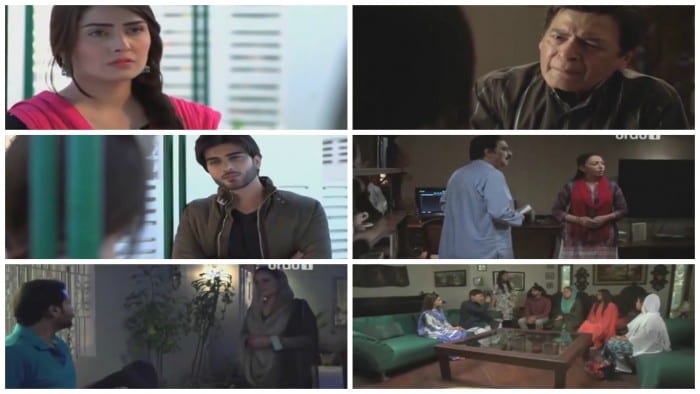 Zarbab's mother knew that once Zarbab saw Elma he will not object to this proposal. At the same time Sharafat begum wants to make sure that her son does not fall for Elma. She knows her son too well, she knows that he is quite capable of taking orders from anyone at all! Zarbab's character is actually turning out to be an interesting one! He and Ramish are complete opposites. I am enjoying watching these two completely opposite characters in the same play. Zarbab's mother has such a strong personality that he never really developed a personality of his own. Ramish on the other hand is intelligent and he has a strong personality. The scene in which Zarbab's mother snatched the phone from him and says ' pata nahi yeh majnoo hamare khandan mei kahan se paida ho gaya' was hilarious!! Sharafat Begum adds some much-needed light moments to this drama. Hina Bayat owns her role and I am looking forward to watching how Sharafat deals with Javeria and her mother.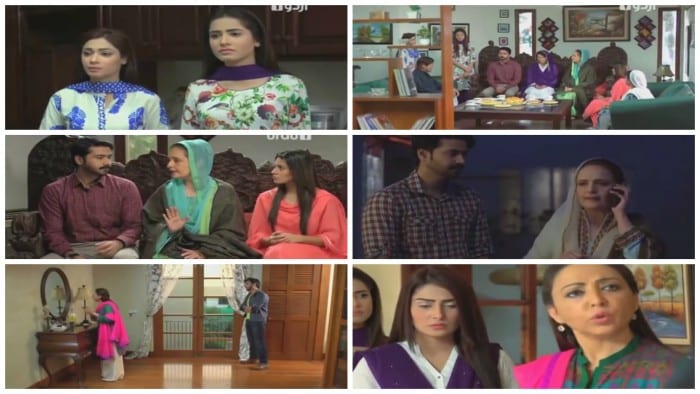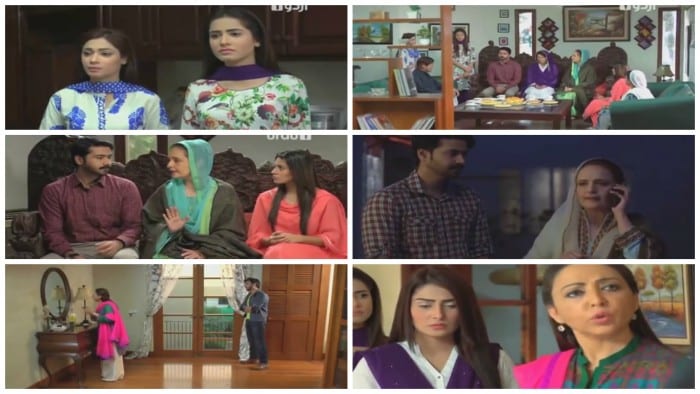 Ayeza Khan was the perfect choice for playing this role because of her looks in particular. Usually when we see people praising a girl like she is the most innocent looking girl alive, sometimes the actress playing the role does not fit the criteria or her character or portrayal is so annoying that her beauty is relegated to the background but in this case Ayeza Khan completely makes everything about Elma's character believable. Qavi Khan has played his part brilliantly and gives the viewers a reason to fall in love with and feel for his character. Mehmood Akhtar also deserves due credit for doing complete justice to his role. Imran Abbas is always a perfect fit in these characters but since the last episode his dialogue delivery has not been up to the mark. Azra Muhiuddin is very convincing as the elitist aunty who has a very materialistic approach towards life. Ali Abbas deserves tons of praise for nailing his character – he has made his character very interesting.
With this episode Elma and Ramish's love story came to an end. In the next episode Ramish will say goodbye to Elma in person. The preview of the next episode also suggested that he will make sure that his parents do not force him into getting married to Sunbal. This drama is full of clichés but Ramish's character is definitely not one of them. The preview also showed Muzzafar asking Waqar to marry Elma sooner than planned.
How many of you watched this latest episode of Tum Kon Piya? Don't forget to share your thoughts about it. If you missed it, watch it on http://www.dramasonline.com
Fatima Awan