This was another interesting episode of Tum Kon Piya which changed my opinion about some of the characters. Ramish's character is like a breath of fresh air. It has been a while since I watched and reviewed a drama in which a man thinks that the feelings of the girl he loves are just as important as his. Ramish is not a ghunda or a spoiled brat who is after a girl who does not want to be a part of his life or someone who forces her to marry him, Ramish did not think that because he was rich and good looking he could get any girl at all but he asked Elma before he went to her father with the proposal. Also, he is not a coward who lets the girl he loves get married to someone else because he does not have enough confidence in himself and neither is he someone who is going to believe whatever lies his parents tell him and spend the rest of his life blaming the girl instead of trying to figure out what actually happened! Ramish is sensitive, intelligent and he is also very brave. From the very first episode we have seen him taking a stand for the right things and this time around too he is right in taking a stand.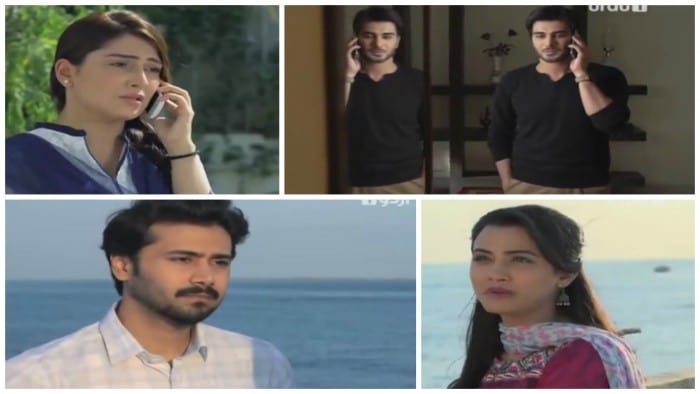 If this was any other drama Ramish would have fallen for his parents lies, the conversations between him and Elma would never have taken place and as a result he would have married Sunbal out of 'retaliation'. What we got to see today was definitely not done-to-death – Elma told Ramish that his father was behind all this. I am glad that the writer did not bank on a never-ending misunderstanding to take the story forward. All of us already knew that Elma had all the characteristics to be the ultimate scapegoat, therefore the way she is acting on her father's orders did not come as a surprise at all. It was however good to see Elma's sister talking to her father. This was the first time that we saw one of her sisters doing something 'useful'. Waqar Ali of course did not listen to her.
My opinion about Waqar Ali's character has changed completely after watching this episode. He is willing to sacrifice his daughter's happiness in order to make his boss happy – showing he is namak halal – which unfortunately is sad!!  At one time it was all about his integrity but now that is no longer the case, it just looks like he is going out of his way to please someone who never gave him an ounce of respect. He needs his job of course because he has a house to run but then this is more about keeping his job, making sure the boss gets exactly what he wants instead of looking out for his own daughter. The conversation which Elma's sisters had about Zarbab's mother and family made Waqar Ali's character look even worse because if these girls could see that Zarbab's family was greedy and his mother was a very controlling person than why did Waqar Ali not see all this?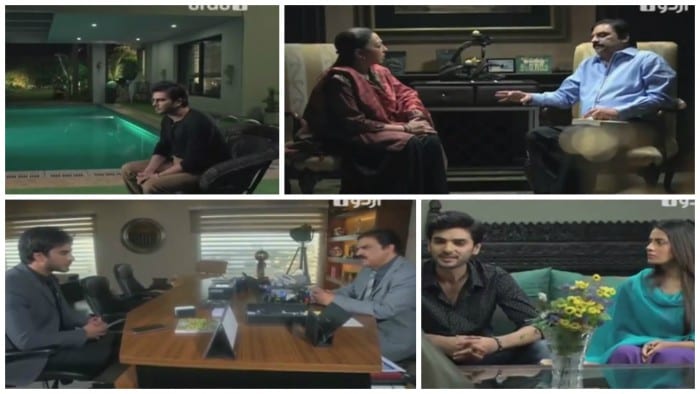 Javeria and her mother's confrontation with Sharafat Begum and later on Javeria's encounters with Zarbab were spot on. They went to show that Zarbab's fears were real – Javeria wasn't going to leave him alone or forgive him anytime soon. Arif has always been jealous of his brother because he gets more attention and respect in the house and now he has a problem with Elma's status too. Something tells me that Arif's jealousy will have a bigger role to play in the story because it has been highlighted in almost all the episodes.
Sunbal's track has to be my least favorite one in this drama. She is pretty, intelligent enough, educated and comes from a good family then why is she letting Ramish walk all over her? I am sick and tired of watching these desperate girls who run after the hero like he is the last man on earth!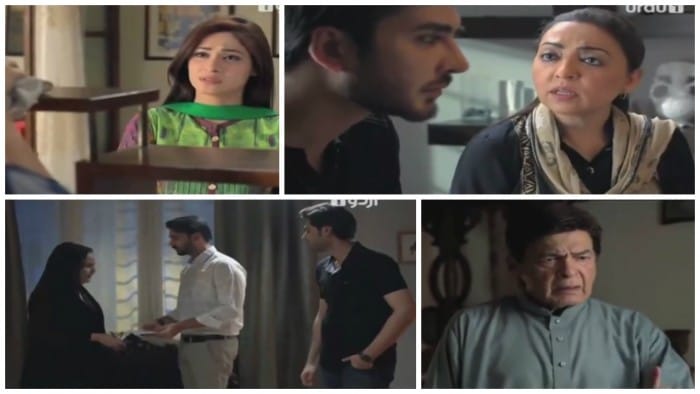 Although I expected this drama to be slow and dull but so far Tum Kon Piya has been much better than many other plays on HUM especially which I have watched and reviewed lately. The credit for this goes to Maha Malik for giving us some interesting characters and for writing beautiful dialogues which show that you can say something that has been said a million times before in a brand new way. Yasir Nawaz has proved that he is a very creative director who knows how to make a drama with a very smooth screenplay. There is excessive use of background score in the drama but other than that the direction is top notch. All the actors are doing a commendable job. It is one of those very few dramas in which even the supporting cast is doing complete justice to their roles. Although Imran Abbas tends to be in a rush while delivering his dialogues sometimes but he has definitely made me connect to his character and feel for him.
Elma will get married in the next episode and the preview of the next episode showed a very insecure Sharafat begum making sure her son laid down the rules of the house for his new bride instantly. What Javeria said to Zarbab will probably turn out to be true! I did not like the part in which Waqar Ali tells his daughter that they were 'paraye' for her now – don't like these dialogues or scenes at all!!!
How many of you watched this latest installment? Do share your thoughts about it. If you missed it, watch it on http://www.dramasonline.com
Fatima Awan