For all Rahat Fateh Ali Khan's crooning kissi daaaaaaa yaar na bichrayyyyyyy through 25 episodes was worth – I am not sure whether kissi da yaar actually did bichar in the end! Who was really who's yaar and did one particular yaar actually survive in the end? Produced by Six Sigma Plus, directed by Ovais Khan and written by Sanam Mehdi, Guzarish aired it's last episode on ARY Digital last night. I have been following the drama from the start and if I felt at any point that the drama was dragging – I can not seem to recall that feeling now. A story with nothing extraordinary to offer yet somehow different, Guzarish made a pleasant watch due to the natural acting of its cast, decent storyline and direction.
Guzarish is the story of two young people, Zain (Ahmed Ali) and Zara (Yumna Zaidi) who are in love and engaged to be married. Zain's older brother Jaffar (Ali Khan) is also engaged to be married to Zara's sister Sara (Sara Ashraf), although theirs is an arranged match. The girls live with their father Aalam (Javed Sheikh) and although their widowed Phuppo (Saba Hameed) lives separately, she and her son Saad (Affan Waheed) are often at Aalam's house. Phuppo apparently was never fond of her bhabhi and neither is she particularly fond of her nieces. Saad is in love with Zara but accepts she and Zain are in love and meant to be together and his mother is very adamant too that her son must never marry either of her nieces.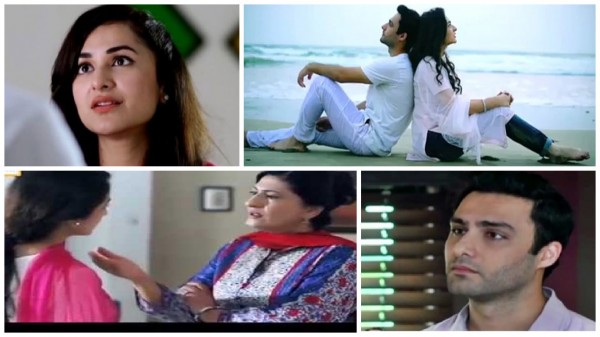 Anyhow, a misunderstanding on the night of the nikkah causes Jaffar to break the engagement with Sara and despite Zara's pleas to not create a scene nor cause problems in her relationship with Zain, he makes a huge fuss and makes his mother and Zain leave without having any ceremony done. Aalam is outraged too over Jaffar's insults. Zain's mother (Saba Faisal) has an accident and while she is in the hospital hovering between life and death, Zara tries to reach out to Zain. Upon Aalam's insistence (read hukkum) and with Zain unresponsive due to worry over his mother's condition and Jaffar's unmoving stance, Zara is married to Saad, much to Phuppo's despair.
What follows, is disappointingly a typical evil saas all out to make sure her son turns against the bahu and has her thrown out of the house. Despite Saad's love for Zara, but with Zain's constant presence somehow or the other in their lives, Saad succumbs to jealousy and suspicions and turns on Zara who finally has had enough and walks out of the house. She collapses and ends up at the hospital where Jaffar sees her and takes her home and Saad believing that Zara has gone back to Zain, wants nothing to do with her. All seems to have worked out how Phuppo envisioned except that Saad is then diagnosed with a brain tumor and by now he has learnt how his mother has played him and seems like the brain tumor has truly affected his brain because he feels the most fitting punishment for his mother would be to deprive her of the one person she loves the most – him. He refuses all treatment and shuts her out and Phuppo realizing how wrong she had been seeks out Zara for forgiveness and to bring her back to convince Saad to fight for his life.
A few other tracks play simultaneously in the drama and add to the story. However, thankfully their tracks did not take the focus away from the main leads which was a relief. Hina (Maha Warsi) is Zain's khala ki beti and comes to Karachi for Zain's wedding. She and her mother stay on when Zain's mother is ill and then she begins to develop feelings for Zain which she openly expresses to him. I am often quite curious about this kind of love where you know the person you love madly loves another yet you claim your love is so deep you feel fulfilled just to know you can be with that person. Anyways, Hina and Zain are engaged and then not engaged and then umm, I lost track.
Jaffar apparently has been in love with a woman abroad for many years who falls for the charms of a younger man, Khurram. Khurram marries her as she is rich and he has financial troubles back home but he does not love her. Khurram however hides this part of his life and marries Sara. Khurram and Sabina have a son who ends up with Jaffar who has made it his purpose in life to protect this child.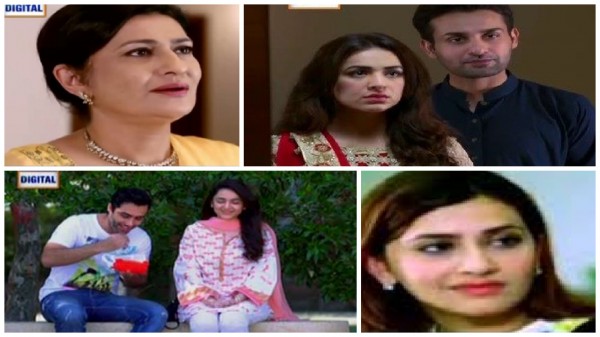 What appealed to me the most about this drama was the refreshingly normal attitude of Zara. She was in love with Zain, true. But once she was married to Saad, she accepted the turn her life had taken and made an effort to make her marriage work. Normally the girl in this kind of situation in our dramas becomes a robotic person who erupts from time to time at the understanding new miyan, declaring her love for her old flame. Or, when the understanding miyan vows to deliver her to the love of her life, she realizes her understanding miyan was her true love. Yawwwwn! And Gaggg! I liked Zara's positive attitude, how she did not whimper and weep over each of Phuppo's insults and tried to bond with Saad. Also, in the scene when she leaves the house I liked how it did not become a meri baat tau sunain and at one point Zara took control and walked out herself. The fact that she collapses right after is a separate story uggh!
Zain however finds it harder to give up on Zara and I found myself relating to his character and his confusion too. He made a few silly decisions especially jumping into Zara's life time and again when she made it clear that would only ruin things but given how he was in love with her I could see how he was not ready to give up even though she was married now. However, his immature actions did only end up making life difficult for Zara.
I rarely watch a drama which has Yumna Zaidi in the cast. Something about the way she talks and acts just does not sit well with me. But I will admit she has performed really well in this play. I felt for Zara. However her dialogues at times were a bit too preachy and made me cringe but overall I could not fault her acting. Ali Ahmed, Affan Waheed and Maha Warsi fit their roles perfectly but did not stand out. My favorite however had to be phuppo. Saba Hameed is an actress who fits into her characters so well you believe you are watching the character and not Saba Hameed. Her skeptical and scornful expressions and then her desperation as a mother were so spot on. When she reaches out to Zara I did not find it unreal or artificial and could totally relate to her personality change.
I also liked how although the ending is a happy one (I think), it took a few episodes to come to the point rather than dragging out the drama and then doing an about turn and turning everyone's lives and personalities upside down within the last 40 minutes and lo and behold, all is well again. The viewers were kept wondering till the very last episode though who Zara will end up with eventually – Saad or Zain. Although not a masterpiece, Guzarish was a decent watch for me.
How many of you were watching Guzarish and rooting for Zara-Zain or Zara-Saad? Would love to hear your thoughts.
Kunwal Javid