LOL! I actually took a cup of black coffee to prepare myself to go through this torture named Tumhare Siwa & now when the episode has ended, I am going to grab another cup as I need it again to numb the headache that this drama has caused. Oh my, Samra is such a poor soul & the life is so tough on her, so so tough that she is making it tougher for us all too but you know what, I am having a hard time having sympathy for her because, she is not using her brains & isn't smart enough to fend for herself that is why she is now being a burden on everyone around her like her husband, her sautan & her viewers too!!!
Honestly speaking, I am not sure who in what mental state told Mustafa Changezi that he could act & I am not sure who & in what mental state hired him to play this role? He is so expressionless that his even his eyes look blank & expressionless & to see him furrowing his brows to erupt some expression on his face was actually giving me a headache. Honestly boy, at this tender age, the world's your oyster, you still have enough time & chance to make a career switch because acting is not your cup of tea but yes, I'd thank you for making me laugh with your expressionless-ness & the helplessness that you displayed when you were told by your Jeeja to get out of his office. I couldn't stop laughing that a guy who was so furious ran out of Aazar's office even faster than his fury after getting a mild shut up call from him. I find it really hard to believe that Rania never ever ever in the first 13 episodes informed her dupatta-less mother & her expression-less brother about the insurance fraud that she was planning on committing because to see them worrying sick about her all of a sudden after 13 episodes is a bit hard to absorb!
Aazar is 'supposedly' having a hard time whereas the way he's reacting goes to show that he is pretty much happy & settled in this new routine of taking care of Samra & Naani all by himself. I really don't understand the majboori he refers to every single time because right now his utmost priority should be clarifying the misunderstanding that has risen between him & his first cheesy weird love wife Rania but he is a bit too concerned about Samra? Also, by showing him in a uniform after 15 episodes doesn't really justify that he is a pilot because he ain't flying anymore & oh by the way, this time around, even that aeroplane poster was missing from the offices that they showed!!! LOL!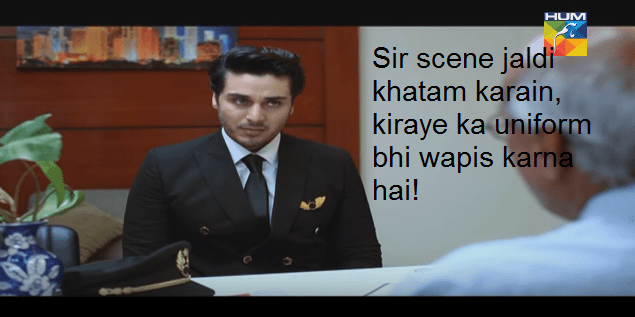 Oh well, I miss nintendo days because when I was Daada's age, I had one of those to play with but to see Apple iPhone in his hands was annoying & what's more annoying is seeing him misusing it for his age where he is calling his father like a boss!!! Also, I must say Daada's timing is perfect, he happened to blurt out the secret about his father that he was at Samra Aunty's place just when his mommy entered his room. Once again, the writer is pushing all the wrong buttons here by depending on these not to immature & child-like kids to take the story forward. Also, Naani's fixation with her Papa # 2 is beyond me. I think she takes it after her mother because she knows every the tact of emotional blackmailing. She keeps on using her Papa # 1 as a reference to blackmail her Papa # 2 & what's funny is that Samra cries buckets in stead of stopping her daughter from being such a nuisance & yes, I say nuisance because Naani then informed Rania that her Papa # 2 was the one who tucked her in bed last night & Samra was standing there like she has no control over this aunt who happens to be her 8 y/o daughter, like seriously, why didn't I hear Samra say to Naani ke apne kaam se kaam rakho beta, pre-mature aunty na bano!!!

You know what? After seeing Baber's bad-neeyati about Samra, I thought I had seen it all in this drama but they surprised me even more by showing the blooming comfort level between the newly weds Samra & Aazar & I guess that wasn't all that that they intended to show, there's more to it as they suggested in the promo of the next episode where Baber will attack Samra & Aazar will find her in more miserable condition than she actually is & I am sure he will fall in love with his damsel in distress!!! How new right?
It is so frustrating seeing Samra worrying about her situation without moving a muscle to make it any better. Like when she knows that she can not afford such a huge house, so why doesn't she move to a small apartment & live life peacefully there? Obviously with Arsal gone, she doesn't need such a huge space so to see her falling short of such a common sense forces me not to sympathize with her, at all. Also that whole siskiyaan on the phone call to Aazar & speaking to Arsal's photo later made no sense whatsoever. They are trying to show that she is sort of getting over her previous husband & is now unconsciously depending on her new husband & this wholeee transition is absolutely ridiculous. She actually has asked for a divorce but the pain that she carried on her face while requesting that from Aazar went to show that she herself doesn't want that to happen. Samra officially has entered the brain-dead zone for me. Period!
I really don't understand why isn't Aazar even trying to talk to Rania? She left the house without notifying him so when he got to know about it, what has he done to rectify the situation? Aazar has even stopped calling Rania & with this sort of ignorance, he's making it look like he was waiting for Rania to leave so that he could become Samra's husband wholeheartedly. Also, why is Tania so out of control? Why doesn't Aazar keep a check on his sister that she goes around blurting whatever she wants & interferes in his life like it's her business!!!
This script was hideous to begin with & the way it has been directed doesn't make it any better. I am just wondering what the producers at Hum TV were thinking when they decided to produce this drama? Like seriously? After having such a huge experience in the dramas & having a complete know how of what appeals the most to the viewers, they decided to produce this crap? This is something that I am unable to digest & also, the actors all the actors who're working in this drama are well-known faces & are those people who themselves have worked in amazing dramas, so what were they all thinking? This drama has crossed all the limits of sensibility & reasonability. I think they should end it ASAP! Please share your thoughts about it!
Keep Supporting,
Cheers,
Zahra Mirza.