Writer: Farhat Ishtiaq
Director: Ehteshamuddin
Produced by: MD Productions & Kashaf Foundation
Channel & Timings: HUM TV – Every Sunday – 8pm
Udaari is the brainchild of the same writer and production houses who were behind drama serial "Rehaii". It is inspired from true stories; Kashaf foundation collected real life stories from the community they work with on regular basis and asked the writer Farhat Ishtiaq to write a script based on these stories. The owner of Kashaf Foundation said in an interview that when Rehaii went on air people said it was too real therefore very upsetting and not entertaining enough. Keeping that feedback in mind this time around they have tried to highlight some serious issues without compromising on the entertainment value of the serial. According to the producers Udaari is going to be a mix of education and entertainment.
This first episode of Udaari introduced all the primary characters in the story and I must say that there are a lot of characters in the play. Rehaii had many characters too and quite a few tracks but the writer and the director did complete justice to them therefore I expect nothing less than just that from this drama as well. Sheedan (Bushra Ansari), her husband (Rehan Sheikh), her son, her brother and her daughter Meeran (Urwa Hocane) live in the village. It is a Mirasi family who go to different functions to sing in order to earn a living. Everyone else in the family has absolutely no problem with this profession except Meeran. Sheedan in fact is proud of the fact that she inherited this profession from her ancestors. Meeran on the other hand feels differently mainly because the boy she is in love with does not approve of the profession. Although she tries her best to convince her mother that she does not want to sing but Sheedan is not someone who will let her school going daughter dictate to her. Meeran also has a naturally beautiful voice, dubbed by Hadiqa Kiyani. Urwa Hocane's acting was flawless in this episode but her make-up unfortunately wasn't. Her 'white' face was very distracting and she does not pass for a school going girl. Bushra Ansari and Rehan Sheikh shared good on screen chemistry. I am looking forward to finding out more about their characters.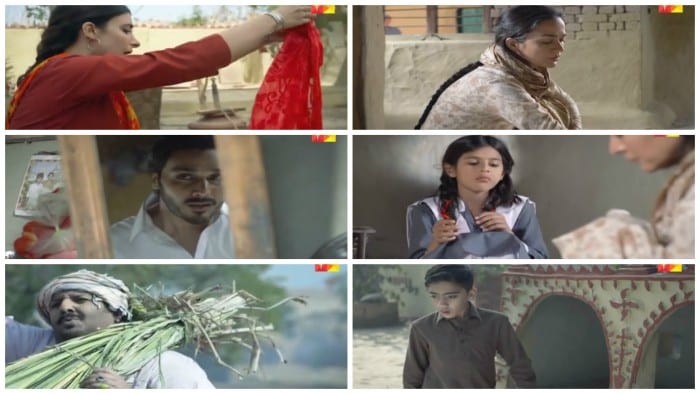 Sajida (Sammiya Mumtaz) is Sheedan's neighbour, she is a widow. She works at someone's house to earn a living. She has a little daughter Zebu (Maryam Fatima) who she has to leave with Sheedan and when she is not around with other people because she has no other choice. Imtiaz (Ahsan Khan) is Sajida's dead husband's best friend. He has just returned from Dubai and was shown showering Zebu and Sajida with gifts and affection. Imtiaz is highly respected among people in the neighborhood and although he seems like a nice person but there is definitely more to his character than what was shown in this first episode. I must say that for the first time I felt like Samiya Mumtaz wasn't appropriate for this role because she looks much older than Ahsan Khan. Otherwise I am a huge fan of her acting because her acting is always effortless. Ahsan Khan was very convincing as Imtiaz.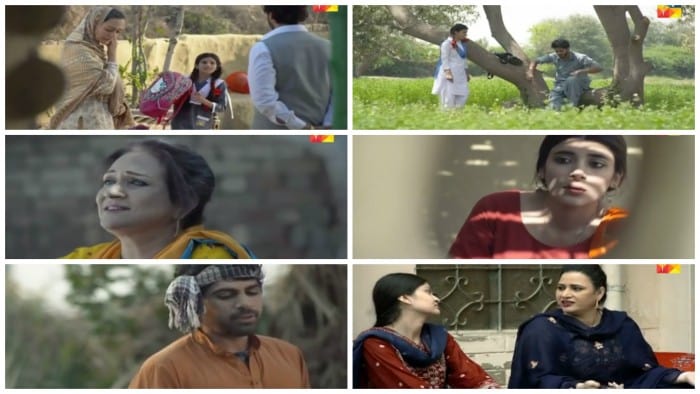 Arsh (Farhan Saeed), Milli, Haris and Farwa's lives are very different from the lives of all these people living in the villages. They live in the city and Arsh, Milli and  Haris in particular come from very affluent families. All of them have a music band and are aspiring musicians. They hope to get a chance on television. Farwa is the lyricist and the vocalist, a very important part of the band but it looked like her mother's opposition will prove to be a hindrance in the way of her dreams. Arsh and Farwa don't get along well but Arsh's meeting with Haris and Milli's mother (Laila Zuberi) went to show that he is a good person at heart. Milli is also a sensitive person whose mother works with people who are underprivileged. Farhan Saeed acted superbly in all the scenes. It was good to see some new faces on screen and two completely different worlds in a drama which only had one thing in common – passion for music!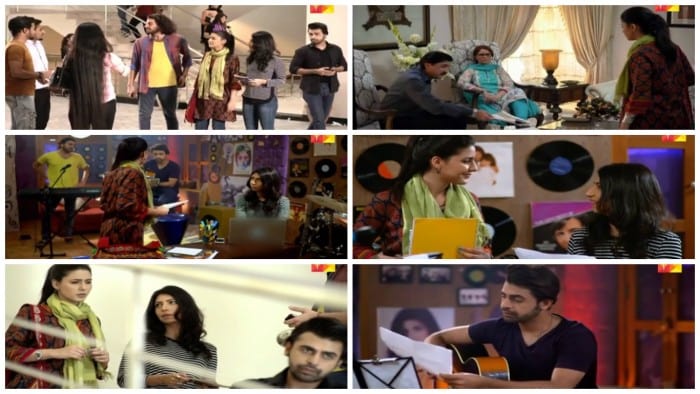 This first episode was decent enough. The story has something new and different to offer.  For some odd reason Sajida's track caught my attention more than that of Sheedan and her family. It would have been so much better if the child artist did not wear so much make-up and Urwa Hocane shouldn't have white washed her face either. All the actors deserve due credit for changing their accents completely to meet the demands of their characters. Bushra Ansari made her presence felt in tonight's episode more than any other actor. Udaari promises much more than just mindless entertainment and I am really looking forward to what it has to offer in the upcoming episodes.
How many of you watched this latest episode? Don't forget to share your thoughts about it. If you missed it, watch it on http://www.dramasonline.com
Fatima Awan
Top Trending Video