The story did not take the turn most of us were hoping it would take. Most viewers wanted to see Imtiaz being punished for his crimes through a proper channel but like every other drama so far which has dealt with this topic, the perpetrator of the crime has been killed (maybe) which makes Sajida a murderer. Imtiaz was a monster who definitely deserved to be given the worst possible punishment but even if he was to be killed, it would have been so much better if someone else killed him instead of Sajida. If Imtiaz is dead then Sajida too is a criminal now which somehow is not a very comforting thought.  The fact that someone was watching everything that happened could mean that Imtiaz might not be dead just yet. While I am not too happy with the recent developments but I have to admit that like every other episode of Udari this one too was executed flawlessly. Imtiaz did push Sajida to the point where anyone would do something which they would never do under normal circumstances. Also, this recent development has made the story very unpredictable.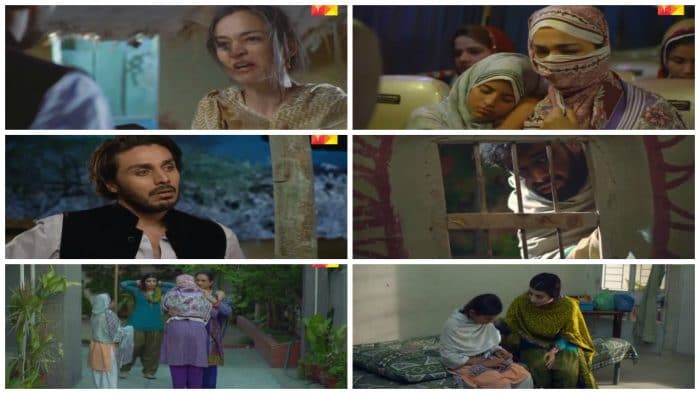 Sajida murdered Imtiaz because she was enraged, she wasn't thinking straight when she killed him and it was an act of desperation after she was left to feel utterly helpless. She could have saved Zebu by fleeing in the middle of the night too but she was not thinking while she committed this act. Imtiaz obviously is not going to be missed but the fact that someone he knows witnessed everything and Sajida fled the scene right away makes things very complicated for Sajida. There was more focus on Sajida's state of mind tonight than that of Zebu but hopefully that will change in the upcoming episodes. I would really want this track to be more about Zebu than anyone else because this is her story. Samiya Mumtaz nailed every single scene in this episode. She portrayed Sajida's rage, helplessness and later on the fear effortlessly. Ahsan Khan has given the best performance of his career in this drama. He decided to take up a role which many other refused to do and he did it with perfection. There was a time in the very recent past when I avoided Ahsan Khan's dramas but after watching him play this role, that has completely changed. He has restored my faith in him as an actor and I definitely want to see what he has in store for the viewers next.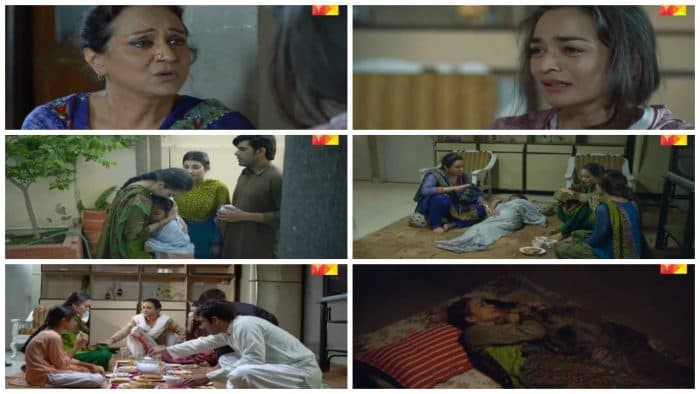 Sheedan and Meeran's reaction was also surprising. They didn't take too long to digest all the horrific things Sajida told them and were a little too confident and eager to move forward. Is it because they are naive and very emotional? They did not see Sheedan as someone who had just killed someone and Zebu as someone who might need a lot more than just love but they only knew that they had to support them and do whatever they could to help them start a new life. It was endearing to watch Sheedan and her family supporting Sajida like that but at the same time it was difficult to relate to their reactions. This will mark the start of a new life for Sajida and Zebu but will Zebu be able to forget everything that happened to her and move on with life? She was not only violated but she also saw her mother killing the man who did it – how will she be able to overcome all that? I am waiting to find out.
I must say that the developments in tonight's episode completely took me by surprise. The preview of the next episode showed Illyas spotting Meeran, Sajida thinking about earning a living for herself. Milli and her mother were out of the picture in this episode. Will Milli's mother help Sajida find work?
How many of you watched this recent episode? How do you feel about the recent developments in the story?
Fatima Awan
Top Trending Video