Thora Sa Haq is one of the most watched drama serials on television right now. Even those viewers who usually do not watch dramas involving damsels in distress are watching this one. Thora Sa Haq is one of those dramas which people might criticize for some reason or the other but they cannot ignore it. Also, there is a vast majority which is simply hooked to the show because of different reasons. These viewers consider Thora Sa Haq the best drama on television without any reservations. The script of the drama has been written by Adeel Razzaq, it has been directed by Ahmed Bhatti and it airs on ARY Digital. So what is the reason behind Thora Sa Haq's popularity? Since we genuinely feel that many of the people who are watching and loving this show are those who are not active on social media therefore here we are deciphering the reasons why Thora Sa Haq is the most watched drama on television right now.
Ayeza Khan and Imran Abbas Jodi
This is not the first time that Ayeza Khan and Imran Abbas have been seen together in a drama. Their on-screen jodi has won people's hearts many times before too. They starred together in Tum Kon Piya, Mohabbat Tumse Nafrat Hei and Koi Chand Rakh before they were chosen to play the leading role in Thora Sa Haq. Their track record shows that viewers love this on-screen couple. All of Ayeza Khan and Imran Abbas' dramas have been popular hits.
Ayeza Khan and Imran Abbas have always been shown tied up in a love triangle in a drama. Whether it was Mohabbat Tumse Nafrat Hei, Tum Kon Piya or Thora Sa Haq there is always some conflict because of which their characters are shown suffering. The love is always there but because of the conflict they cannot be together. And that is why the viewers find themselves rooting for their on-screen jodi, waiting to see if they will get their happy ending.
Ayeza Khan and Imran Abbas look great together. Their sizzling on-screen chemistry cannot be denied. When the producers announced that they will once again be seen together, viewers were excited. This on-screen jodi is the number 1 reason why the viewers are loving Thora Sa Haq.
The Fast Pace
The fast pace of a drama makes a huge difference. There are some dramas which are written well and have a lot to offer but they are so slow that people get bored. There are many viewers out there who watch dramas solely for entertainment so for them how fast the story moves forward makes a big difference. The producers of Thora Sa Haq understood the importance of moving the story forward quickly. Many people also think that the producers took inspiration from the mega hit drama Hamsafar. Hamsafar too was popular because the story moved so quickly especially in the first 6 or 7 weeks. The producers know that once people get hooked to the play in the first few weeks, they will keep on watching it out of curiosity.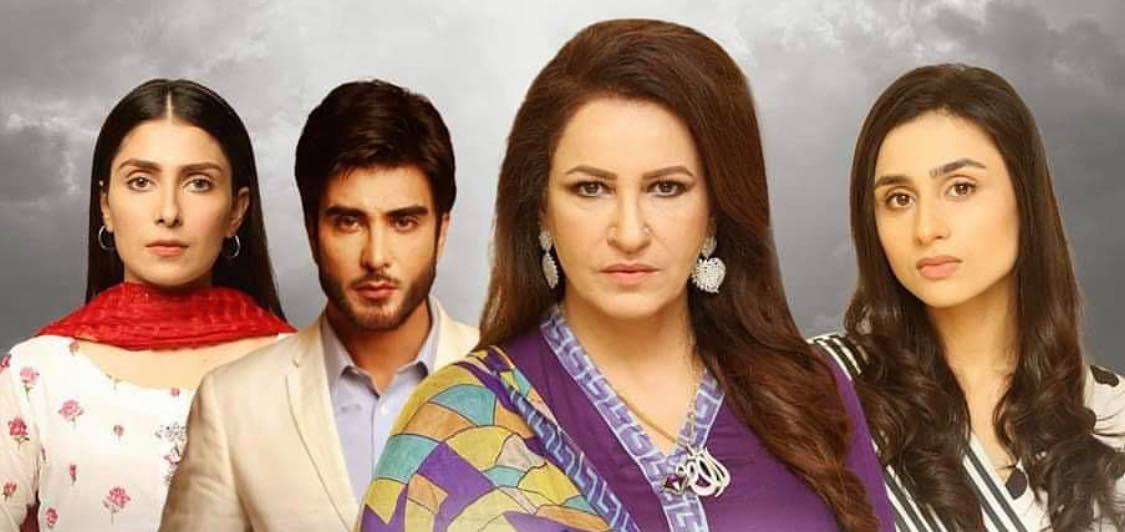 There are so many viewers who watch the show but do not take it too seriously. They love the fast pace of the drama and watch it because they find it entertaining. When the story moves forward in a fast manner, it is easier for people to be hooked to a drama. They know that every episode will have some new development.
Visually Pleasing
Thora Sa Haq is definitely well made. The whole drama watching experience becomes better when everything is presented in a visually pleasing way. The production values of the drama are good too. The locations and the overall looks of the characters too appeal to the viewers. Ayeza Khan looks good in a simple role. Viewers are also enjoying watching her in a role which is a complete opposite of the one she is playing in drama serial Mere Pass Tum Ho. Ayeza Khan also always makes sure that she promotes every drama she work in which is why her fans watch her dramas.
Saba Faisal looks stunning even though she is playing a negative role in Thora Sa Haq. Saba Faisal is one of those few older actresses who can look gorgeous and graceful in dramas. In Thora Sa Haq she looks like the rich and arrogant woman she is playing.
The Performances
The success of any drama depends on its performances. A good script if not executed on screen properly by way of good performances can be ruined. On the other hand, a simple script if performed well by the actors can become a hit. Thora Sa Haq's story is not different but all the characters have given superb performances. The cast of the drama is strong. Mashal Khan too has surprised the viewers by playing her role so well since she does not have a lot of experience in acting. Her role is different from the one she played in Suno Chanda.
Thora Sa Haq is a drama in which all the actors from the lead to the supporting ones have been doing complete justice to their respective roles which has made a big difference. The fact is that all the actors in this drama are actually quite close to one another in real life too adds to the organic chemistry between them. In this manner everything we see looks more real than staged.
The Instagram posts of the Thora Sa Haq cast are filled with love for each other. Even though there is a lot of hate which we see among some of the characters in the drama but in reality, all of them share a special bond which is another reason why they gelled in so perfectly in the drama.
Typical But Not Illogical
Thora Sa Haq has a typical story, a love triangle, the usual damsel in distress kind of a situation but at no point does the story get illogical. Some of the developments in the story frustrate the viewers like when Hareem says yes to the nikkah even after knowing Zamin is already married to Sehar. And also viewers wondered why Zamin waited so long to tell Hareem the truth. So yes few developments in the story have been frustrating but they are in no way illogical. Such conflicts and frustrations in fact make the viewers even more interested in the drama.
Sometimes the viewers needs a break from the more heavy duty dramas and they want to watch a drama which has emotional value but isn't too heavy duty. Thora Sa Haq is such a drama which even with all its typicality has been entertaining the viewers. The viewers find themselves waiting for the next episode. Everyone is rooting for Sehar and waiting to see how this mess will be cleared now that Zamin and Hareem are also married. The viewers also feel sorry for Hareem just as much as they do for Sehar which has created a more complex situation.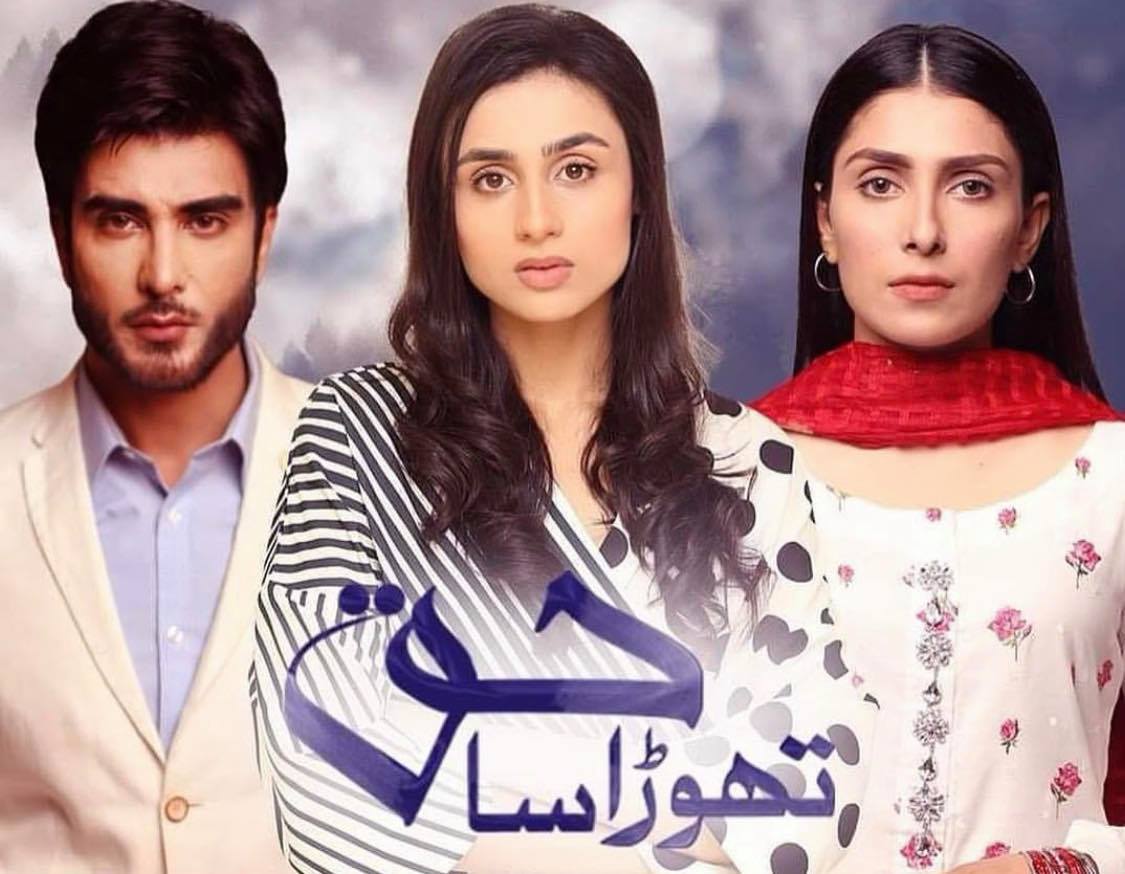 Are you watching Thora Sa Haq? Is it a drama you are truly invested in or a guilty pleasure? Do you feel for Hareem just as much as you do for Sehar? Why are you watching the play? Share your views.