The team of Woh is back with a sequel titled Woh..Dubara. I have been looking forward to this sequel because the prequel proved to be a complete package; it was entertaining and different. Angeline Malik is the captain of the ship once again and the sequel has been written by Syed Atif Ali. I remember when the prequel was on air Syed Atif Ali was not sure if this new genre of drama will click with the viewers or not, I am glad that the play got the attention and viewership it deserved and the experiment did not fail.
Woh..Dubara has also been shot in the same house where the prequel was shot. The house is still haunted by the demon who has now taken over the body of Faisal's daughter Saba. Zubair (Shahood Alvi) along with his wife (Yasra Rizvi), child Ali (Bilal Khan) and brother Umair (Ali Abbas) move in the haunted house. He knows about the tragedies that took place in the house but chooses to ignore everything that happened because he thinks that it is not going to effect him or his family in any way. Umair is due to get married to Emaan (Sana Askari) very soon that is the reason why they moved in this house in a rush. All the family members in the house are very close to each other. Even the housekeeper of the house (Sultana Zafar) is treated like a family member because she has been with the family for a very long time. Emaan and her mother (Seema Sehar) however are bad news as Bua rightly puts it. Emaan is headstrong and unreasonable and her mother encourages this behavior. Zubair's wife on the other hand is willing to compromise because she wants Umair to be happy.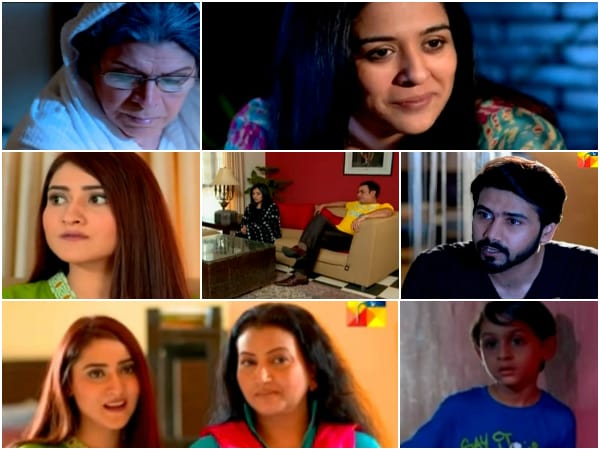 In this episode the demon seemed to be inspecting the members of the household one by one so that it can chose its victim. Ali is the first one who sees the demon and is now "friends" with it. The strange happening in the house are ignored by everyone. The main protagonist in the show this time around is going to be Sana Askari, I hope that she will give us the same stellar performance which Arij Fatyma gave in the prequel. The cast is very strong, one thing I love about Angeline Malik's plays is that the scenes are always short and to the point and I have faith in the writer Syed Atif as well.
Overall, this was a fast paced first episode which introduced the characters in a very good way. The camera work and picture quality was upto the mark and it definitely gave me something to look forward to. If you want to watch something different, entertaining and of course chilling then Woh…Dubara will definitely fit the bill.
Fatima Awan