In these 5 weeks, the schedule of this drama changed over and over again and I had a difficult time keeping up with it! I was also waiting for ARY to finally decide what time and day they want to air this play so that I can finally catch up and review all the episodes together. A great deal happened in these 5 weeks and even after so many weeks Zaid and Naina continue to be the best part of this drama. The supporting characters and actors have an important role to play in the story but they are not always impressive and there are times when they keep you wondering as well. Naina's character went through a major transformation in these episodes. Initially, she decided she needed to do the bare minimum in order to buy herself some time till she could finally figure out what she needs to do. Madihah Imam translated every emotion Naina went through in these episodes effortlessly. The writer has also shown the difficulties Naina faced in Zaid's house and how ultimately she manages to fit in convincingly.
It is also good to see that Naina and Zaid haven't fallen in love with each other just yet but they have learned to live with each other for completely different reasons. Naina and Zaid's valima was covered really well, the way they feel awkward around each other and Zaid's attitude in particular was shown realistically. He could not stand to be around Naina and he didn't even try to make his behavior socially acceptable. Naina too was not surprised or disappointed when Saba came and told her that Zaid loved her. When Zaid said to Naina that he was not going to sleep on the sofa like heroes do in the movies reminded me of Dillagi! Mohid and Zaid surely are world apart but while I absolutely loved Mohid's character, I find Zaid's character interesting too.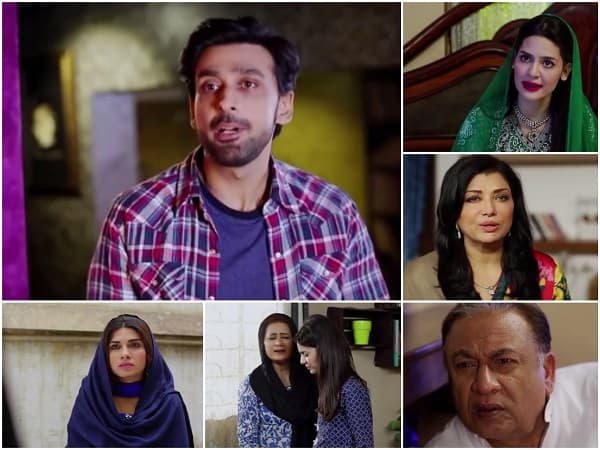 Zaid is greedy and selfish but Sami Khan's performance makes you look forward to his scenes. Also, Zaid's character is intriguing and somehow I don't find myself judging him too much! Zaid decided to meet Naina's mother when Naina wasn't feeling well and he made the most of this meeting. He got a job through her connections and access to Naina's bank account too. He paid Naina's tuition fee with her own money but Naina felt like he was doing her a huge favour and therefore tried to put in some effort to please him. This turn in events was amusing. Naina's character and the role she played in the latest episode reminded me of Dina's character from Teri Meri Kahani. Naina has gradually changed herself and is doing whatever she can to help Shabana too. While Zaid is a thankless manipulator, Naina acknowledges every little thing which Zaid's family does for her. Zaid's father's character played an important role in making his wife and daughter understand Naina situation and has been supportive throughout. Arham also found out about Naina's wedding but he is not back just yet. In this episode, it seemed like Arham's father felt bad about what he did.
Woh Mera Dil Tha has an interesting story, Sami Khan and Madiha Imam also keep on giving you a reason to tune into this drama. There were a few continuity bloopers in these episodes but overall the director has done a decent job. However, the production values and some of supporting actors are the weakest link in this play. This drama could have been far more enticing and appealing if it was visually pleasing as well. The preview of the next episode showed that Naina's mother will now gift her a car as well and it is quite likely that her father might forgive her some time soon too.
How many of you watched these episodes? Do share your thoughts about them.