The story is getting more interesting with every passing week and even with the unimpressive production values , Zaid and Naina continue to be the reason why I tune into this show and they never disappoint. Last week, Zaid was least interested in giving Naina an explanation as to why he gave Saba lift and couldn't be less bothered about how she felt. Naina too was not being possessive or jealous but she was more concerned about Saba – something which was brand new and truly refreshing! Naina's character is likeable and refreshing for many reasons. Although she is making an effort to do whatever she can for the people who had more faith in her than her parents ever did but at the same time for the longest time she saw Zaid for who he was. She appreciated the fact that he was taking care of her 'financially' but wasn't relying on him completely and her overall opinion about him didn't change until Zaid convinced her otherwise.
Zaid is someone who has been manipulating people for years and he is an expert when it comes to exploiting girls in particular therefore it did not take him long to convince Naina that he really was in love with her. It was good to see that Naina did not fall for him immediately. Even now, she has not fallen in love with him but is willing to take a step forward. Zaid's character continues to be the main driving force in the story. Everything he did in these two episodes showed once again just how selfish he was, everything he ever does is for his own pleasure and for him financial stability and material things come before everything else. The writer has done a brilliant job of introducing this character and Sami Khan is absolutely phenomenal as Zaid. He makes it easy to believe why women fall for his lies. He also makes the guilt-free exploitation of everyone around him actually easy to understand! Zaid is so convinced that he deserves better that he will take any shortcut he can in order to get what he has always wished for and wanted.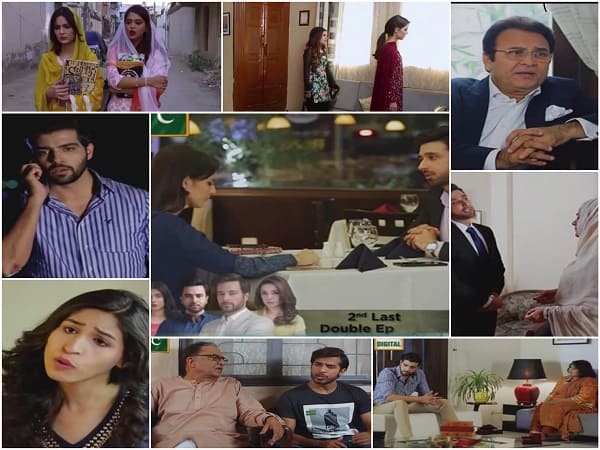 Zaid's attitude towards Naina only changed when he found out that Arham was back. All of a sudden he felt insecure and he felt that the best way to ensure that Naina does not go back to him was to make her fall in love with him. Zaid did what he does best tonight and he is sure to succeed in the upcoming episodes. Zaid's conversations with his father showed how convinced he was that he will get away with all this and everything his father said explained why it was so! Zaid does not believe in working hard – he never did – therefore now that he is getting everything he wanted and more so conveniently, he is not questioning his actions or the possible repercussions.
Zaid and Naina's story has tons of potential and Arham's return has only made things more interesting. Even though Zaid is the one with so many shortcomings but he always gives you a lot to look forward to. Arham's character on the other hand is very annoying! I am really looking forward to watching how the story unfolds from here on. I am also looking forward to when Zaid will actually fall in love with Naina but she will probably find out how he had been lying to her all along. Naina cannot stand it when Zaid makes a fool out of other women, one can only imagine how she will react when she finds out that he was fooling her too. I feel for Naina already!
Rating
Reviewer
Date
Drama
Woh Mera Dil Tha Episode 17 - 18
Overall Score