After weeks of going around in circles, the story finally moved in a new direction. Khajastha's track and Zubia's latest discovery that Asfand is the same guy who was there when she was in the middle of the incident which changed her life for the worst forever, has altered a lot of things about this drama and has given the story a new dimension which was much needed at this point. For weeks now the focus was entirely on Asfand's changed personality and his attitude with Zubia in particular but tonight the focus was entirely on Zubia, which was a positive change. Zubia was seen trying to do whatever she could in order to help people around her, whether it was teaching children or helping Khajastha by giving her emotional support. This went to show that Zubia wanted a life with a purpose to help individuals who were vulnerable or in need of help. Zubia has come a long way and the development in her character has been positive but tonight the viewers saw Zubia fighting her demons once again! The past which she had left far behind haunted her yet again. She thought her present might be affected once again by something she was trying so hard to forget about and move on. For the first time Asfand seemed concerned about Zubia and the preview of the next episode suggested that very soon he will also start appreciating her efforts.
Zubia has been shown as a strong girl who might not always have the confidence to speak her mind but she has some very obvious strengths which make her character likeable. Sajal Ali has been the star of the show throughout. She made me feel for her character and relate to Zubia's feelings instantly even in those episodes when the story was progressing at a snail's pace. Bahadur Khan's character was introduced in detail in this episode. The scene covering Bahadur Khan's interaction with the people he worked with could have been chopped down if it focused only the main profile of these people. The addition of "king maker" was completely forced. His profile suggested that Zubia might get herself into trouble because she is helping Khajastha and perhaps Asfand will help her in some way. I am definitely interested in finding out where this track leads to as long as it is not stretched like every other track was in the past few weeks.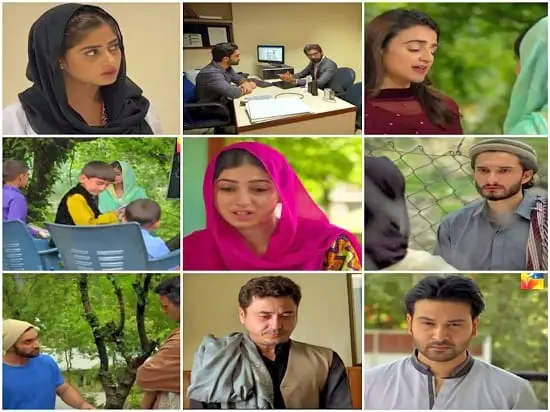 Rehan did not get a lot of screen time in tonight's episode but just like the past few episodes, he was shown disturbed and upset which suggests that he is realizing his mistake and if it weren't for his wife, he would be out looking for his sister. Rehan is a weak man who is gradually learning to think for himself for a change. I am wondering if Sheema will ultimately pay for whatever she did to Zubia because if it weren't for her, Rehan might have given Zubia some breathing space.
The relationship between Khajastha and Zubia was the highlight of tonight's episode for many reasons. Both the actresses involved have great chemistry and even the actress playing Khajastha's role is acting superbly. Zubia needs Khajastha in her life just as much as she needs her. Her existence gives Zubia's life meaning. Gaiti and Zubia's connection is also endearing even though their scene tonight could have been covered in a better manner. When Gaiti left the house she told her in laws that Zubia found out she was related to Asfand only yesterday but when she met Zubia she said she waited a week to talk to her! Also, instead of stretching the scenes covering Asfand's state of mind, this scene should have been given more screen time.
Zubia and Asfand's characters have a lot in common; both of them have devoted their time and energy to helping others in order to forget the tragic incidents which changed their personalities and lives forever. Their track however could have been far more interesting if they were not so repetitive, especially in the past few weeks this drama has not given us a lot to look forward to. I also feel that the viewers would have found Asfand's character even more likeable if every now and then we actually saw or heard him talking about his actual feelings.
Overall, this episode was definitely much more interesting than the previous few episodes. The preview of the next episode also suggested that Zubia and Asfand's relationship will finally take a new turn.
How many of you watched this episode? Do share your thoughts about it.
PS. I am covering for Zahra, who is away for maternity leave but will be back very soon ?