Ohkay so, Ye Dil Mera is written by Farhat Ishtiyaq, directed by Ahsan Talish and produced by MD Productions. It has been on air for 12 weeks and has made quite a buzz and for all the right reasons. Ye Dil Mera is a story of love & revenge, which has been set in a genre of mystery & thriller. It also gives the viewers a deep insight into the life of a person dealing with Post Traumatic Stress Disorder (PTSD). Dramas like Ye Dil Mera are a rarity on Pakistani television & it definitely is commendable that more & more writers are exploring these subjects. I have binge-watched Ye Dil Mera, but before starting off with the overview, I want to mention that all this while the drama was on-air, I succeeded in staying away from all kinds of spoiler alerts. I did not even watch promos or followed any news about it, so that when I watch it, I create my own opinion about it. I will however say that so far, I found Ye Dil Mera to be intriguing, intelligently written, brilliantly directed & perfectly executed drama. I never was disappointed at what I was coming across because Farhat Ishtiyaq most certainly knows how to bring such stories to the table.
Every character of Ye Dil Mera has been written in detail. Although I did not know about the story but somehow, while watching it right from the beginning, I could figure out what the suspense might be. It by no means is to state that the story is predictable but the way the drama has been directed with so much detailing & the way the actors have portrayed their characters on screen, made it very easy to connect the dots & solve the conundrum. All this while watching Ye Dil Mera, I could not help but notice & appreciate the fact that the plot has so much clarity in every aspect of its execution. I also found clarity in expressions & the emotions conveyed by the actors & this for me was the biggest factor that helped in figuring out the story. It was the clarity in their acting that actually gave away the story & that too in such a manner that the writer as well as the director wanted to. Ye Dil Mera definitely is an intelligently written script which has been given a perfect treatment by the writer.
Characters & Introductory Plot:
Meer Farooq Zaman's (Adnan Siddique) entire life revolves around his daughter Noor ul Ain Zaman/Ana (Sajal Aly). Being an only child, she has been pampered all her life & her father has made sure that she never has to face any hardships. Ana lost her mother when she was 5 years old & ever since, Meer Farooq has been extra cautious in dealing with his daughter. Ana suffers from anxiety, she can not sleep properly for weeks, she feels her nightmares are basically foreshadowing of some miserable experience in her life. Ana's father wants her to get better but on his own terms. Ana also visits a psychiatrist Dr. Arsalan (Mohammad Ahmed). The other two important people in Meer Farooq & Ana's lives are Nargis Bua (Naima Khan) & Ali Baksh (Paras Masroor). Nargis Bua is Ana's governess but she is more like a mother figure to her. Ali Baksh happens to be Meer Farooq's right hand & he is very much loyal to his boss. Although Ana has been raised with a lot of love & care, but she never once comes across as a spoiled brat.In fact she is a girl with dreams & aspirations.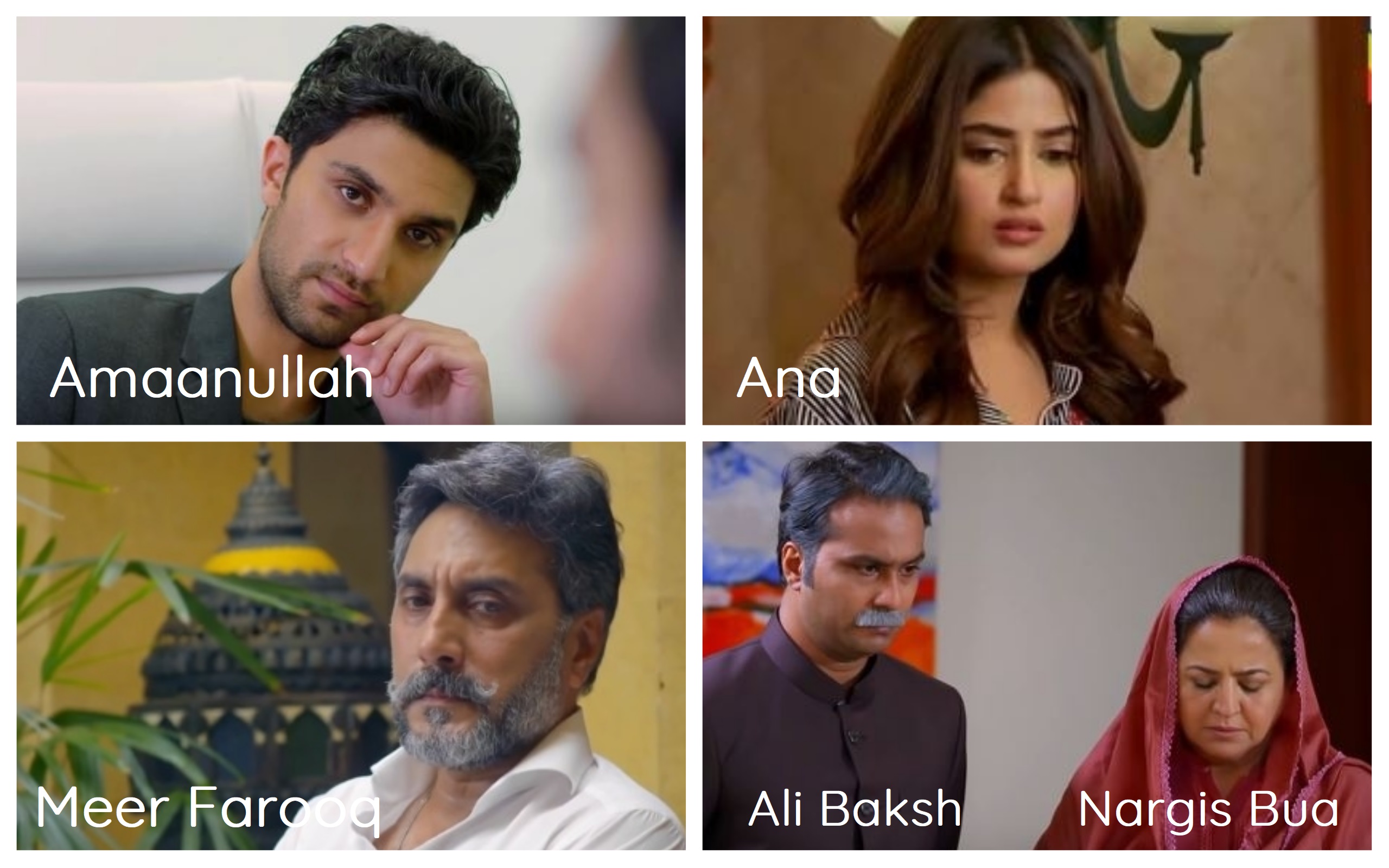 Amaanullah Khan (Ahad Raza Mir) is an orphan who has built a business empire at a young age. He expanded his business by investing the money that he inherited from his uncle who passed away. Amaanullah's uncle was married to a Britisher who had a sound financial background. After completing his engineering degree, Amaanullah comes back to Pakistan & established his business. Amaanullah is trusted by Ghori (Farhaan Ali Agha) & his entire family. Ghori happens to be best of friends with Meer Farooq. Amaanullah loses his father, mother & baby sister when he was 11 years old. The person responsible for the murder of Amaanullah's entire family happens to be Meer Farooq.
Brilliantly Executed Drama:
Now that the introductory details of the characters are out of the way, I will say that I thoroughly enjoyed watching Ye Dil Mera. It is the kind of drama that makes you look forward to every single episode week after week. Ye Dil Mera is gripping & it has the kind of story that keeps you guessing about what is yet to come. This factor of suspense, when done right turns out to be the biggest strength of the drama. If a team behind a drama is able to play with the audience mind & pique their curiosity, it shows that the drama makers have a complete grip over the script & they are playing their cards well. The story of Ye Dil Mera is different, but what makes it even better is that everything gets revealed at the right moment, that too when the audience are least expecting it.
There were some of the most interesting scenes which I could not take out of my mind. The first one being Ana's meeting with the psychiatrist. Sajal Aly's acting in that entire scene was so powerful. I also had knots in my stomach when I saw Meer Farooq & Ali Baksh killing Amaanullah's family. Usually such scenes are directed in such a way that they do not actually show the killings but the fact that nothing was censored & the director took his time in showing each & every expression of the murderers made it very impactful. All the scenes which covered the budding relationship of Ana & Amanullah were beautiful too. It showed how seamlessly Amaan was making his way into Ana's life. The thing that I found quite interesting was how Amaan got to see Meer Farooq through Ana's eyes. For his daughter, he is a hero but for Amaan he is evil, a villain who killed his entire family mercilessly. Farooq's possessiveness for Ana at times also made it very clear that it was stemming from the guilt that he feels. It is left to be known what actually happened with Ana's mother & how she passed away but going by Meer Farooq's statement that he does not forgive when he feels cheated makes it very obvious that he probably killed his wife too. The psychiatrist's analysis about his lies was spot on. Meer Farooq has fooled Ana into believing the version he has created in front of her, probably because she matters to him the most.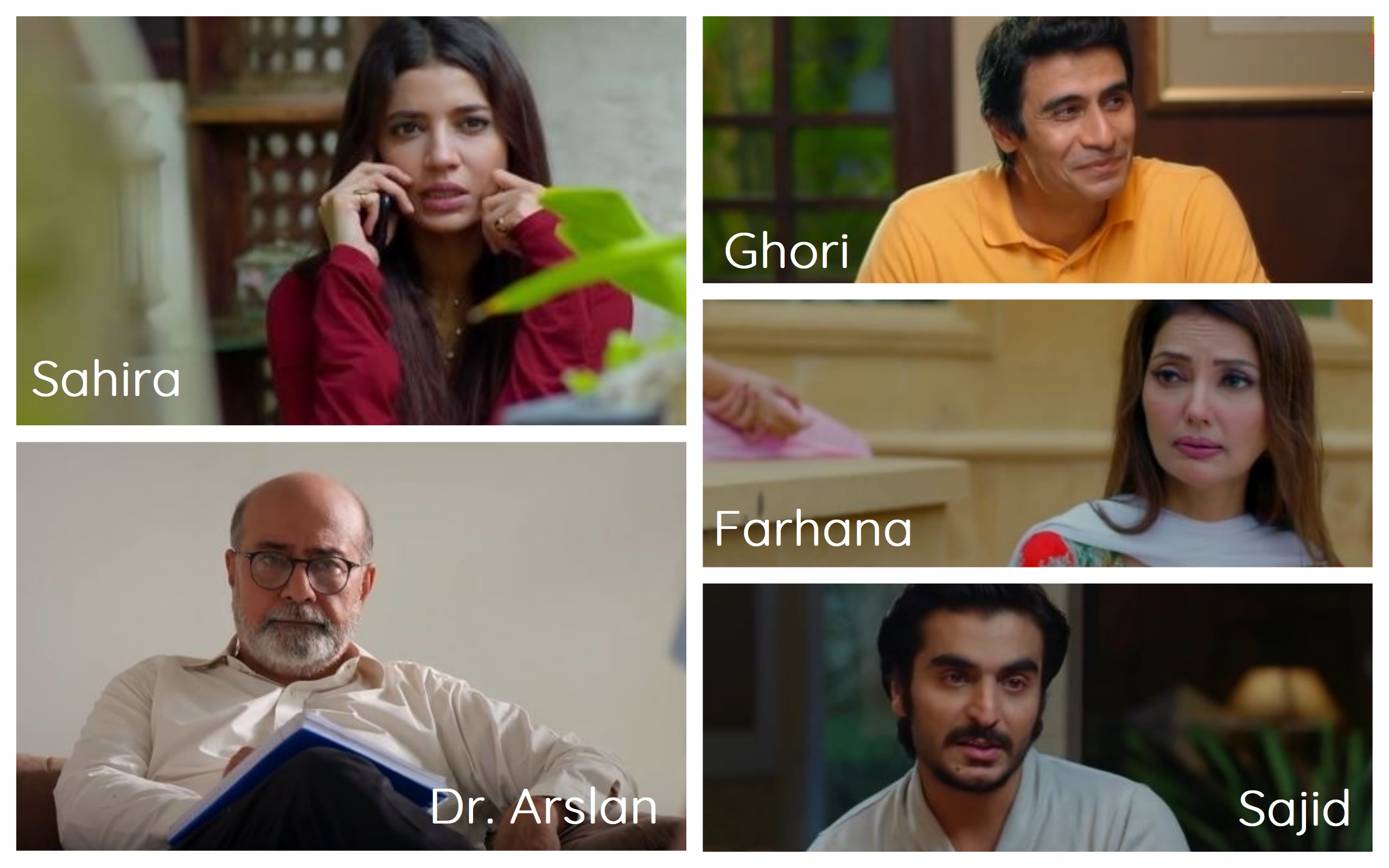 The clarity which I spoke about in the beginning is the best part for me about the entire drama. I could totally see Amaan's hatred for Meer Farooq even before it was made obvious what he had done. It was also brilliantly executed that Amaan, who was so meticulous with his planning was not just bumping into people around Meer Farooq coincidentally. He had planned it all along & now with his plans being revealed slowly & steadily, when you go back & analyze, you can totally see each & every emotion being visible in Amaan's expressions. I guess it was easier for me to keep all these details in my mind because I watched all the episodes back to back so everything made a lot more impact & these minor details stayed with me. The moment he locked eyes with Ana for the very first time gave it away that he was making sure to draw her attention towards him in such a way that she actually is forced to think about him. Farhat Ishtiyaq has shown all the characters in a very different light, through all perspectives & angles. It completes the picture in an effortless manner & makes it even more intriguing to anticipate what is going to happen next. The element of thrill & suspense has been done to perfection in Ye Dil Mera & very few drama-makers are able to achieve it in such a flawless manner.
What sets Ye Dil Mera apart & makes it a very strong drama is the fact that there is so much more to the story. The writer has not just kept the entire focus on Amaanullah's PTSD or Ana's anxiety. Farhat Istiyaq has turned it into a very realistic story where she has covered all the emotions that one feels. There have been some very cute moments between Amaan & Ana. Some emotional ones shared by Meer Farooq & Ana or even Nargis Bua. The way Amaan's story is being carried forward & all the details are being revealed shows that there is so much that is left to be discovered & it makes it quite gripping. Ana & Nargis Bua's relationship was definitely the stand-out factor in the initial scenes, the way she took care of Ana & was always vigilant towards her needs was sweet. I am keen to find out why Amaan has a soft corner in his heart for Nargis Bua. It shows that he knows her & respects her but I want to know about the connection. I also like how complete & well-rounded Ana's personality is. She has her fears & demons that haunt her but still, she has not let any of it defeat her. She tries to fight, she does acknowledge that things might not be right but she tries her best to deal with everything. Her faith in Amaan was also beautiful. It was nice seeing her feeling so protected & secure around Amaan. Ana found Amaan the same as her father, she could see that he will take care of her, that is why she forgot about her worries when she was with him. Amaan at times too felt guilty when he learned how much Ana trusted him. He knows his intentions are to hurt Meer Farooq which eventually will hurt Ana too.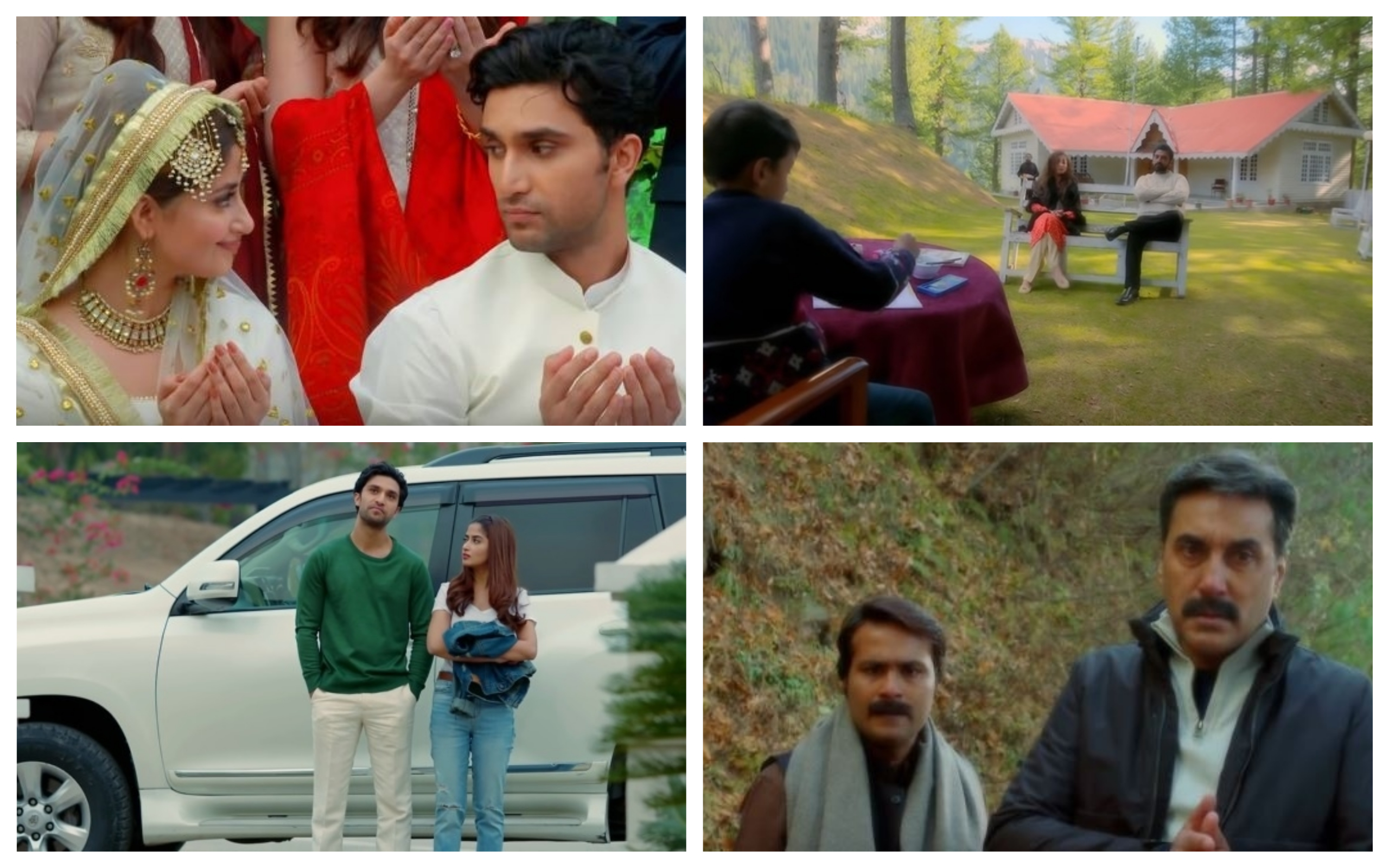 Highly Recommended:
This drama definitely is an intelligent piece of work. The director has used the full potential of all the actors to portray these characters. Farhat Isthiyaq has surely written a brilliant drama & the detailing that she has added, as well as the layers in every character is commendable. Sajal Aly has looked like a doll & her acting is phenomenal. All the meltdowns, her anxiety episodes, she has embraced Ana's personality & breathed life into her character. Ahad Raza Mir has given yet another memorable performance. It ain't an easy feat conveying such a layered character with so much finesse but he has done that. I must also commend the writer for wording Amaan's dialogues so brilliantly. The way he carefully words his feelings & then takes a pause in between because he is being cautious is always interesting to watch. Rabia Butt as Sahira is another very important character that has been brilliantly portrayed. I am glad in the last few episodes she decided to wrap a scarf around her head because the way she touched her hair in the initial episodes was not only distracting but a little irksome too. Adnan Siddique is graceful as Meer Farooq, in his good & bad, he has been in his element & the grip he had on this character is very much expected from an experienced actor such as him & also is a treat to see him play this character to perfection. It won't be wrong to say that Paras Masroor has been one of my favorite character actors, therefore to see him as portraying Ali Baksh's character convincingly was an added bonus. The young boy playing Amaan's character is adorable. He made me feel so much in all of his scenes. All the supporting actors have acted convincingly & except the one who played the role of Amaan's Chacha, his dialogue delivery was way off.
I can not really comment on the pace because I binge watched but I am glad the drama is at such an interesting stage now & the story is developing. In the last episode, introduction of Amaan's friend & confidant was also a nice twist & a good change. It is interesting to see at least someone having Amaan's back. The conversations are simply carried forward which has helped the characters to develop a candid chemistry. Overall, Ye Dil Mera is a drama which should definitely not be missed & I highly recommend to those who are still on the fence about it. Please share your thoughts & pour your heart out about whatever you have felt so far because from tomorrow onward, I'll be back to usual programming of weekly reviews.
Keep Supporting,
Cheers,
Zahra Mirza.