Ohkay so, the writing of Khalil ur Rehman Qamar, direction of Amna Nawaz Khan & production of ANK Productions; Zara Yaad Kar commenced tonight & honestly speaking, they gave us a perfect first episode that sparked the interest so well that I'm looking forward to the next episode already. We all are well aware of the magic Khalil ur Rehman Qamar is known to create through his thoughts in his writings & Amna Nawaz Khan left a great impact on the viewers who followed her amazing work in Shanakht, that is why, I have high hopes with this duo & I'm hoping that they will give us something memorable like their previous projects.
The first episode introduced the characters & their characteristics properly. Haadi (Zahid Ahmed) is legally married to Mahnoor (Sana Javed) & their big day is approaching in a few months time. Haadi lives as a tenant in a small room at a place of a School Teacher (Rashid Farooqui). The teacher's family only has him & his daughter Uzma (Yumna Zaidi). Haadi shares a good bond with his house owner & they both enjoy their conversations over politics & different subjects. Uzma is involved in a one-sided love with Haadi & despite knowing that he has a wife, she feels the need to confess her feelings to him because she thinks she has that much of a right to do so. Haadi strictly tells her off that she shouldn't feel that way because he is married & loves his wife sincerely.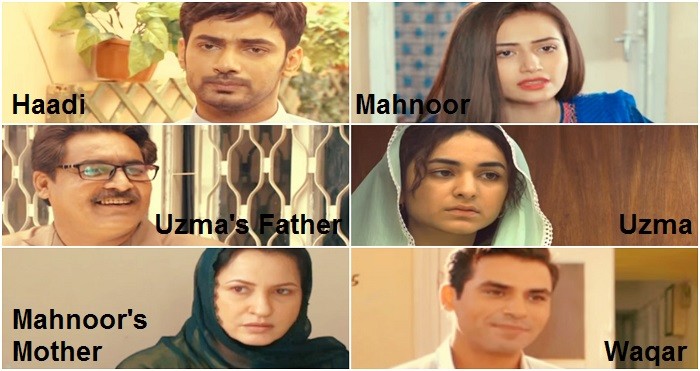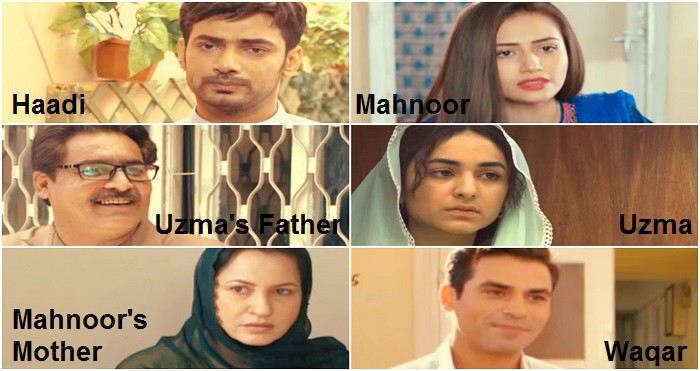 I really liked the relationship both Haadi & Mahnoor share. Mahnoor also works & she lives with her mother & a younger brother. Haadi is possessive about Mahnoor & doesn't hold back in telling her how protective he is of her. In their relationship, Mahnoor is definitely the dominant one but what I liked is that Haadi has accepted her the way she is. Yes, he does tell her what she must & she must not do but when it comes to him personally, he doesn't mind doing what she likes because that's his way of displaying his love for his wife. Both Haadi & Mahnoor trust each other as well but their ways of trusting is definitely different. In general, they both are very different people with different personality types & different temperaments but somehow they both comfortably complete each other.
Haadi feels obliged to tell Mahnoor about Uzma & her letter to which Mahnoor doesn't react the way Haadi expects she would. Mahnoor knows that Haadi is loyal to her & that is why she doesn't feel worried. Haadi believes in transparency between himself & his wife whereas Mahnoor doesn't feel that way. She thinks if there are certain things that one can handle on their own then there's no need to tell everything to one's spouse. Mahnoor knows that Haadi is a bit too particular about minutest things that are related to her & if she continues to share everything with him, things might get difficult for her & Haadi both, that is why she does believe in keeping certain things to herself but more than that, she also believes in having a factor of trust & they both have that thing sorted. Mahnoor does love Haadi & she has accepted him the way he is but somewhere down the line she also belives in independence & that was made evident through the way she thinks & the things she says. I believe the things that do not matter much to Haadi about Mahnoor might come back & bite him because Mahnoor also thinks about herself a little more than she does about Haadi & that can cause a bit of a trouble to both of them.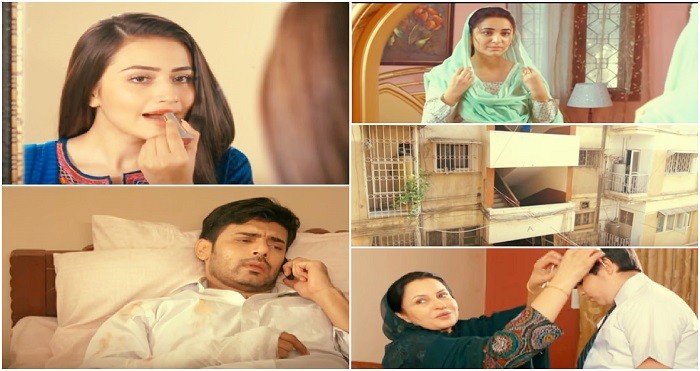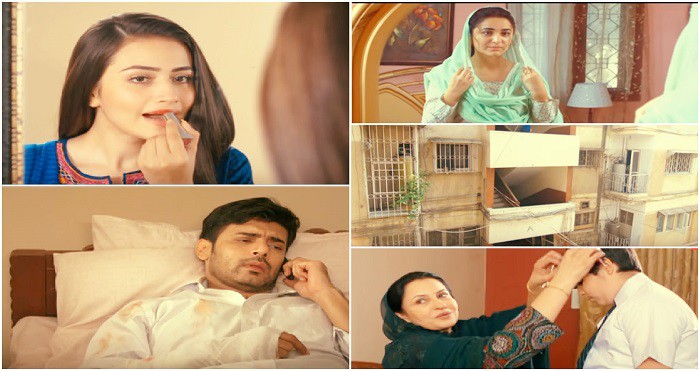 Haadi believes in giving all that he's got to his wife & Mahnoor believes in demanding from him. However, the way Haadi described Uzma in front of Mahnoor, it showed that she can be an ideal partner for Haadi or in other words, she could be the idea of an ideal partner for him. The way Uzma has conducted herself so far in front of Haadi, despite her honest & up front confession, Haadi still finds her respectable & a bit immature to not know what she is wishing for.
Waqar (Yasir Mazhar), who happens to be an Urdu teacher has just shifted in the house next to Mahnoor's. He already has made an entry into their lives by seeking their help time & again. I am sure he has a major role to play in the episodes to come & his role won't stop at just being their neighbor. So far he seems pretty decent & genteel, probably poles apart from Mahnoor too, so let's see what role he has to play in this story.
I really liked how simple the very first episode was & how simply it was directed. The conversations were clear & straight forward & in very few scenes they introduced the characters in great deal. I don't know why but I somehow liked Mahnoor's character, only for the fact that she was herself in front of Haadi & she doesn't believe in pretentiousness. I know in the episodes to come, she will prove out to be someone who's incompatible with Haadi but for now, I also liked the acceptance Haadi has shown towards her. Indeed, in this relationship, he is the one who's at the giving end & Mahnoor is at the receiving end so this factor as well as Mahnoor's attitude & to some extent her immaturity will become few of the major reasons behind them drifting apart but for now, I liked the way they both are happy with each other.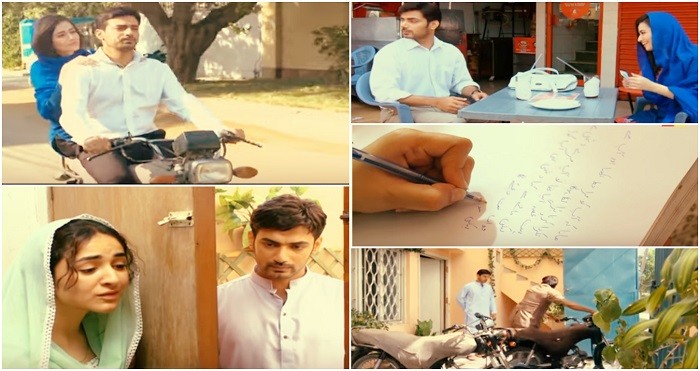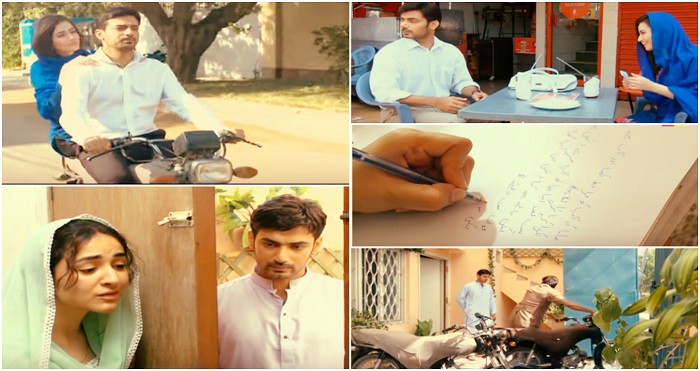 Overall, this episode was really nice. As usual, the conversations were simple yet well-written & that's like a done deal in any of Khalil ur Rehman Qamar's dramas. I liked how Amna Nawaz Khan has kept it simple & there wasn't anything exaggerated or overdone in this entire episode. I liked how all the actors have acted. Sana Javed really did Mahnoor's character a justice, she was flawless as a carefree, open-minded Mahnoor, however, I do feel Sana needs to experiment with her looks or styling a little because she looks the same in every drama of hers. Zahid Ahmed did a great job too like he always does, I especially liked his expressions when he shows up at Mahnoor's door after an accident, where he is trying not to look like a fool by showing up like that, yet he is smiling because Mahnoor is laughing at him, haha, those expressions were priceless. Also, I think Zahid Ahmed looked quite different, may be because he has lost a bit of weight & he had a different haircut, but he looked quite different & it was good to see him experimenting with his looks. Yumna Zaidi didn't have many scenes but she left an impact too & in just these few moments she showed what Uzma is like. She is hopelessly in love with a married man & believes in doing what she can for him, without expecting anything in return. Yumna Zaidi's styling was good in a sense that just in a first glimpse of her you can tell that she's a very domesticated sort of a girl.
I must say I thoroughly enjoyed the very first episode & I am looking forward to the next one too. However, I must add that I have a thing against those patent & non-stop Alaaps of Rahat Fateh Ali Khan, I feel they sort of distract me from my thoughts while I am watching an episode & for that I am hoping that they don't rely too much on those Alaaps in the rest of the episodes. So that's all from my side & please feel free to share your thoughts about this episode of Zara Yaad Kar.
Keep Supporting,
Cheers,
Zahra Mirza.