Tonight's episode of Zun Mureed was emotional, powerful and the messages it delivered were right on point as usual. The shift in Tabbsum's character was poignant as well as convincing. Tabbasum lost the job she was relying on, she feels that she hasn't done a great job raising her son because she is being made to feel that way and most importantly she just met a woman who was unable to leave her abusive husband even though she was financially stable and educated. This change in Tabbasum's character makes her more relatable than ever, I have always liked the "human" element in her character. She is a strong woman but she is also sensitive. Unlike her husband, she is constantly reflecting upon her situation and she is not afraid to admit when she feels she has gone wrong somewhere. Her sister kept on reminding her why she took this step in the first place but for now it looks like Tabbasum made a decision simply because she is "tired". Will Sajjad's cold behaviour give her energy to go on? Will it remind her why she took this step and why she needs to continue? Meeting Sidra didn't help Tabbasum in any way perhaps because their meeting ended abruptly and Tabbasum made certain conclusions from the little information she got from Sidra. The fact that Tabbasum admitted that she was "tired" was enough to justify what she was about to do.
All the developments in tonight's episode were covered perfectly, this was one of the best episodes of Zun Mureed because it covered so much in such a short time. From Bi Jaan's sick mindset to Maryam's controlling tactics – the writer, the director and the actors involved translated each scenario impeccably on screen! All these people are mentally sick in their own way. Sajjad's reaction to this latest development was the highlight of this episode since it showed a side of this man which hasn't been shown before. Sajjad is actually a coward who cannot forgive his wife for being so brave! He is scared of Tabbasum and what she can do and his rudeness seems to be his defence mechanism! The message here is loud and clear – there is nothing normal about hitting women and men who hit their wives are like Sajjad and Jamil! The mindset of such men has been shown impressively, they feel threatened by women for no reason and do whatever they can to assure themselves that they are in control. Sajjad's attitude before and even when he met Tabbasum went to show that he was not going to be flexible since he had convinced himself that his wife was a stubborn and unreasonable woman.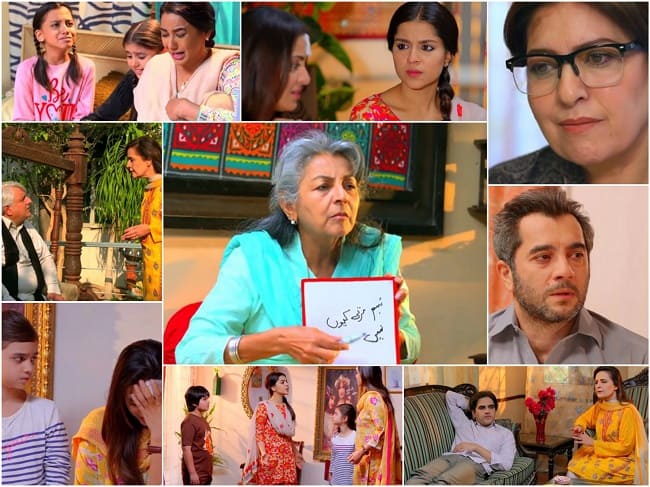 The point regarding how women who back out in such situations are often judged was also very true and important. Basically, no matter what Tabbasum does next, she will be judged and she will have to suffer the consequences in some way or the other. While Tabbasum seems willing to show some flexibility because of her kids, Sajjad has never once thought about his children in that way. Sajjad only wants to be forgiven right now, he doesn't care much about anything else.  Maryam also made it clear number of times tonight that Tabbasum was not going to come back to the house therefore the sole purpose of this entire exercise is to make sure that Sajjad is safe. Bi Jaan wants Tabbasum dead simply because that thought gives her something to be happy about! Shamim Hilali and Hina Bayat's expressions in this scene were brilliant. Their expressions clearly showed how differently they wanted to hurt Tabbasum. While Maryam wants Tabbasum to live to regret her decision, Bi Jaan's negativity has no end. Omair Rana and Khalid Anum's performances have been outstanding throughout.
I absolutely loved this latest episode of Zun Mureed and it ended on a perfect note too.
Do share your thoughts about tonight's episode.