Every episode of Zun Mureed covers one day in the lives of its characters therefore while every minute point is covered in detail, the story doesn't move forward quickly. What I love about this play is that it never loses focus, it can get repetitive but it is never pointless which is why Zun Mureed continues to be one of my favorite plays. Tonight, for the first time it seemed like Sajjad was missing Tabbasum and for once thinking about her didn't make him as mad as it did before. In the previous few episodes, whenever Sajjad thought about Tabbasum, the phone call to the police and everything he had to go through as a result of that phone call outweighed all those years Tabbasum had dedicated to him and his house. This time around however, he could look at things more "objectively". The reasons for this were many but the most important reason was that he was tired!! Tabbasum always supported Sajjad in every way therefore now that he was going through the most difficult period of his life not only was she not there by his side but their marriage was about to come to an end too. I truly appreciate the way these scenes were covered, the viewers were kept guessing what Sajjad's next move was going to be and whatever he did showed how he felt. The director and Omair Rana both did a really good job translating Sajjad's feelings on screen without any dialogues.
Sajjad wasn't angry enough to break the photo frame with his and Tabbasum's wedding photograph but he was also not ready to give Tabbasum a phone call and tell her that he was wrong! Tabbasum's bhabhi and Sajjad's mother played a major role in pushing him to the point where he thought he needed to do whatever it took to show Tabbasum that he was the boss! These flashback scenes were used effectively to show how their relationship went downhill. All these scenes showed that Tabbasum was always supportive and calm.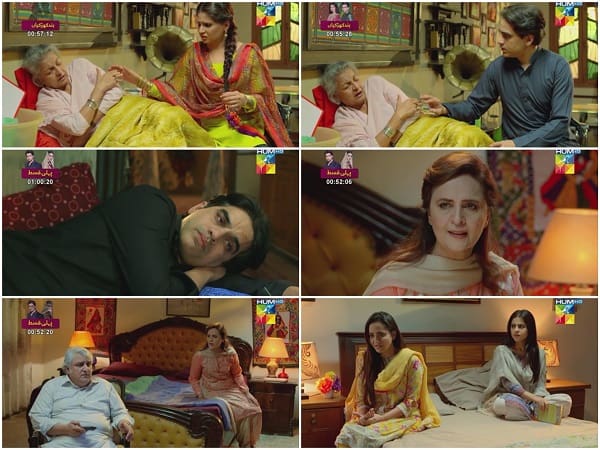 Rubina's track finally moved forward too. Once again the viewers were shown how Rubina was teaching the children things which were getting them into trouble. Her boyfriend also figured out where she lived and decided to pay her a visit. The actress playing Rubina's role is also performing superbly. Many of us can relate to everything she does and the ways in which a maid can impact the children negatively. The message which the writer is sending out is clear and I truly appreciate it – a maid cannot replace a mother!
Bi Jaan was more agitated than before in this episode and Abid seemed calmer. If Bi Jaan realizes how wrong she was everything will automatically fall into place. If Sajjad accepts his mistake and decides to mend his ways, Tabbasum will be more than happy to come back since she doesn't have an inflated ego but her problem is that she cannot compromise on certain things and right now Sajjad is not willing to accept that. Tabbasum's bhabhi decided to give the school principal a call when her daughters came home and yet again told her what Miss Tabbasum had taught them. It is quite obvious why lessons like these will get such a reaction from someone who is continuously trying to control other people's lives. Once again, I felt for the children more than anyone else in this episode. They have no one to turn to because now they cannot even call their mother. Tabbasum thinks that her children don't need her any more but that didn't sound good enough. I hope she tries to reach out to her children once again.
The preview of the next episode showed Rubina stealing from Sajjad's drawer. I am waiting for the time when Sajjad will finally get a wake up call! I truly appreciate everything this drama has to offer and look forward to it every week.