The character development in this play has to be the most interesting element of the story so far. Naina's character in particular has evolved in such a manner that you can't help but like her. Her conversation with Zaid's sister today revealed why all of a sudden a girl who had all the luxuries in the world was so satisfied living in a house which did not meet her standards in any way. Like all of Faiza Iftikhar's heroines Naina's character too is turning out to be an interesting one and all the characters in this play are flexible in their own way. It is always good watching a play in which the characters are not black and white especially when their flaws are more appealing than off putting! Zaid is one such character, which doesn't annoy you but is actually amusing!
Another interesting part of these latest developments was the change in Naina's father. In this episode, he was genuinely worried about his daughter after watching her stand in the scorching heat waiting for the bus. Although, he is not willing to get in touch with Naina but the way he feels now is very different from what he felt when he told Naina that he never wanted to see her again. This shift in his stance made perfect sense and everything he did to "help" his daughter was also convincing. He asked Zaid's father to work for him again but he refused. It is funny watching everyone give Zaid so much credit! For once Zaid is being applauded as a hero and he isn't going to let anyone take that away from him. Zaid's attitude towards Naina has changed because he feels that God "compensated" him.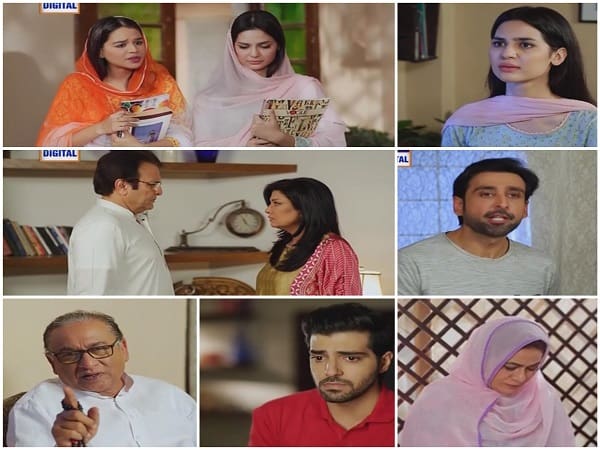 Zaid continued to flirt with Sonia because he has not accepted his relationship with Naina even now. He is enjoying all the perks he is getting but he still cannot imagine accepting Naina as his wife. Arham is having a difficult time accepting the fact that Naina got married to someone out of her own consent and he is planning to come back. Khadija's scene was the most annoying scene of this episode mainly because of the actor playing the role! Zaid's mother is easily convinced but deep down she is a good person. Zaid's father's character is extremely likeable; he is wise, practical and caring. He is the only one who doesn't judge Naina and gives her the credit she deserves. Sami Khan and Madiha Imam yet again nailed their respective characters and this around all the scenes were short and to the point too. For the first time Naina's character was more appealing than that of Zaid. I am looking forward to Naina's journey now and already feeling for her. She thinks she is finally with people she can trust but eventually she will end up getting hurt once again!
This episode was interesting and I am looking forward to the next episode. I hope that the story continues to move forward at this pace in the upcoming weeks too.