Tonight's episode of Zun Mureed focused a great deal on the issue of domestic violence from different perspectives; the role the society plays, the reason why men think they are entitled to do so and how such men react when they feel that the state's intervention might stand in their way. This episode also gave further insight into all the main characters. Sajjad's expectations from his wife and most importantly his failure to understand that none of this was Tabbsum's responsibility yet she was bearing the burden because she wanted to help him in whatever way she could continues to be the main reason why Tabbasum is already being abused in a certain way. In the opening scene of tonight's episode, Sajjad threatened to hit Tabbasum only because his sleep was disrupted. So far, he has been shown as someone who puts himself before everything else and although he claims that he doesn't care what anyone says but he gets brainwashed too easily. Instead of understanding Tabbasum's situation and helping her out, Sajjad blames her for everything that goes wrong. Omair Rana has been performing brilliantly, his acting is always effortless and right on point.
Tabbasum's conversations tonight revolved around domestic violence in some way or the other. While she got really upset when a man at the butcher's shop ignored the fact that she was first in line and the butcher too attended to him first, she fails to question how her own husband manipulates her on daily basis. Her conversations also showed once again just how sure she was that Sajjad would never hit her even after what he did primarily because he apologized. I liked the way the writer explained what kind of men hit women and termed them as individuals who were mentally sick. This was especially important because most often when a woman is domestically abused she is judged more than the person who her husband. Also, very often women stay silent because of this reason. This thinking is so rampant that there are also women who might feel that their husbands have the right to hit them because they provide for them and are superior to them.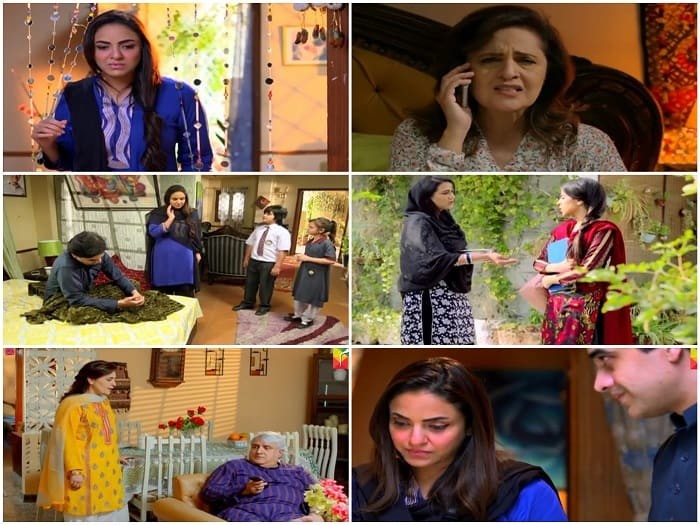 This drama shows how a man who values his wife is called a zun mureed and one who dominates her is a real man! Tabbasum's mother in law never had a happy marriage therefore she doesn't want to see her daughter in law enjoying the comforts of a healthy relationship hence she takes pleasure in her pain. While no one in the family can see what problems this woman faces on daily basis, they are not happy with the fact that her husband bought a car for her. Ironically Tabbasum might end up paying for this car herself too. Nadia Khan's performance tonight was strictly okay, there were times when her expressions were over the top but overall so far her performance is far more realistic that it is in Aisi Hei Tanhai. The character has been etched-out really well and I hope that Nadia Khan will be able to do justice to it in the upcoming episodes as well.
Overall, this episode raised some important points but there were some scenes which could have been even more impactful if they were translated on screen more convincingly. The preview of the next episode definitely gave me a reason to tune into this drama next week too since I am waiting to find out what turn the story takes once Sajjad hits Tabbasum and she decides to go to the police.
How many of you watched tonight's episode. Don't forget to share your thoughts about it.