Mahira Khan always had an attractive face and her style has evolved over the years. Mahira likes playing it safe which is why her fans rarely ever see her experimenting with her looks a lot. It won't be wrong to say that red is definitely one of Mahira's favorite colors. She has been seen wearing it a lot. She wears it more when she is promoting her projects. Is it possible that Mahira Khan thinks that red is her lucky number? Mahira has worn red off and on screen. Some of her best looks have been in this color. Red is an intense color which also represents powerful emotions. Two powerful emotions like love and anger are represented by this color. Apart from this, red color is also considered the color of happiness especially in our culture. It is definitely a color Mahira Khan is comfortable wearing that is the reason why she has been seen wearing beautiful red dresses more than once. Whether these dresses were traditional or modern, Mahira Khan looked exceptionally gorgeous in all of them.
Here are the 10 beautiful red dresses worn by Mahira Khan over the years.
Stunning Silk Saree
Mahira Khan loves wearing saree and this beautiful red silk saree was one of the prettiest she ever wore. Any fabric with fall is perfect for a saree and the color is also the best shade of red. The gold embroidery gives this saree a formal look. Mahira Khan's smile of course is the best accessory in all these pictures! The beautiful earrings also add to the overall look which Mahira is seen sporting in these pictures.
Traditional Anarkali Dress
This dress was loved by Mahira Khan's fans when she wore it for her appearance on HUM's morning show while promoting her film Bin Roye. The cut and the embroidery on this dress is ethnic. The intricate embroidery on this dress along with its style gives it a really elegant look. Mahira Khan paired this gorgeous Anarkali dress with net duppata with pearls on it.
Peplum Top With a Twist
Mahira Khan wore this extremely pretty peplum with straight pants in organza fabric when she made an appearance on the famous TV show Jeeto Pakistan. This peplum top also has Angrakha style which makes it look even more stylish. Once again the confidence with which Mahira Khan wore this outfit made it look even more appealing. Even though this outfit isn't heavily embroidered but it gives a formal look because of the fabric and the way it has been designed.
East Meets West
This red sleeveless with a gharara doesn't look too traditional because it is a sleeveless outfit which gives it a more modern look. Overall however from the embellishments to the intricately designed dupatta, this entire outfit has an Eastern feel to it. Mahira Khan wore bangles with the outfit which gives it an even more traditional look.
The Perfect Red Dress
Mahira Khan carries Western dresses just as beautifully as she carries traditional attire. This red dress was worn by Mahira Khan when she was promoting her film Superstar. This was one of her looks from the film. It is a dress which was designed by a well-known international designer. This was his Valentine's Day special dress which Mahira Khan looked stunning in.
Formal and Stylish
Mahira Khan chose to wear the most pretty red outfit when she was representing Pakistan in one of the global functions. This is another one of the beautiful dresses which has been styled to perfection. A lot of hard work must have gone into creating the entire look since the trouser too is heavily embellished.
Simple Yet Stylish
This simple yet stylish outfit worn by Mahira Khan looked even more pretty because of the styling she had done with it. The overall look is casual but this could be the perfect look for an evening out with friends. Mahira hardly ever matches her accessories with her outfits which in a way makes them stand out even more.
Effortlessly Chic
This was another one of those dresses worn by Mahira Khan which was designed by an international designer. One of the famous Bollywood actresses Deepika Padukone too wore the same outfit with a trouser. Mahira Khan wore this outfit in such a manner that it looked utterly chic.
Superstar Outfit
This stunning outfit which Mahira Khan wore in one of the photo shoots meant to promote her film Superstar was super in every way. It is designed beautifully and Mahira Khan carried it off so well too. It would look great on the red carpet too.
All Glammed Up
It is rarely ever that Mahira Khan is seen in a full glammed up desi look. When she made a special appearance in Parey Hut Love, she wore a heavily embroidered beautiful dress which could easily pass as one of the most beautiful bridal dresses we have seen on the big screen in recent times.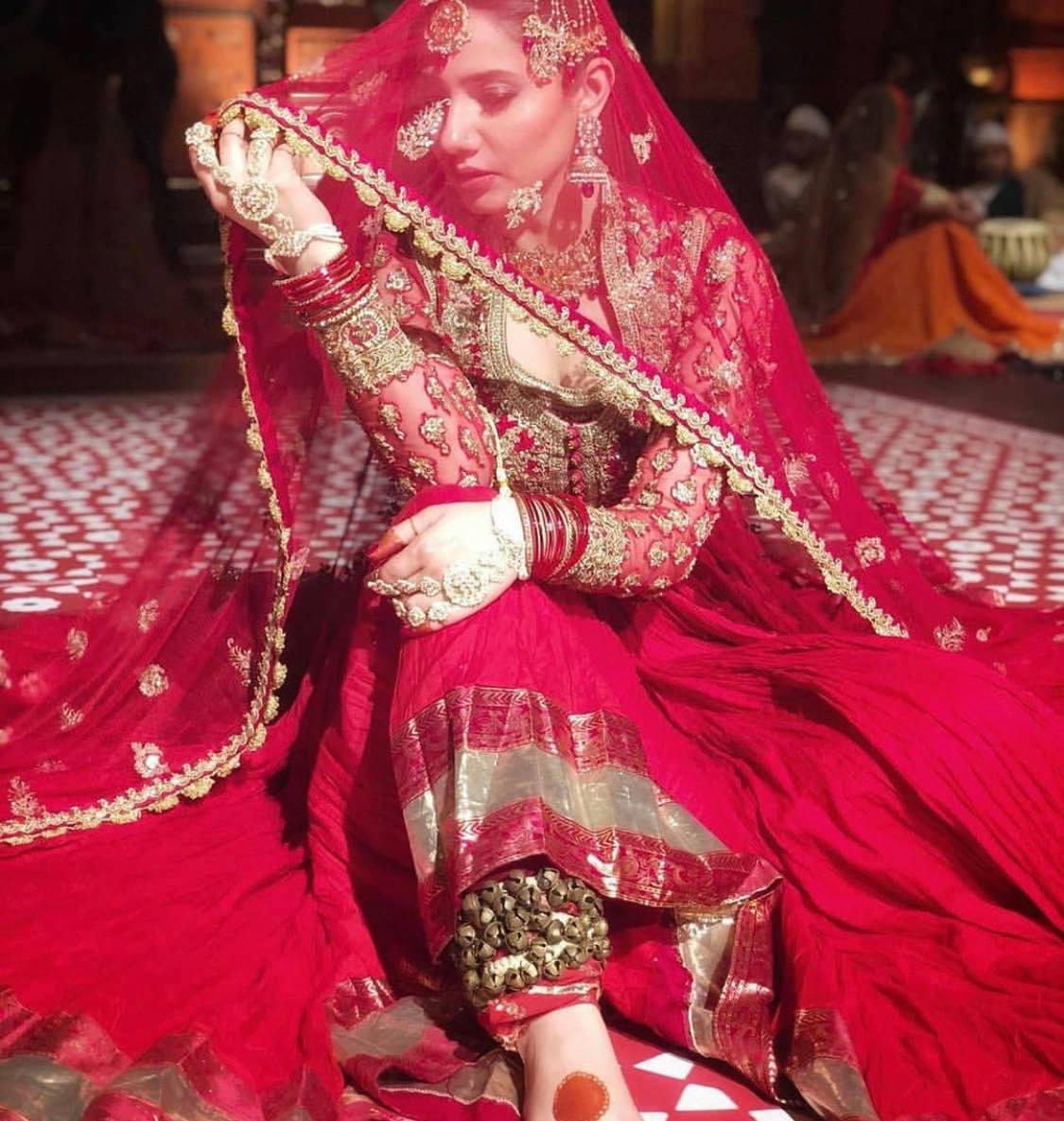 There have been so many other times as well when Mahira preferred red color while attending award functions or to promote her projects. Black, red and white are the colors which Mahira prefers to wear. She has been styled by the top Pakistani designers on different events and at other times she has been seen wearing beautiful dresses designed by the best international designers. Her style is at times casual and sometimes formal but she makes sure that it is always in line with the kind of function she is attending. A good dress is really important for any celebrity at all but everyone cannot pull off different looks. Mahira Khan can also pull a traditional look just as much as she can a look which is quite modern. For an actress, it is crucial that she should be able to sport any kind of look at all. All these pictures clearly show that Mahira Khan's smile is her biggest asset and it makes everything look great on her. Which one of these red dresses worn by Mahira Khan did you like the best? Traditional or modern? Which look in your opinion looks nicer on Mahira Khan? Share your thoughts in the comments section.