---
4th death anniversary of Leading religious scholar and Naat khuwaan Junaid Jamshed being observed today.
Junaid Jamshed was a graduate of the University of Engineering and Technology Lahore.
He started his career as a representative singer of the pop music group Vital Signs and gained fame.
The release of Dil Dil Pakistan in 1987 took him to the eternal heights of fame.
The songs released on the occasion of August 14 gave a new identity to the national anthems. His music album with vital signs became immensely popular.
After meeting well-known preacher and scholar Maulana Tariq Jameel, Junaid Jamshed turned to religion and said goodbye to music.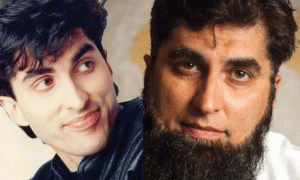 In the new identity, he was seen as a well-known businessman, Naat khuwaan, scholar and TV host.
His clothing brand J.  has branches all over the country. Junaid Jamshed died on December 7, 2016 in an accident of PIA Flight pk-661 from Chitral to Islamabad.
It may be recalled that the PIA flight from Chitral to Islamabad had crashed near Havelian, killing all 47 people, including five crew members.