Ohkay so, the production of Big Bang Productions, writing of Naila Ansari & the direction of Aabis Raza, Teri Raza, Sanam Baloch's comeback drama commenced tonight. To be honest, the first episode was filled with clichés but I am definitely going to give this drama a chance considering Sanam Baloch has made a come back with this project & as she said she was waiting for a perfect script, so I am still assuming this drama will have something special to offer to its viewers in the future.
So, the main leads & their families got introduced in the first episode in great detail. Suhana (Sanam Baloch) is the only child of Zafar (Tanveer Jamal) & Talat (Shaheen Khan) & comes from an affluent background. Suhana's Dadi (Ayesha Khan) is an orthodox woman who doesn't allow anyone to take any major decisions unless she has conducted an Istikhara. Since there was a lot of focus on Istikhara & how everyone is obliged to follow it because of Daadi I am assuming it will play a major role in how the story especially Suhana's life will pan out. Suhana is peppy, bright & carefree girl who can be classified as a hopeless romantic too.
Another main lead is Rameez (Shehroz Sabzwari), son of Sultan (Saife Hassan) & Sara (Tara Mehmood). Rameez is also the only child & since he also comes from an affluent background, he is immature & spoiled. Even though Rameez's father is a heart patient, Rameez really hasn't understood the responsibilities he might have as the only son of the family. Rameez is someone who believes in enjoying life because right now, life hasn't thrown much trials & tribulations his way, that is why he has a non-serious attitude.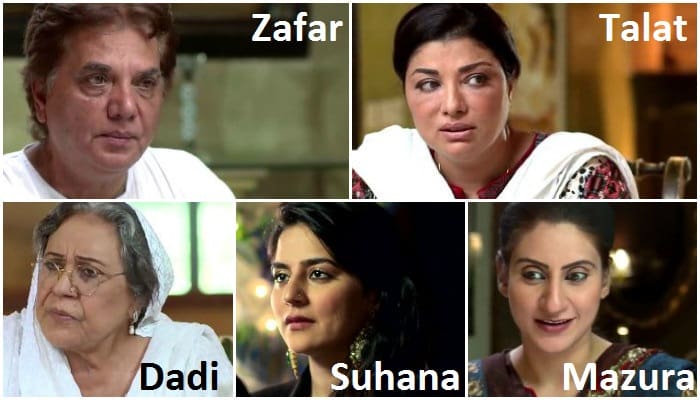 The third & the last lead is Imtiyaaz (Surmed Sultan Khoosat) who is also the only son of Sitara (Shamim Hilali). Imtiyaaz or rather to refer to his age & overall personality Paa Mmtyaaz (Imtiyaaz Bhai) is your typical seedha saada umar raseeda jawan who succeeded in making a career for himself & earned quite a lot of money out of it, but while he was at it, he forgot to keep a track of his age & couldn't get married at the right age & the right time. Sitara is Zafar's sister so it makes Imtiyaaz Zafar's nephew & Suhana's first cousin & now since he has come back from abroad, Imtiyaaz's wedding is everyone's main concern.
So, the drama had a very straight forward beginning where Suhana & Rameez are college mates & are in love but till date haven't really confessed their feelings that they have for each other. Rameez's boisterous & friendly personality makes Suhana a little uncomfortable because even though she likes him, she feels he isn't serious about her. The fact that Rameez is a bit too friendly with every other girl in the college makes Suhana a little insecure & makes her question her value in his life. Rameez & Suhana share a very unique relationship where they keep on hinting about the feelings that they have but don't really bother confessing openly. Suhana's conversations with her maid Manzoora provided some light-hearted moments where Manzoora putting her experience to good use tried to guide Suhana in the matters concerning Rameez.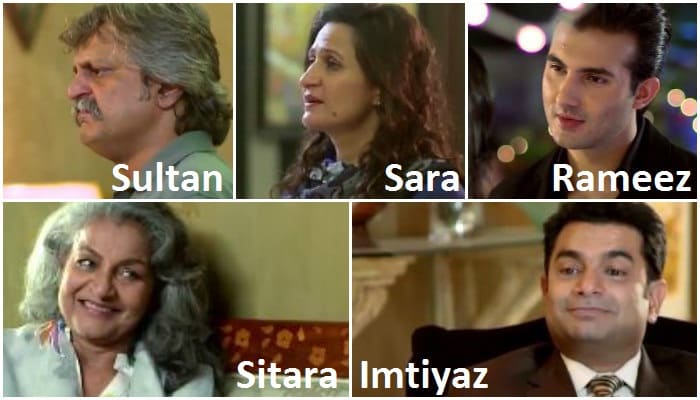 Imtiyaaz & Suhana come across each other too & just because Imtiyaaz's marriage happens to be the subject of discussion, Suhana takes part in it as well, which gives Imtiyaaz a glimpse of her personality. Just because Rameez has his car stolen, his father has another heart attack & is hospitalized, that's when Rameez is forced to do some thinking & analyzes the importance of certain people in his life. The fact that in this difficult time, Rameez thinks only & only about Suhana, it makes him realize that she is quite important to him & that's when he decides to let her know clearly that she belongs to him & that he loves her.
So, this was what the first episode was all about. The characters were pretty one-dimensional & the story has had a very typical start too. I am afraid as excited as I was about Teri Raza considering it is Sanam Baloch's drama, the first episode hardly gave me anything good to notice or talk about. There was zero chemistry between Suhana/Sanam & Rameez/Shehroz & I found their romance a bit too forced. At times I did feel that Sanam Baloch was still in her hosting element & was struggling a bit in finding her acting mojo back but again, being someone who has always enjoyed watching her performances on screen, I am pretty sure she will make Teri Raza worth watching so I am still hopeful.
I am afraid I don't have much nice things to say about both Shehroz Sabzwari & Surmed Sultan Khoosat. To be honest, while watching Shehroz Sabzwari, I couldn't take Chain Aye Na's trailer out of my mind so it clouded my judgment so much that I was finding it hard to keep a straight face every-time he came on screen. I don't know why but I feel Shehroz Sabzwari is a bit too inspired by Shahrukh Khan – giving out chocolates to his friends like SRK did in Kuch Kuch Hota Hai & also wearing black leather jacket in Chain Aye Na's trailer while getting beaten up by the villain exactly like SRK did in DDLJ's climax makes my belief firm that he takes a lot of inspiration from SRK but it still doesn't help him much. Since 'tambaku noshi is sehat ke liye muzzar', I don't really get why they glorified it by showing that Rameez smokes because even in the scenes where they relied heavily on the cigarette to give Shehroz a cool hero wali vibe, it didn't do anything. The fact that Shehroz mostly forgot to button up his shirts & wore a deep neck Tee made me queasy & not to forget the silver chain, like I feel Shehroz put a lot of effort in his overall get up to scream that he is the hero of the drama but it didn't come through because the main factor which is the acting was weak! While Shehroz forgot to button up his shirts, I wish Surmed had at least unbuttoned 1 of the collar buttons of his dress shirt because he not only looked suffocated but it also made it seem that he was having a hard time delivering his dialogues since his vocal chords were brutally squeezed. Sumred Sultan Khoosat might be suitable for the role considering his age but was he in his acting element, I am afriad I'll have to say no, because he clearly seemed uncomfortable.
The older male cousin & younger female cousin scenario gave me Malal vibes & the fact that Shamim Hilali is once again playing the role of an aged beta's mother was also a perfect reminiscent of Malal, which happens to be my favorite drama by the way. To be honest, since Sanam Baloch's name is associated with this project, I was expecting fireworks which I didn't get but I will settle for the worn out crackers for now considering it is the first episode. Also, I must say that the lighting & the makeup couldn't do justice to Sanam Baloch's natural beauty, in some frames she looked beautiful like she usually is but in some frames just alright. I wish Sanam had chosen such a script where her character had some substance, like that sort of a character which would've forced the viewers to do some thinking like in Kankar, because I feel her fans are past that stage where they'd want to see her playing the role of a college student in love with the bad boy! As much as I am happy with Sanam Baloch being the cast member, I really believe any other actors apart from Shehroz Sabzwari & Surmed Sultan Khoosat would've been better options. Overall, this drama has had an average start but I am still giving it a chance because I am hoping it will improve, even though the promos have given out the entire theme of the drama but let's see how it unfolds. Please share your thoughts about the first episode of Teri Raza.
Keep Supporting,
Cheers,
Zahra Mirza.