Aangan Episode 7 Review – Entertaining!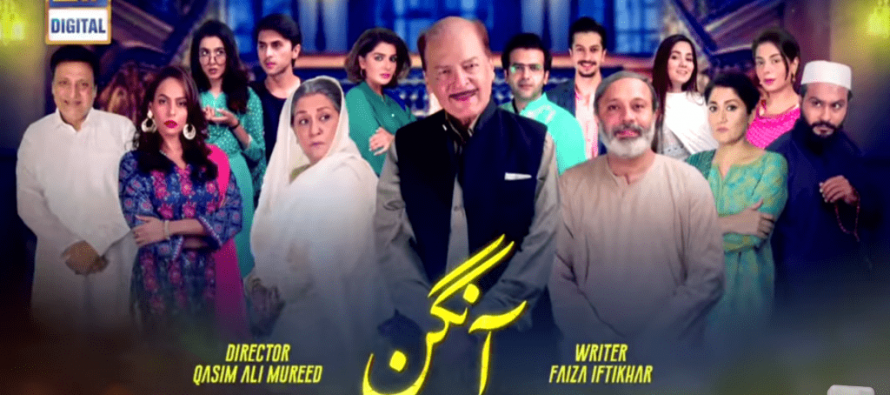 Ohkay so, another week, another interesting episode of Aangan. The best part about watching this drama is that since there are so many characters & almost all of them get a coverage in every episode, you never get a chance to get distracted as you are always getting to know one thing or the other about every single one of them which makes all the episodes quite happening & entertaining!
So, Saadan took a big step & introduced Afrah to his family as a 'friend', the thing which obviously didn't sit well with both Hajra & Afrah for different reasons. It was quite intelligent of Zoya to take charge of the situation & it was amusing that she used Anila's name to convince Hajra that she shouldn't react recklessly as even Zoya knows that everyone gets scared of the idea that Anila might blow things out of proportion. Anila has no idea what sort of impression she has left on everyone where they all literally dread her involvement in any family matter. Well, Afrah could see that Sadaan was still skeptical about introducing her to his family & telling everyone that he wanted to get married to her. Being the eldest daughter, Afrah has some pressures too but Sadaan is too scared to take a stand for her at the moment. Hajra finally got a chance to say what she wanted to but Asim jumped in to save his nephew, but sadly even he got to hear a thing or two about himself & Laila!
I liked the father son conversation where Sajjad tried to get to know what was in Sadaan's heart. At least Sajjad knew that he had to do something about it because the way Hajra was approaching things would only make Sadaan rebellious. Well, Anila's daughter reminded her that she was contradicting herself, which was basically a subtle but good reminder of how people can have double standards when it comes to their own children. Anila doesn't want her brothers to have a life of their own but she also doesn't want her daughter to get married in her own family as she knows it ain't easy living in such a big joint family. I like how the writer has shown that the daughters try to reason with their mothers, first Shaina & now Ramna.
So, Abba Jee & Zaitoon both got a chance to bond with Aqdas. Zaitoon is still not over her 'bartan' & her generosity whereas Abba Jee couldn't stop bragging in front of Aqdas. The entire conversation of Abba Jee explaining what 'tra' means to Aqdas was so amusing, I loved it!
So, Asim finally made it happen & he got Laila the permission that she wanted to start a business. Sajjad pleaded their case too & Abba Jee was on board with it as well. It is so funny how Asim has earned himself a label of being Laila's Majnu. Zaitoon's feelings for Laila are amusing as well, since she knows she can not hate Hajra for she takes care of the entire family & also Rubina because she belongs to her own family, therefore Zaitoon has picked Laila to play the role of typical Saas for because she is the easy & the only option, but it is good to see that her husband tries to rationalize her behavior because he can see how Asim tries to maintain a balance between his parents & his wife. This entire love-hate relationship that both Abba Jee & Zaitoon have with Asim & Laila is actually quite sweet!
So, Aqdas finally decided to drop a few hints to Zoya & even though she ignored, the way she looked at herself in the mirror showed that he did pull her heartstrings. Obviously, it will take a lotttt – a lot of opinions, a lot of permissions & so much more for Aqdas to finally ask for Zoya's proposal but it will be an interesting ride for sure!
I enjoyed watching this episode. I love tuning to Aangan for the fact that even though it shows some real kind of family politics but because all of that is conveyed in such a light hearted manner that you tend to enjoy while still understanding what the writer is trying to convey. Definitely looking forward to the upcoming episodes. Qavi Khan's portrayal as Abba Jee is phenomenal & his scenes today were super enjoyable as well. Another attention to detail which I loved was the usage of Peacock feather as a bookmark in Quran Majeed, it was soooo sweet & so relateable, it just brought back so many memories. Please share your thoughts about this episode of Aangan.
Keep Supporting,
Cheers,
Zahra Mirza.
Rating
Reviewer
Date
Drama
Overall Score
10
Zahra Mirza
The one who starts her reviews with 'Ohkay so'. ;)
---