In these two episode, the story moved forward at a snail's pace. The only part worth looking forward to was the interaction between Aaliyan and Qudsiya. Dudi completely sympathizes with Qudsiya and she has turned out to be her 'fairy-godmother' in this situation.
Dudi was upset and burdened by her conscience to see Qudsiya at the verge of a nervous breakdown. 'Tum Logon mein insaniyat jaisi cheez hee nahi hai', she gave a piece of her mind to each member of the family for not showing an ounce of sympathy to the innocent girl. She even tried to make Aaliyan realize what will happen to Qudisya once he gives her a divorce and it is not as easy as he thinks.
'Talaq Mard Deta Hai, Aur Uska Daag Aurat Per Laghta Hai, Uska Kasur Ho Ya Na Ho'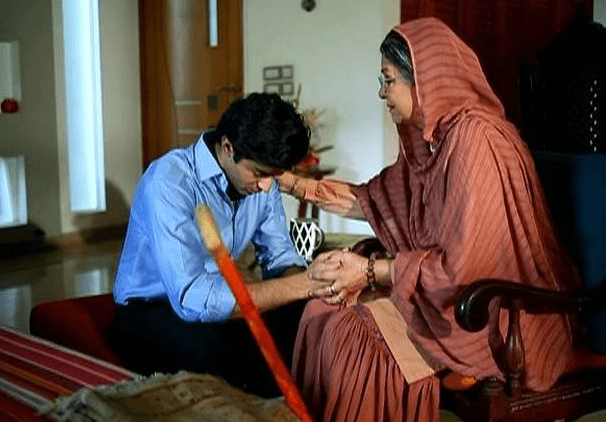 Divorce is not a 'big deal' for Aaliyan but he does not realize what affect it will have on Qudsiya's future and Dudi is trying her best to safeguard her future. I loved the way she made it clear to Sultan and Rano that Qudsiya will stay in the house as long as she wants, and nobody had the guts to question her authority. I seriously felt like clapping in this scene!
Aaliyan's care-less behavior gets on my nerves at times. He was least bother to hear that Qudsiya had fallen sick and it was apparently 'not his problem'. He also made a fuss about taking her to the hospital. I have no idea what happens to him at times! Sometimes he acts way too caring and at other times, he is least bothered. He took Qudsiya to the hospital because it was Dudi's order, but this did not stop him from complaining about it and his constant irritation made it obvious to Qudsiya that he was forced to come with her to the hospital. It was so shocking to see Dudi not trusting Aaliyan, the way she questioned him on the phone, and the way Aaliyan reacted to them was extremely hilarious!
My favorite scene in these two episodes was when Aaliyan comes to Qudsiya's room to acquire about her health. It was an extremely cute scene in my opinion! Qudsiya's behavior was hilarious and Aaliyan was highly amused to see this new side of her.
'Sorry Mujhe Bukhaar Hogaya. Ab Mein Ghar Kaise Jaongi, Ap Mujhe Chordenge?'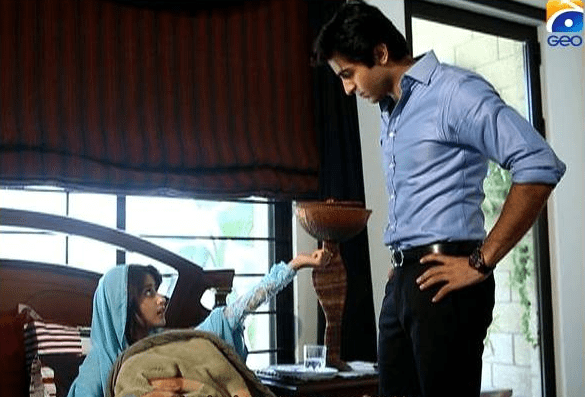 This dialogue brought a huge smile to my face because it was spoken so innocently. And then the best part came when shoved her hand forward and enthusiastically said 'Mujhe bilkul bukhaar nahi hai, ap check karsakhte hai?' The way she immediately realized what she had said and started to feel shy (she actually covered her face with the blanket) was adorable.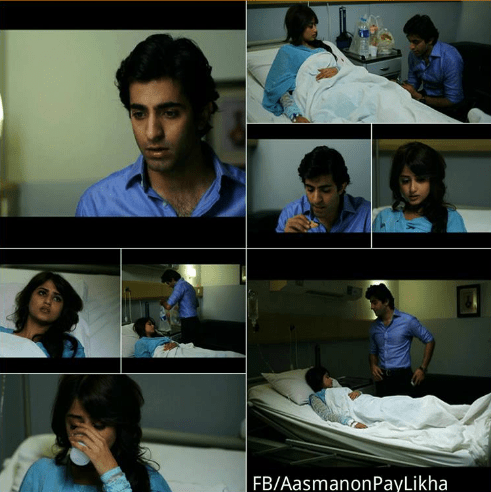 I also liked all the interaction between Aaliyan and Qudsiya in the hospital. Qudsiya felt so comfortable with him around and they finally conversed like two normal people for the first time. I have only seen them fighting or arguing till now, but now we got to see both of them trying to get to know each other. Aaliyan was keen to know about her life before their marriage and Qudsiya easily opened up to him. I loved the way he comforted her when she had a bad dream, and I was a bit taken aback when she asked him to stay with her.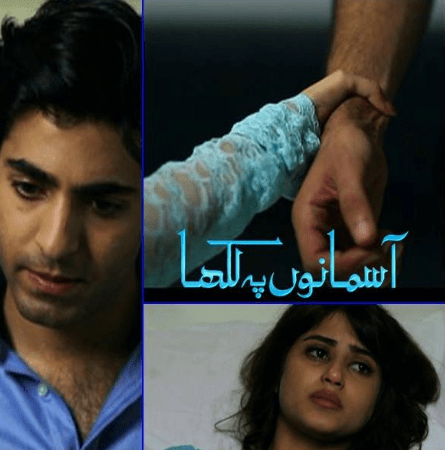 Natasha seriously needs to consult a psychiatrist as soon as possible. When Aaliyan was least bothered about Qudsiya being sick, she called him cold hearted like his father. But when he took her to the hospital and took care of her, she came to the conclusion that since he is caring so much about her, he is in love with her. Seriously? She drives Aaliyan nuts and Aaliyan was left speechless when she came to her ultimate conclusion. Aaliyan is absolutely right that the foundation of any relationship is trust and Natasha just does not trust him.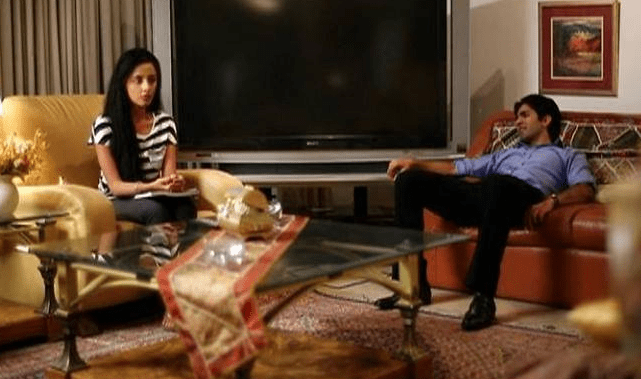 We know that Rana is a gold digger and now she is teaching her niece to follow her footsteps. She brainwashed Natasha with dialogues like 'Money is more important than love' and 'Aaliyan can give you the best future' which shows her cheap mentality. There is also some big secret about Aaliyan's mother and why she left the house. I have a strong feeling that Rana has a big hand in it.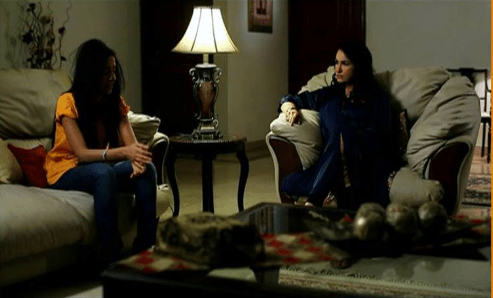 Mehmood is considering Aaliyan again for Natasha's sake and for the first time, they had a normal conversation. Aaliyan tried to convince him that Qudsiya will be out of his life very soon, and he still loves Natasha a lot. Mehmood simply told him to end Qudsiya's chapter and then they will talk about Natasha and his relationship.

I liked the way they showed the connection between Zaheer-ud-deen and her daughters. They could easily sense when their father was worried. Qudsiya was restless because she could feel that some big tragedy is about to strike. She was impatient to meet her father as she could sense that something was wrong.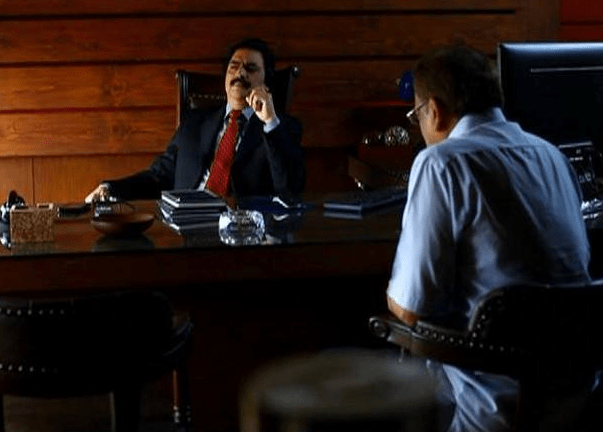 Zaheer-ud-deen was bound to know the truth one day, if not from Sultan then from anybody else and this is one thing he could not stand to listen. Now let's see how the events take a turn after his death! From the looks of the preview, we are going to have a very interesting episode next week!
This show is going to pick up pace from the next episode, so stay tuned!
I would love to hear your opinion about the episodes, so do leave a comment!
Till Next Week!
Mariam Shafiq