Aasmanon Pay Likha Episode 7 – Not Much Progress!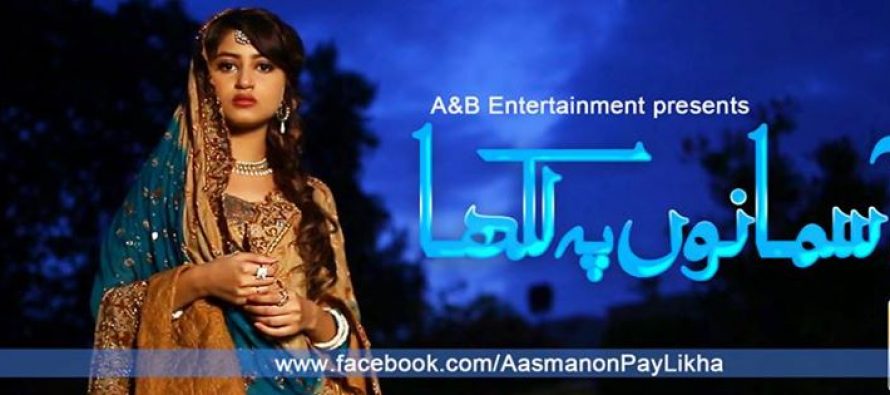 This week's episode revolved mainly around Natasha and Aaliyan and the focus was more on their relationship. There was not much progress in the story, but overall it was a good episode. I thoroughly enjoyed watching all Dudi and Aaliyan's scenes.  Qudsiya and Aaaliyan both are comfortable with Dudi and I guess, so far (ironically) this is the only thing common between them!
The only one who understands Qudsiya's situation clearly is Dudi. Qudsiya has told her everything that her family is going through at the moment, and what would be their reaction when they hear about the divorce. Even her own mother and sisters are not ready to understand her position and Qudsiya had to turn to Dudi for advice who could understand the situation she was stuck in. Dudi always gives the most genuine advice and is very practical in her approach. She wanted to meet Qudsiya's parents to make everything clear to them, and from the looks of the preview for the next episode, she is going to realize what Qudsiya has been telling about her father was 100% true and not at all exaggerated. So far, she was not too much worried about the situation but now after seeing everything with her own eyes, she will definitely be tensed and worried about the mess that Aaliyan had created.
For most part, the episode focused on Aaliyan and Natasha. If Aaliyan is careless, then Natasha is clearly very immature and I doubt such a combination can work. Aaliyan is trying his best to explain the situation to Natasha, but every time some thing or the other happens that again brings doubts in her mind. I do not understand how Aaliyan is able to handle her tantrums though. He somehow keeps calm during her tantrums and then once her anger has faded away, he easily manipulates her. He really knows how to handle Natasha! This time Natasha had to go against her father to side with Aaliyan, and what I found surprising was that he did not care if her father was upset or was against their relationship.
Aaliyan and Qudsiya's cute interaction in the car was as usual very entertaining. They both are complete opposite of each other. Qudsiya is practical, realistic and has a sober and reserved nature. Aaliyan, on the other hand is care free, full of life, and has a highly impractical approach towards life. This contrast makes their interaction even more interesting to watch.
'Shaadi Ko Maante Nahi Per Kaam To Saare Shoharon Wale Karte Ho'
Dudi could not help but tease Aaliyan who openly says that Qudsiya does not mean anything to him, but he always ends up helping her in one way or the other. After Qudisya and Aaliyan scenes, it is Dudi and Aaliyan scenes that I look forward to. Also, the scene where he comes in her room and complains that Qudsiya had practically kicked him out of her room was simply hilarious! Even Dudi could help but smile at his words.
Qudsiya had taken Dudi's advice very seriously and when Aaliyan came to her room, she rudely told him to get out! The poor guy had come there to return her earring and Qudsiya realized her fault a little too late. The next day, he made it absolutely clear how offended he was by his behavior. His adorable expressions was definitely a treat to watch.
Adil and his mother scheming was one part of the episode that I wanted to skip. Adil wants to get married to Qudsiya's sister because of Qudsiya's relationship with Aaliyan's family. This track in my opinion is completely unnecessary. They should focus more on Qudsiya and Aaliyan's story now. I am still waiting for Emad Irfani's entry. Hope he makes an entry soon!
Share your views about the episode!
Till Next Week!
Mariam Shafiq
...
---