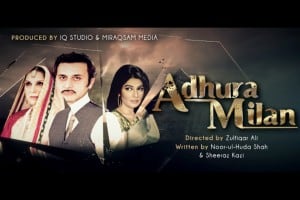 I am completely enamored by the splendor of Adhura Milan. The contrast between the haves and the have-nots is evident in the display of opulence versus basic necessities. Tabrez finds himself trapped with the burden of his status and the accompanying responsibilities- Mein zindagi guzaartey huey bhi zindagi ko isteefa de chuka houn! Aren't these the silent musings of women who are helplessly caught in the vicious cycle of situational circumstances? How often do we see a man who feels subdued in the presence of a woman? But then again, Bibi Jaan is no ordinary woman- she is a woman who is clearly in control and doesn't let him forget it- Hum tumhe bholney ki ijaazat bhi nahin detay! Samina Peerzada continues to impress and leaves a lasting impression. Bibi Jaan is not only his first wife, she is also his mentor. She is all about keeping up appearances and riwayat– something Tabrez has a difficult time adjusting to. His second wife voices her frustrations against Tabrez's apparent devotion to Bibi Jaan and misses no opportunity to snub him. But Tabrez isn't one to get affected by her rants- Unko apni haisiyat mein rehney do aur tum apni haisiyat ko girney se bachao. Not exactly a union of the minds here!
Sultanay has the audacity to tell his wife that he is marrying Nayyab- she reacts as any woman would and goes to confront Nayyab, accusing her of trying to steal her husband. Nayyab, shocked at her chacha's decision, fakes a suicide attempt and seeing no way out, her chachi tells her to run away. Nayyab crosses over to the other side and ends up collapsing near Tabrez Alam. Despite the villagers admonishment, Tabrez decides to take Nayyab with him. There is something about this mystery girl that reminds him of his past- we get further insight into his love interest and their last meeting before she agreed to a marriage arranged by her father. Was Tabrez as sincere as he seems or did she agree to the marriage to let him off the hook knowing that he was incapable of taking any decisions on his own?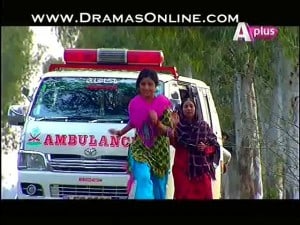 We are introduced to another new character- Jana Malik. Her relationship with Dilawar is still unclear but she lives in his home. A wife maybe? But he referred to another woman too- does he also follow the same tradition of multiple wives? Dilawar is the exact opposite of Tabrez- he's ruthless, dictating and a feared tyrant. His past horrors have shaped him into the man he is today, but Tabrez has had his share of misfortune too. Yet both these men have reacted differently and conduct themselves in entirely contrasting ways. While the villagers respect Tabrez, they live in fear of Dilawar. Next week should be interesting as we will get to see ho Bibi Jaan reacts to Tabrez's decision of bringing Nayyab. What did you think of Episode 2? Is this on your Friday watch-list yet?
Yours in watching,
Kanwal Murtaza