Just like the previous episode this installment too focused on Komal's past and present both. While Komal's financial status has changed completely since the last time she met Wajdaan but her wealth is not working in favor of her this time around too. Komal made an honest effort to please her mother in law by doing what her family would've done for her had they been alive but the idea completely backfired when Komal's future mother in law felt that Komal was too rich which would make it easy for her to 'steal' her son from her!! In the last episode we saw Komal's mother telling her sister how she was looking forward to being mother to her daughter in law, which went to show that at that time she felt like she was being Komal's savior – a role which she was waiting to play – but now that she has seen that Komal does not need a savior since she is rich enough to take care of herself she feels that Komal isn't the perfect wife for her son. I really liked the way the scene in which Komal senses that something was wrong was shot. Komal did not overhear her mother in law saying all those things but when she walked in on Arsalan and his mother talking she could tell by their expressions that something was wrong. Arsalan's reaction to his mother's sudden change of behavior was definitely one I could identify with.
Komal was 'rejected' by Wajdaan's mother because she wasn't rich or polished enough to be her bahu, something which hurt Komal so much that she could not come into terms with what had happened. The fact that Wajdaan actually took a stand for Komal came as a surprise and we have yet to find out why Komal decided to leave Wajdaan. It could be because Komal did not want him to make such a big sacrifice for her or because she felt like she did not deserve him afterall or maybe because she really was insecure that Wajdaan will leave her at some point therefore she was better off breaking up right now when she was already hurt instead of getting hurt all over again.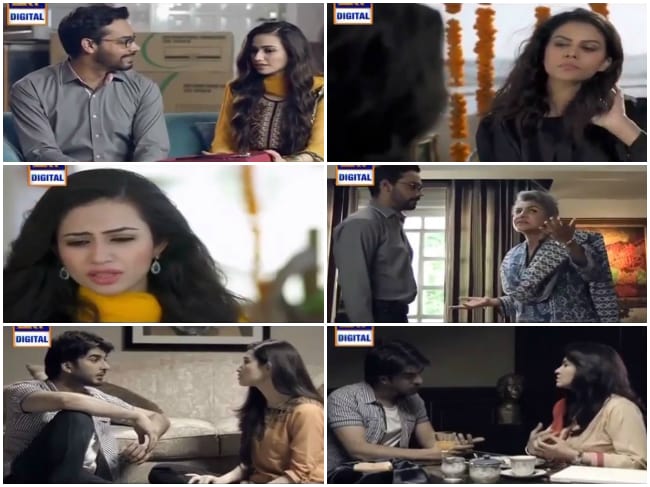 The reactions of both the mothers had been-there-seen-that written all over them but even though there are some stereotypes in this drama the story is unpredictable and the way it is being presented on screen keeps you wanting to find out what is going to happen next. I particularly liked the way Komal described how she felt about being judged based on how much wealth she had or did not have. Both her future mother in laws weighed her worth not based on her personality or character but based on her status. When Komal said that the day Wajdaan's mother said all those things to her was worst than the day her parents died I could completely relate to why she would feel that way. What happened to her parents was an accident/a tragedy but she obviously feels responsible for everything that happened to her. She thinks that she put herself in a position in which Wajdaan's mother had the authority to say whatever she wanted to her. Just like all of Samira Fazal's plays the characters of Aitraz have to be its lifeline till now. Komal's relationship with her friend is refreshing; it is really good to see two intelligent girls getting along so well and not wasting their energies in trying to put each other down.! Sundus Tariq looked absolutely stunning in tonight's episode and she has done complete justice to her character. I must say that Sana Javed's character reminds me of her character in Goya and the one she played in Ranjish Hi Sahi but I am hoping that as time goes by I will be more into Komal. Sana Javed is a very talented actress and it would be really great if she experimented more both with her looks and the projects she chooses to work in. I can see now why Imran Abbas was complaining about being sick and tired of the same kind of scripts which revolved around love triangles! I am not saying that both these actors haven't given their best to the characters they are playing because it won't be fair if I pass such a judgment but all I am saying is that both these actors have played such roles before and that too not very long ago. That does not change the fact however that Sana Javed and Imran Abbas make a really cute and convincing on screen couple; you feel the connection between them instantly! Gohar Rasheed passes with flying colors when it comes to playing all kinds of roles and nailing them every time with a change in his looks and portrayals. Sania Saeed has yet to make an appearance; I am definitely waiting to see what relation she has with Wajdaan and how soon will we be watching the present alone. The director of the play Aamir Yousuf deserves due credit for directing the drama in such a way that builds up your curiosity and for relying on a different technique of story telling.
Did you watch this episode of Aitraz? Don't forget to share your thoughts about it.
Fatima Awan