Hats off to the director and writer for finding such realistic details about the dark corners of our society and highlighting them like this. If only they show solutions at the end and as a society we manage to put systems in place for such people will the real purpose be served. Nonetheless, it is a good start and will give a lot of women hope to fight their circumstances especially after they see the worst of worst some ladies have to face and all of it due to no fault of their own. More heartbreaking is the fact that young children are subjected to such poverty and adversity so early on in their lives. This puts them at a great disadvantage right from their early years.
This episode was the story of Safiya, played by Farah Tufail and she was simply outclass in her performance. Her makeup free face, ratted clothes, empty eyes and superb expressions was totally on point. She pulled everyone along with herself into the desperation she was feeling, the loneliness and the uncertainty. She is an orphan who has no one except an older sister who tries to help her out despite her own meager resources and a mamoo who brought her into his son's life and then forgot all responsibility.
Her husband Pervez is a good for nothing man who has fallen into the clutches of heroine addiction. Despite her desperate pleas for help from her inlaws, they don't pay any heed and Pervez starts selling household items and then stealing from anyone who will be naive enough to trust him.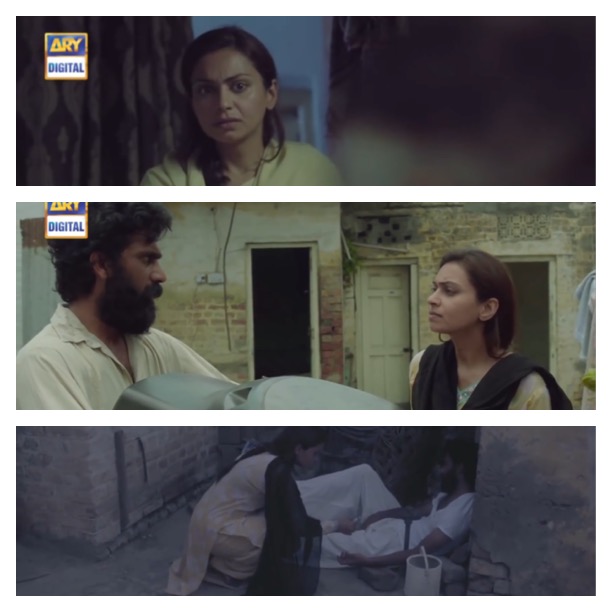 Safia and her sister still try to encourage her and make him come back towards life, but he falls too deep into addiction to have any willpower left to return to normalcy. Eventually this addiction takes gets him infected with HIV and he has transferred that to his wife. However, on accidentally discovering that Safia has the disease too, her inlaws ignorantly and mercilessly throw her out of their house. That leaves the mother and daughter with no option except to go live with her sister. Pervez tried to come back there as well but he is still too addicted to be loyal to anyone else or even himslef. Sadly, Safia finds his dead body's picture in newspaper and goes on to request his parents for his burial. They again refuse and she now has no option except to cry some tears over the useless life and terrible end of the man she had once married with hopes and dreams.
Life slowly starts becoming smooth for as she works as a maid in other people's homes and keeps herself occupied with her daughter. Fate however has other plans and her brother in law gets to know about her being HIV positive. She overheard him screaming at her sister for putting them all at risk by keeping her sick sister in the house. Though the drama ended there but this what must have prompted her to travel to Karachi to find a hope for cure so she can live long enough to fulfill her daughter's responsibilities to save her from the fate she herself had to bear.
It was an utterly depressing story but we had to see this because this is what is happening in our society. These people, their families and their innocent kids need serious help which is only available to the very rich who can afford such centres. There is a desperate need for quality addiction centres that are free for all and totally take over the responsibility for families as well. You cannot help but root for this young woman with sad eyes to find some happiness and health in her life for once. Very well acted by Farah Tufail.