Umera Ahmed's Aks ( a reflection ) is all about the game of chess. One might think that what is the connection of the reflection with a game of chess. Well, after reading Aks you will definitely be able to know about this confusing subject.
The writing style is very unique, beautiful, intriguing and a bit confusing. This novel will definitely disturb you as it is about one of the harsh and brutal face of life. Starting from the very beginning ,it's quite disturbing to jump from one scenario to another and to remember what is happening. But I think this is the beauty and suspense of this novel. In a game of chess, Queen is the most powerful piece. Yet, the whole game of chess is about king's show of power. Chirya is not satisfied with this arrangement. She thinks if queen is the most powerful piece then she must be the most "important "one too.
Moving to the other scenario of this novel is a fairytale of Snow White and seven dwarfs. The seven dwarfs are actually the jins which are present in the house. There is a per-conceived notion about them that they are scary, horrible and very ugly But Aks loves them because they never harmed her and she named them Daido, Kato, Minta, Kinta, Shinta, Toko, Tofo. Connecting these two scenarios is an art of an amazing writer and I believe Umera Ahmed nailed it.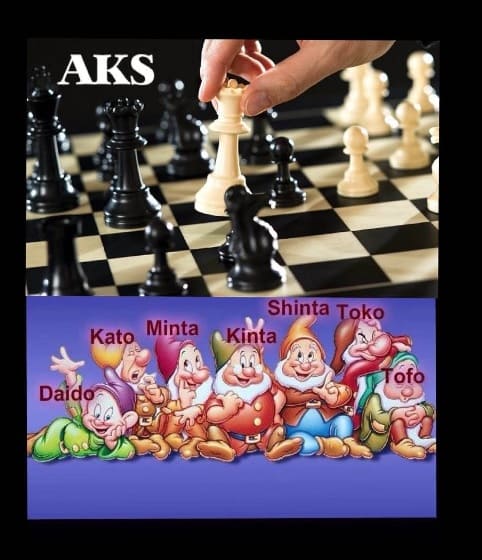 Aks is all about the struggle, sacrifice and fight of a young girl 8 years Old, who suffers from a childhood trauma . The way she stands on her own not only to face the disgusting world but to defeat the horrifying game of psychologically disturbed people is amazing. She is different, headstrong, intelligent and a beautiful girl because of her determination, intellectual abilities and immense wisdom. Umera Ahmed perfectly conveyed her personality and made me love her.
One of the most important message she conveys is education. Education is actually the enrichment of faculties, development of personality, utilization of abilities, cultivation of individuality, accomplishment of society, transmission of excellences, inculcation of values, organization of experiences and normalization of mind.  Aks Muraad Ali achieves all this despite being psychologically disturbed. The way she copes with her trauma with the help of her beloved Nana is exceptional. She proves that Queen is the most important one But there is one thing Aks believes is really important and it is qismat.
"Zindagi ka har imtihan insan zahanat aur mehnat se pass nahi karsakta, baaz imtihanoan k liye qismat ke ilawa aur koi cheez darkar nahi hoti"
It is a very deep novel, it will actually leave you to think about this life in a more philosophical way.
"Kabhi tmne dhoop aur chaon ko aik jagah jamay dekha hai? Zindagi bhi aisi hi hoti hai  "
This novel has some beautiful and adorable relationships. The relationship of Chirya and Nana . Her Nana is her huge support. Sherdil is portrayed as a perfect husband even though he admires Aks alot but is sincere with her wife. Aks conveys that whatever bad is happened to you, you should be the one to end it and it is beautifully sketched as she forces Sherdil to return Noor bano for their daughter might not go through what Aks has suffered.
The only drawback or the negative aspect of this novel was the confusing names, two different scenarios and I think the main theme itself. It is quite disturbing to read about such matters as they wrench your heart. But I think it is worth it for such a beautiful character it leaves you with no choice but to admire Aks.
Aks is a reflection and it was left for us to think who we are, the normal looking people with filthy hearts or the scary, ugly creatures with beautiful heart.
I won't recommend this novel to everyone because it did disturb me a lot but friends it has a deep message . It is inspirational and especially for girls it's worth it.
Asma Jamali