Another week, another brilliant episode of Alif. This episode did not allow me to look away even for a second. The detailing, the acting, the expressions & the essence that has been captured & breathed into every single scene & frame of Alif sets it apart from all the other dramas that have made it to our TV screens ever. This episode was a perfect balance of past & the present. At the forefront it might not seem that the story has moved forward but the way they take us in the backstory & give us all the details definitely shows how important it is for the viewers to understand what happened in the past & the consequences of it in the present. This episode definitely had some of those amazing moments that left me in awe but yes, after watching the preview, I am more than looking forward to what they have in store for us.
Momina's Trials & Tribulations
I have always felt a lot for Momina's parents Sultan & Suraiya, but for the veryyy first time while watching this episode, I really felt Momina could not win, no matter what she did. As much as I do understand the issues Momina's parents are dealing with, that makes me feel a lot more for her than I feel for them. Suraiya & Sultan have lost their son, but they do have each other, don't they? I will only take their characters as a reason that the writer has chosen, in order to show that while Momina was stepping on one level of success after another, her personal life was full of tests & trials, where one awaited her after another. Surraiya is suffering from schizophrenia, that entire scene was dark, disturbing & actually conveyed the essence of how hard things were for both, Momina as well as her mother. Surraiya was attached to Jahangir & she could not deal with his loss. To top it off her entire surrounding was changed, new place, new home, no contact to her old life that she was used to ended up allowing her to develop this mental condition. I thought Sultan will somewhat ease Momina's pain but he had his own baggage. I love how they have shown Sultan as well as Surraiya as selfless parents. They are not selfish, like they themselves are a victim of harshness & cruelty of life but it is unfortunate that they are now bringing Momina's spirits down. I do feel for her parents but I feel for her a lot more.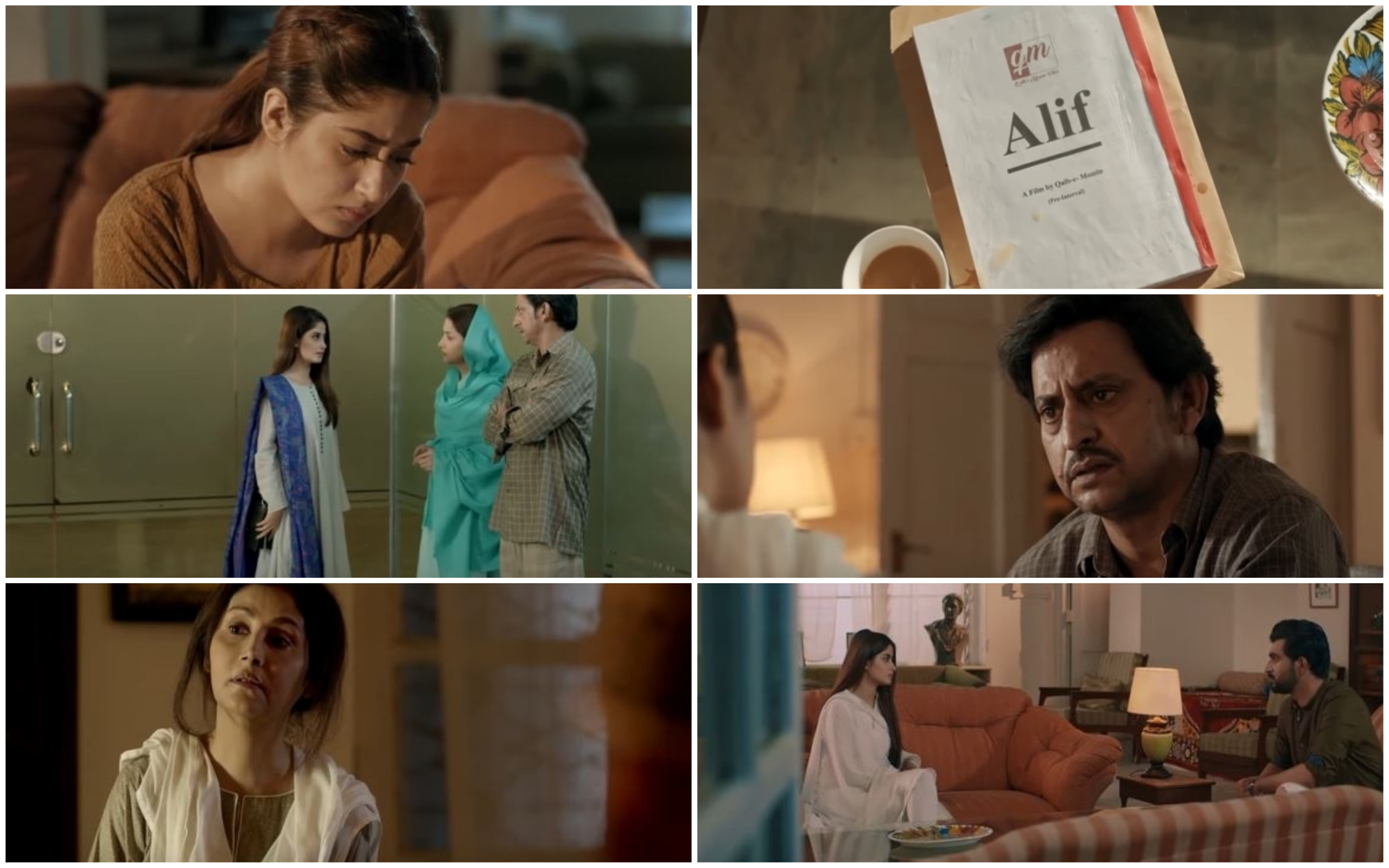 Qalb e Momin's Transition
The way Hamza Ali Abbasi showcased the emotional & mental transition Qalb e Momin went through after losing Dada Jaan was absolutely phenomenal. Every step of the way, through his facial expressions, the dejection in his body language, even his eyes spoke how far he had come in just a few months after losing Abdul Alla. Qalb e Momin has changed, people around him can already feel it but he has yet to realize it. The same Qalb e Momin who would not speak to anyone nicely was now welcoming people in his personal space only because they were somehow associated to his Dada Jaan. I must say, the highlight of this entire episode for me was the short scene where Qalb e Momin was watching Momina's interview on TV. His minute expressions were beyond impressive. Qalb e Momin looked like a fan who was happy to see Momina on the TV & not only that, he was actually getting impressed by her maturity & wisdom which she displayed while answering all of the questions but then, Qalb e Momin was hit with a harsh reality. He was taken back & got a reminder of the time when he used to be ruthless. He actually felt miserable learning about Momina's brother & his demise. Qalb e Momin has slowly started realizing that he has hurt & probably crushed a lot of people in those days when he was ignorant & arrogant. His embarrassment & humility was evident. Brilliant performance by Hamza Ali Abbasi I must say!
The Past
Taha & Husn e Jahan. They had a dysfunctional marriage & what broke my heart was seeing young Momin being a part of the equation where he could see his parents in such a miserable mental & emotional state. Qalb e Momin was young but he was at such an impressionable age that he was picking up little details – he was compassionate enough to shed a tear when he saw his father disturbed. He was also observant enough to see that his mother's demeanor had changed too. In those disturbing scenes which showed two people struggling hard, young Momin's presence was not only sweet, it was heartwarming. He was trying to find happiness in such a place where there was nothing but emptiness & darkness. I felt for Momin a lot & knowing how these experiences have shaped Qalb e Momin's personality & life at this stage, I feel for him even more.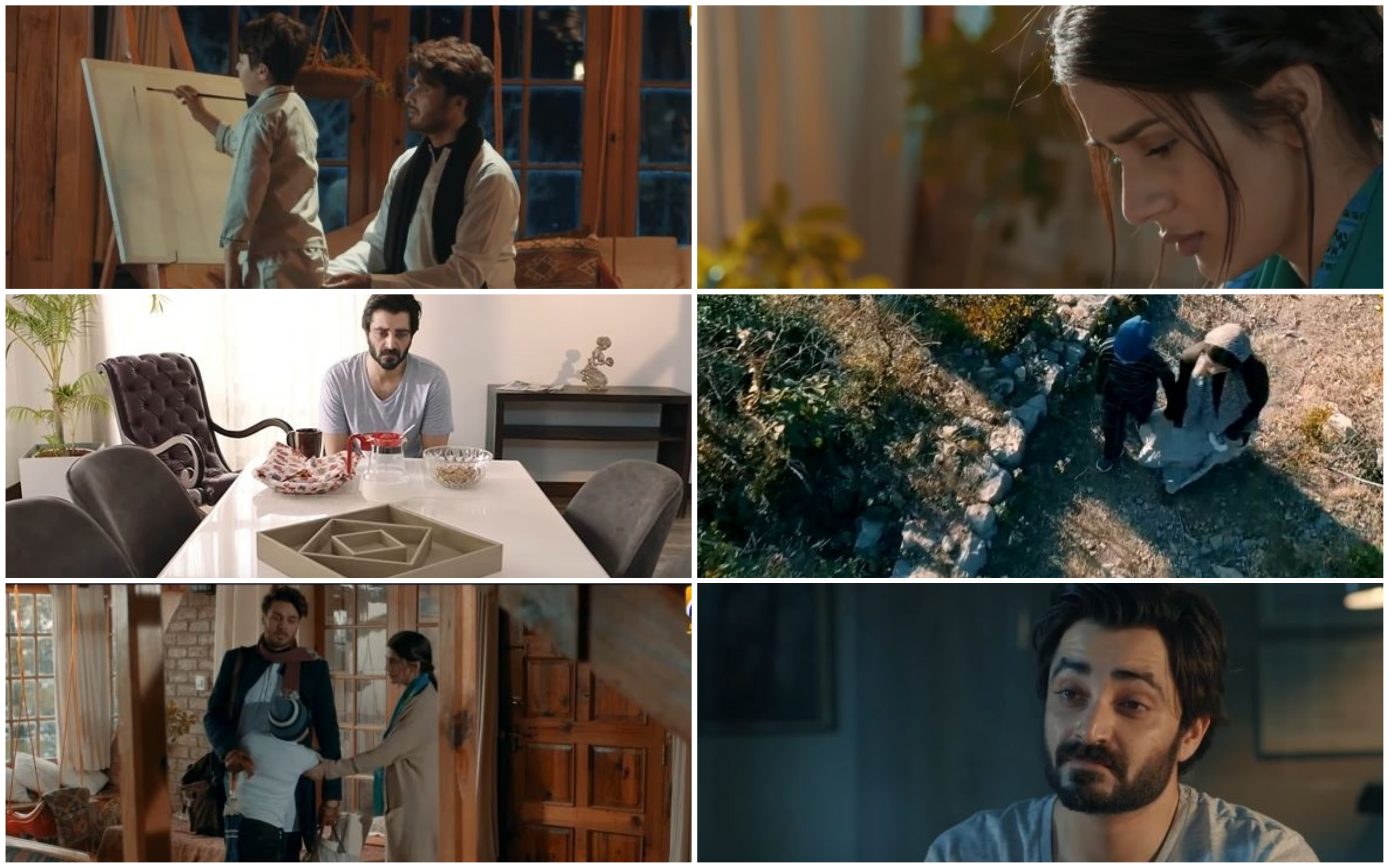 I am sure there are a lot of details that will be given out in the future episodes, but honestly speaking, I am not sure what to think of Taha's character. I am just wondering if he had behaved the same way if he had gotten married to anyone & not just Husn e Jahan? A wife in this situation would've been a distraction for him anyway, so because he was miserable himself, he held Husn e Jahan responsible for everything? I do understand his character; he was guilt-stricken that he had disappointed & estranged his father who loved him wholeheartedly, he was also struggling because his father chose not to forgive him when he sought his forgiveness. Taha was a victim too but then, calling his marriage to Husn e Jahan a mistake made me upset. He easily accused Husn e Jahan of cheating too just after he found out that she was in contact with Sultan. Why would he do that? Didn't Husn e Jahan prove herself to him enough, didn't she show him that she was loyal & had actually left everything behind? I found Taha to be rigid & unforgiving. Yes, he was fighting his own demons but holding his wife solely responsible for everything made me not appreciate his character as much as I would've loved to. Yes, he was flawed, he was weak, he was guilt-stricken & he was struggling but then, would he have behaved the same way if he had gotten married to anyone because eventually he'd had blamed his wife for not being able to concentrate on his calligraphy & losing his aesthetics & art? I feel for Husn e Jahan & Qalb e Momin more.
So, Momina started reading the script written by Qalb e Momin – Alif, 'ye kaisa naam hai'. In that moment, she had no idea that this script was going to change her life. She was going to learn so much more about her father than he had ever told her. The preview of the next episode was enthralling & I can not stop thinking about it. The way Sajal Aly depicted Momina's developing interest in the script immediately after she started reading it was another brilliant moment of this episode. Momina Sultan has no idea what she's about to get into. Qalb e Momin has definitely written a script based on the life of his parents, it sure is going to move everyone & touch everyone's hearts.
Beautiful Episode
This episode was absolutely beautiful. It was filled with such heart-touching moments. It was like a movie. I absolutely love the instrumental music they play in the background, it really doubles the charm & makes the drama-watching experience enjoyable. I must say, camera wise the best scene of this episode was the walk of Qalb e Momin & Husn e Jahan after he picked flowers for his mother. That scene was absolutely adorable & captured the unconditional love that a child has for his mother beautifully. This episode of Alif once again had some beautiful moments to its credit. Director Haseeb Hassan definitely deserves the credit for always adding so much detailing in every frame, every scene, every single episode of the drama. His visionary direction has made Alif what it is. Hamza Ali Abbasi, Sajal Aly, Ahsan Khan, Kubra Khan & Pehlaaj Hussain have been brilliant throughout. Special mention definitely goes to Pehlaaj Hussain for giving the young Qalb e Momin not only an adorable face but phenomenal & realistic portrayal. I am most certainly looking forward to the next episode, especially the confrontation of Momina & Sultan. Please share your thoughts about this beautiful episode of Alif.
Keep Supporting,
Cheers,
Zahra Mirza.