Ohkay so, this soulful episode of Alif covered different aspects of the story in a lot of detail. What I feel is the best part about all the episodes of Alif is that although they might come across slow-paced, but when taking a closer look, so much happens & they give us an insight into every character's thoughts & emotions, which is absolutely brilliant. This episode was no different; from emotional struggles to professional life, unveiling of secrets to coming to terms with the past, all the fronts were covered beautifully which has left me in awe of how brilliantly the story of Alif is being told. Strong direction, stronger script-writing & acting, everything works in perfect harmony to give Alif the status of a masterpiece.
The Deal
Momina was not only doing Momin a favor, she was doing herself a favor too. Being someone who knew exactly what the status of Abdul Ala & his art was, she could not see it being sold to anyone. The deal that Momin & Momina made was heart-warming. Momin made a promise to himself that he will get those paintings back & Momina felt relieved because she knew she succeeded in saving those artworks.
Highlight of This Episode
For me, the best part of this episode was Momin's emotional transition & how they showed his attachment to the artwork done by his grandfather. It was not like one fine day Momin woke up & realized he could not part with the paintings. I am so glad they showed us in great detail about all the things that ran through Momin's mind. Each & every painting had a story, a memory, a conversation behind it which was now helping Momin put things into perspective. It was not just the gifts that Abdul Ala gave to Qalb e Momin, in fact they all had a lesson, a food for thought, something that would help Momin reflect & introspect when he will try to mend his ways & this is exactly what was happening now. How realistically they have shown that when someone leaves, you are reminded of all the moments you have shared with them. This is what is happening with Momin too. Ever since Abdul Ala's death, he has not been able to get him out of his mind & as a result, he is reminded of all the meaningful & soul-stirring conversations he has had with him.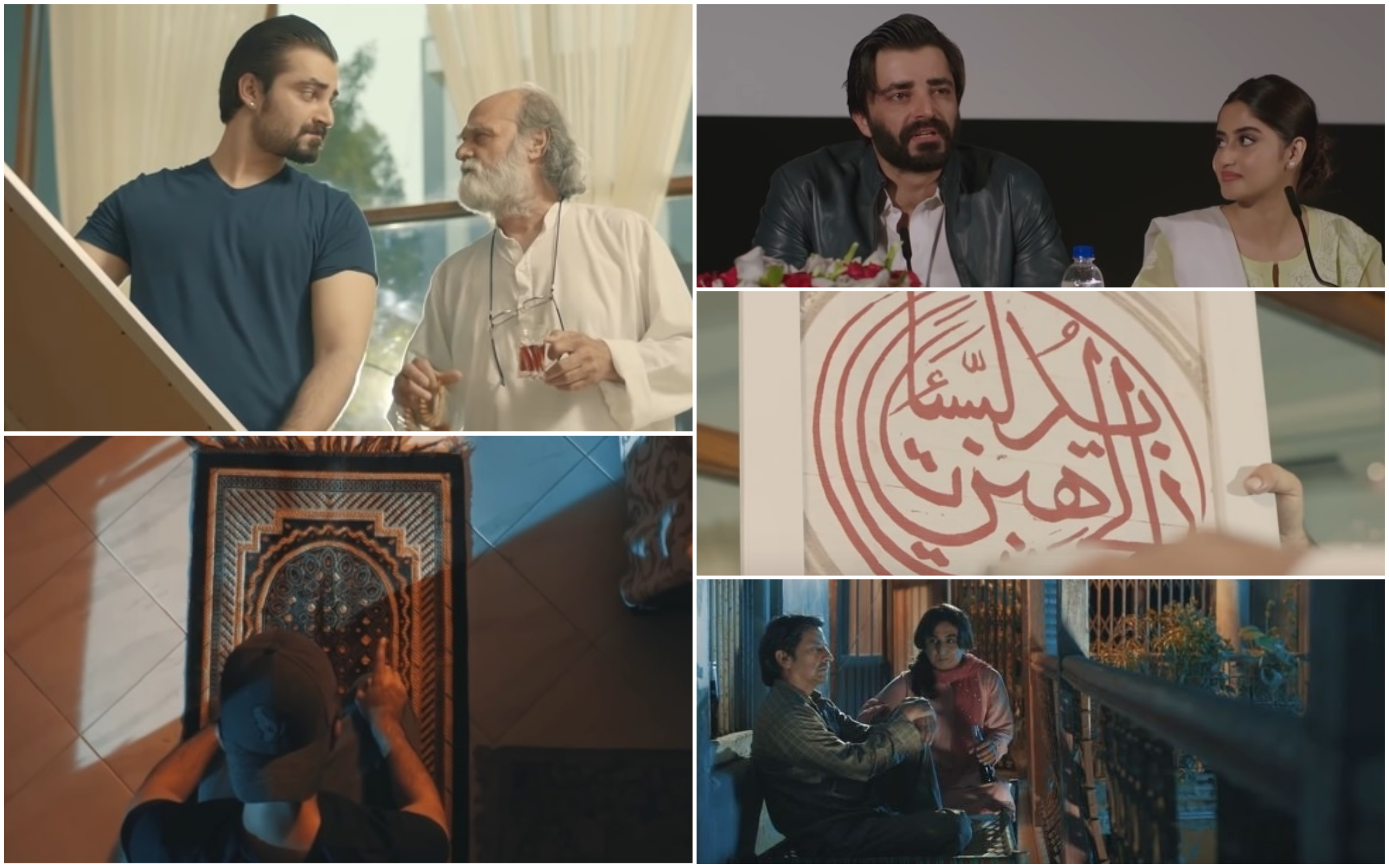 It was a brilliant execution of Momin's journey in those few scenes, which started of with him stepping into the industry, then getting the fame & success, but all this while Abdul Ala was there, trying to guide him, trying to keep him grounded & doing everything he could to keep him in touch with his roots. As Momin started achieving the success, the change in his attitude was not only obvious, but phenomenally captured in those few scenes. Now when Momin has hit the rock bottom, he has realized the superficiality of the industry he is associated with, the slow & steady realization of losing the track & trying hard to get back on it again, Momin was astounded when he realized that he had missed all those reminders given by his grandfather every step of the way. It was like Momin was getting to learn more about himself now than ever before. He was seeing his journey through Abdul Ala's eyes. This entire insight into Momin's emotional turmoil & realizations was the highlight of this episode & it made so much easier to understand why Momin was finding it difficult parting with these paintings. They actually are his assets which are irreplaceable.
Secrets Unveiled
Momina & Master Ibrahim's meeting was absolutely sweet. I loved the way Sajal Aly acted in that scene, she actually made it obvious that Momina had walked into Master Ibrahim's room for the first time because of the way she noticed everything around her, as if trying to grasp whatever she could, to learn more about him. She has so much respect for Master Ibrahim, therefore the awe as well as happiness was evident on her face. It was like she cherished the moment of stepping into her mentor's personal space because now she could talk to him about his life & experiences too. Momina finally got the clarification that Qalb e Momin actually is Abdul Ala's grandson, he is also Husn e Jahan's son too. Master Ibrahim grew uncomfortable but he knew he could not lie to Momina. At first I did not understand the disappointment that Momina felt but later it made a lot of sense that she felt for Momin because she knew her father has also played a part in ruining her life – at least this is what she thinks for now.
The Press Conference
The press conference was interesting. Once again, Momin was reminded that he has lost the position, the status that he used to have & now people were here because of one & only Momina Sultan. It was interesting how he took a backseat & let Momina deal with the questions because she not only defended the project but owned it like her own.. Momina did her part because she felt guilty & Momin has no idea what her reasons were. Momin actually was unsure of how to process everything because he was still unsure of letting go of his paintings & handing them over to Momina but when he saw her being honest & devoted to Alif, he felt at ease. It was like at that moment he felt that Dada Jaan's paintings were in safe hands & Momina will never let go of them. All of this was just conveyed through expressions & Hamza Ali Abbasi's performance was phenomenal. To convey so much without even uttering a word is not an easy feat but it is always a treat to see both Sajal & Hamza letting their eyes do the talking. Although I have not read the novel but I am so glad that Sajal & Hamza are playing the roles of Momin & Momina because it is their performance that is making it so easy to understand these characters & their struggles. Brilliant.
Another secret was unveiled in this episode that Husn e Jahan invited Sultan so she could give him her paintings. It was her desperate attempt to help her family & this was all she could think of. Maybe it was also Husn e Jahan's way of getting to know about her family because it had been 7 years since she left everything behind. Sultan made his intentions clear, he was in love with her, he was also waiting for her but Husn e Jahan had taken the role of being Taha's wife & Momin's mother gracefully. She could not, rather did not even think of leaving Taha. She was sincere, she was loyal, she was devoted to her husband.
Phenomenal Performances
This episode was brilliant. It was soulful & I absolutely loved all the conversations. Another cute moment was when Jhumar was trying to make Sultan smile. Some friendships are like that where people involved understand the struggles of their friends & without knowing the reasons, they try everything in their might to do something. Jhumar's scenes are always sweet, he breaks the monotony of sadness that Sultan has surrounded himself with, his energy is nice. Also, I am so glad we got to see Dada Jaan in this episode, it was like getting a good dose of his wisdom & beautiful advice. Hamza Ali Abbasi & Sajal Aly owned this episode, their acting was brilliant. I must say, whoever is responsible for the interiors of Qalb e Momin's place has done a fabulous job, it has to be one of the best decorated spaces I have seen in Pakistani dramas. The rest of the details are pretty much the same – brilliant dialogeus, brilliant acting, brilliant direction & editing. Editors of this drama are on some other level, the way they switch to the very next scene leaving the viewers curious & wanting for more is interesting. Please share your thoughts about this soulful episode of Alif.
Keep Supporting,
Cheers,
Zahra Mirza.