Opening Thoughts – Simply Beautiful:
Ohkay so, this was another beautiful episode of Alif. I feel I am falling short of words right now. It is absolutely amazing that the drama-makers have given the viewers such a drama which touches their heart. Umera Ahmed is Umera Ahmed for a reason, she knows what she is talking about. She knows what she wants to say & how to say it as well. I don't even remember how many times while watching this episode I felt a lump in my throat & found myself getting teary-eyed. They have portrayed emotions with such beauty & finesse that it sets Alif apart. What I love the most is that while they show people struggling in their lives, they always make sure to bring their emotions to the forefront & this is what strikes a chord every single time. Each & every scene of Alif is perfectly compiled where it has so much to show & offer. Hats off Team Alif for bringing such a perfect drama to the table!
Meaningful Conversations:
Abdul Alla & Master Ibrahim's meeting was one of my favorite scenes of this episode. It was detailed & just enough to let the viewers know where they met, what sort of relationship they share & the ship that Master Ibrahim has sailed in the past. I loved seeing how Momin's Dada Jee; Abdul Alla, after feeling helpless went to see Master Ibrahim & confided in him. It was like he needed this catharsis & because he could not bring himself to talk to Momin about all the things that bothered him, he decided to share it with the one who he knew will understand his feelings. Master Ibrahim was once a shoe designer, he was living his life to the fullest, making money being an artist but then, his life changed & Abdul Alla played a huge part in bringing him back to his roots. Master Ibrahim is still very much in touch with his artistic side but he has changed his direction & he is far more content & happy.
"Insaan ko har tarhaan ke raaste pe chalna hota hai, sirf seedhe raaste pe chal ke to koi apne Rabb tak nahi pohanchta", who would've said & known it better than Master Ibrahim. Abdul Alla also knows exactly what Ibrahim's life was before & how everything has changed, but yes, being a helpless grandfather who wants what's best for Momin, he could not help being worried. Momina & Abdul Alla saw each other. That brief moment was enough for Momina to know that he was someone very important for Master Ibrahim & she will later find out who he actually is.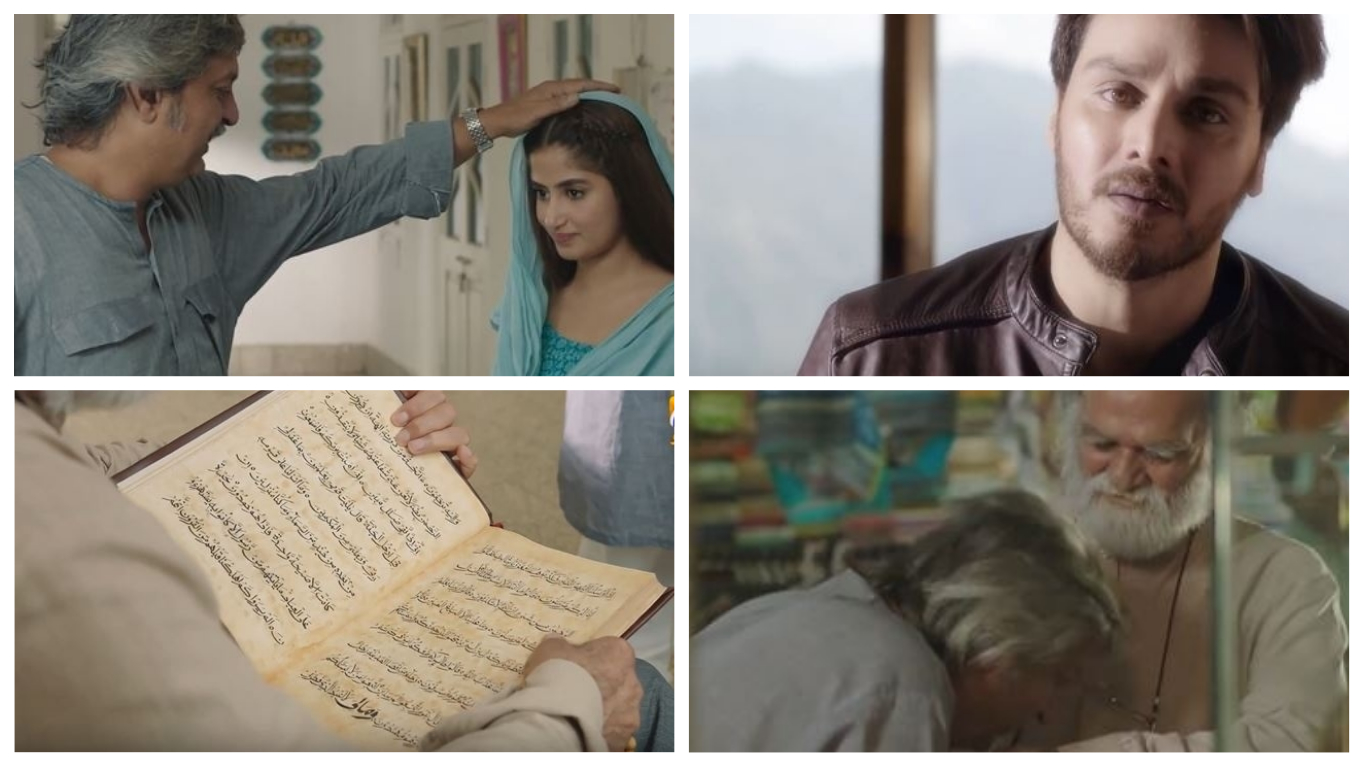 Momina & her friend's interaction was another beautiful moment of this episode. Her friend knows exactly how hard things are for Momina already, that is why she wanted to do something that would help Momina get to the auditions. Momina is talented & because life has not been favorable for her or her family, she underestimates her talent. Momina wants to, but she fears dreaming big & this was elaborated in the conversation that she had with Jahangir, still hoping to do soaps & dramas. It is beautiful how everyone around Momina sees the potential in her, they are always more confident than her. It explains how when circumstances are tough, the one going through the crisis stops seeing the skills which they have been blessed with. Momina lives in fear, she has so much running through her mind & that is why, she has let this fear overshadow everything else. Momina finally got selected & I really dread that a start of something great might in other terms turn out to be a huge personal loss for her? I so hope that does not happen though. Jahangir is the only driving force in her life, he encourages her, he motivates her, he is her brother, her friend, her partner in practice sessions – I hope nothing happens to him!
Momin was taken back to his childhood. I loved how it was explained that your circumstances in childhood shape your future. Momin grew up in a setting where he was very much aware of how he had to differentiate between right & wrong but because everything around him was what his definition of 'wrong' used to be, while despising it, he ended up doing all of that himself. Momin is being tested by the Creator & he has no idea. Young Momin saw his mother doing all that he never liked, he saw his mother dancing in front of men, he saw her spending time with strangers – Momin noticed all of that but his tender age did not allow him to see how helpless his mother was, how she didn't want to do all of it but she was being pushed. Another attention to detail that I enjoyed watching was how they showed that slowly & steadily Momin's clothing changed, everything around him changed – it was because Husn e Jahan decided to get back to work & then she started providing these luxuries for her family & child, while feeling dead inside.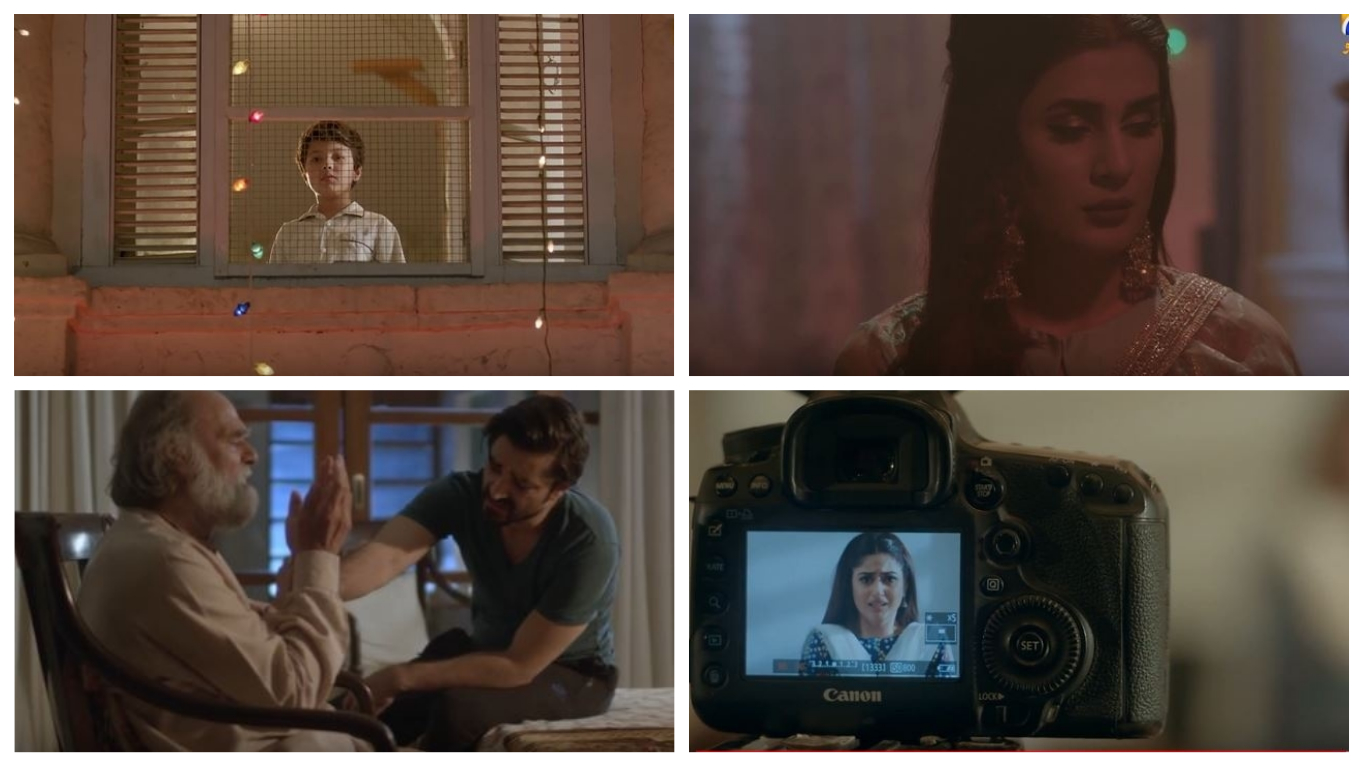 Momin was keen to find his answers & he was so sorted that he also had a plan of action set in case he did not get the reply from the Creator. Young Momin would have never thought that all the things that he said to his friends will end up being his future. Momin actually is upset, he is sad, he is not happy because Allah did not reply to his letters & then his surroundings played a huge part in turning him into this arrogant successful director of this age. All the scenes that covered younger Momin's ordeals & surroundings were brilliantly done. They actually did take us in the past & gave away all those details that were necessary to put things into perspective & complete the entire picture.
Abdul Alla prayed hard for Momin. They finally had a conversation & Momin thought he had all the winning arguments but his Dada obviously outbid him. For the first time Momin was forced to leave the argument & turn his back because even he did not have the answers to his Dada's questions. Momin is right, everyone knows him, his Dada is right too – Allah knows him. I loved loved loved the conversation they had about 'arrogance'. It highlighted the concept of projection, Momin saw exactly what he himself is in his Dada's argument – arrogance. It is a done deal that Abdul Alla must have left but he has made Momin curious. I am not sure if this is the reason why Abdul Alla used to seek Husn e Jahan's forgiveness – the flashback of Taha (Ahsan Khan) asking him the same question that Momin did about 'seedha raasta'? Is it that Abdul Alla did not approve of Taha & Husn e Jahan's marriage because Husn e Jahan was an actor & because Taha left, Abdul Alla felt guilty? I can not wait to find out the truth but oh yes, no spoilers please!
Neha & Momin's conversation was interesting too. Momin actually is emotionally invested in this relationship & he actually can not understand why Neha is being so pushy about Zufi? It was a minute expression but Hamza Ali Abbasi was phenomenal when he showed Momin finding it hard to believe that Neha was putting Zufi above him. He is Qalb e Momin, someone who is so used to being everyone's priority, the first, the one & only, that for a moment he could not really accept what was happening to him & that Neha was saying all these things to his face!
Closing Thoughts – Perfection:
This episode of Alif was nothing short of perfection. All the actors have breathed life into their characters & this drama is an experience in itself. While watching their exceptional performances, I always look out for those minute expressions & I enjoy them the most. Manzar Sehbai was the star of this episode for sure. The way he got overwhelmed at the thought of Momin being lost was absolutely brilliant. Saife Hassan in that scene was equally brilliant too. The way he normalizes himself when Momina walks in was such a treat to watch. Sajal Ali was absolutely adorable as the underconfident Momina who was finding it hard to believe that she got selected. She also felt a little shy at the fact that she was in a 4-star hotel, it was all so amazing to see. Oh yes, her audition scene was another highlight of this episode, what a performer! Pehlaaj Hassan is another breath of fresh air in this drama – his scenes are heavy but his innocence gives so much relief. Pehlaaj Hassan has played the role of younger Momin with such finesse that both him & Haseeb Hassan deserve credit for getting such kind of acting channeled out.
I loved Qalb e Momin's winning speech where he was thanking himself for the hard work, Hamza Ali Abbasi has nailed Qalb e Momin's arrogance. That scene was so perfect & amusing where Qalb e Momin was showing off his victory & Abdul Alla left thinking it wasn't worth his time. Kubra Khan looked gorgeous in this episode but yes, I loved her in those scenes more where she was with her son, being his mother. The supporting actors are doing a wonderful job too, Sadaf Kanwal & the actor playing the role of Momina's friend are really good as well. This episode was absolutely beautiful. Umera Ahmed has written some brilliant dialogues – every single conversation is so meaningful which depicts the inner struggles of a believer with such clarity, simply amazing! Haseeb Hassan definitely should be very proud of himself for directing Alif so brilliantly. When the time comes, it won't be wrong for Haseeb Hassan to thank himself for such an amazing direction – just like Qalb e Momin did, lol! Please share your thoughts about this episode of Alif.
Keep Supporting,
Cheers,
Zahra Mirza.