App Ke Liye – Episode 05!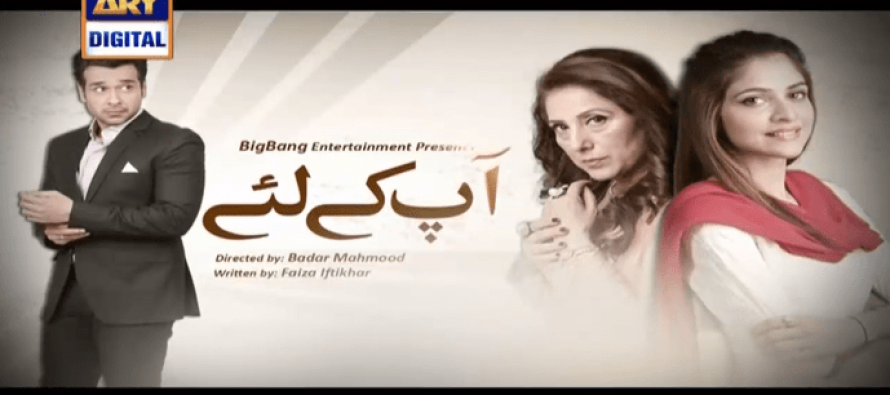 Ohkay so, this episode of App Ke Liye was good, but I am definitely more interested in the Washma's side of the story & drama than Nishat's side of the story. I know these tracks will get interlinked in the episodes that are yet to come but I still feel I will be rooting to see more of Washma than anyone else in this drama.
Nishat has made up her mind that she is going to get Areesha married to Intezaar Hussain (what a name I must say), but I find her so lifeless & so so so faarigh that she keeps on weaving one plan after another in her mind, without even thinking what others might have to say about it, especially those whose life she is gambling with. Looks like Shaheer is not enough for her that now she is after Areesha but I am glad that Areesha has her brain in mint condition, that is why she can read between the lines & has deciphered Nishat's mind-games too, that is why she is going to give her a run for her money & won't allow her to ruin her life. I actually found Nishat & Imdaad's scenes a bit too over-stretched unnecessarily & also when Nishat told Imdaad about her plan regarding Areesha & Intezaar's marriage, then the way she told him to stop Intezaar from coming to Karachi didn't really make much sense & it looked like that scene was just added to fill in some empty time of the episode. Even though the drama is still in its early stages but Nishat & Imdaad are already looking like fillers & that makes it hard to sit through their scenes.
It was quite good to see that Washma finally found out all the details about Omar & going by what she told, Omar looks like an eligible bachelor that Areesha will lead a happy life with. I must say, I love the mind-set of the brothers in this drama because they are wise enough to give benefit of the doubt to their sisters & they also believe in giving them the freedom to choose their life partners. Shaheer is far more open minded & easy going than Nishat Apa because he not only is considering Areesha's request of meeting Omar but like a concerned brother he is doing his side of the job by getting a background check done on him to be content with his sister's decision.
I loved Waheed's reaction after spotting Washma with Shaheer. He definitely was over the moon & he was too impressed with Shaheer's personality & not only that, he was actually quite impressed that Washma left Arsalan for a guy like Shaheer. The way Waheed showed excitement about Washma's relationship with Shaheer went to show that even he knew that Arsalan wasn't good enough for Washma & his sister deserved better. I think Maryam is annoying like anything & I really hope she snaps out of her fixation with her brother's broken engagement with Washma because she is another filler & quite an annoying one at that.
Shaheer & Washma have definitely become friends in a very short amount of time & Shaheer finds her as someone who he can trust because he has not only told her about his personal life issues but he has also confided in her about his family matters too. Washma is definitely someone who puts up a facade of being a carefree happy-go-lucky sort of a girl but yes, she is just as much in touch with her emotional side as any other person might be, that is why, in seclusion she is seen pondering over the problems that have arose after her decision of calling her engagement off with Arsalan. Washma actually feels bad to see the relationship of her brother & his wife hitting the rock bottom & not only that, she feels guilty because their relation is suffering because of her & that is the reason why she showed up at Arsalan's door step like a mayhem & caught him off-guard. Washma knows she has to do some damage control & that is why she ended up asking Shaheer for such a huge favor where he should leave such an impression that Waheed rejects him. I am sure as ridiculous as this plan might sound to Shaheer, Washma will talk him into it because she is the sort of a person who will do anything to amend relationships & bring peace in others lives & I can't wait to see what more she has to offer!
Overall, this episode was pretty decent & I enjoyed watching Washma & Shaheer's side of the story. Nishat, Imdaad & Maryam are quite typical fillers & I think we need more characters because their character weigh down the drama with their typicality & 'been there, seen that' sort of a feel attached to them. Also, I must say, the way the characters shift from right to left & vice versa on my TV screen makes me feel like I am watching a tennis match & the characters look like tennis ball & jokes apart it makes it way too tiring for the eyes to follow them. I really wish the director & the cameraman hadn't done that because it really is bothersome. Anyways, I must say, I really really liked Saife Hassan's acting in this episode, especially when he shares his appeasement with his sister & gives her his blessings. I am glad that the writer has added some very non-typical brothers in this story, it is refreshing to see for sure. Anyways, please share your thoughts about this episode of App Ke Liye.
Keep Supporting,
Cheers,
Zahra Mirza.
Zahra Mirza
The one who starts her reviews with 'Ohkay so'. ;)
---