This episode covered all the tracks in the story therefore it was much better than the previous few episodes which focused entirely on Kanwal's failed attempts to start a singing/modeling career. Tonight's episode opened with Kanwal swallowing her pride and asking Goher for an apology. Kanwal's changed attitude made perfect sense – she had now realized that she could only get "work" and earn money if she accepted Goher as her boss and did exactly what she was asked to do. She was however once again disappointed when Goher did not pay her as generously as he did before. The reason for this was obvious – he had "invested" a lot in her and did not get the returns he was hoping for initially and most importantly before Goher needed Kanwal to work with him but this time around she needs him more than he needs her. Goher knows that he doesn't have to go the extra mile to win this girl over therefore he did not pay her as much as he did the last time she worked with him. This entire development was covered convincingly. Saba Qamar translated the change in Kanwal's approach flawlessly on screen and Khalid Malik has been acting brilliantly too. The actor playing Goher's role is also performing brilliantly, definitely looking forward to watching him in more dramas.
Ruby and Abid's track was a perfect example of what goes around comes around. Ruby thought Abid will never cheat on her but he has started treating her the way he was treating Fauzia when he was having an affair with Ruby. While it was good to see Ruby paying for what she had done, I couldn't help but wonder if Abid was ever going to pay for his mistakes as well! Ali Kazmi and the actress playing Ruby's role nailed this scene. This episode also covered the financial problems Kanwal's parents were facing which will probably be the basic reason why, they will ultimately start relying on her for financial assistance.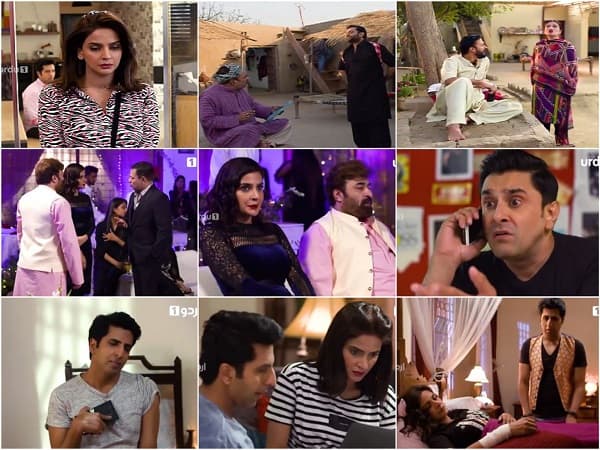 Once again a lot of screen time was given to Kanwal's interactions with her "clients" which I felt was rather unnecessary. Kanwal's changed attitude towards her "work" could have been covered in a short scene as well. Saba Qamar's makeover in this particular scene wasn't up to the mark at all. Yasir Nawaz's acting however was the most interesting part of this particular development. Kanwal's conversation with Salman once again showed that she didn't want negative attention. This is one aspect of Kanwal's personality which is not in line with Qandeel Baloch's actual personality since from her very first appearance on television she was looking for attention – it didn't really matter what kind of attention it was! Being unorthodox was Qandeel's USP and she knew that – she sold her weirdness because it worked best for her and also because that was her only "talent" yet Kanwal has been shown as someone who is not looking for such attention.
15 episodes later Fauzia has a different name and a new identity but she is still struggling. In this episode she found out that getting attention on social media was far more easy than turning to electronic media to get attention. Now that she knows that Goher will not be paying her enough money she will look for other ways to earn money.
Overall, this was a much better episode and there were some scenes which were touching but as a whole Kanwal's story doesn't have a lot going for it since she is one of those many victimized female protagonists we have seen on screen a million times before too!!
How many of you watched this episode? Don't forget to share your thoughts about it.