Tonight's episode of Baaghi yet again showed how Kanwal Baloch continued to find ways to become a "star" but failed to do so. Basically, the viewers are being shown that Kanwal is living two completely different lives, she has 'real' struggles to deal with while she isn't faking a different personality when she is on social media. She is not being allowed to listen to her son's voice even and she is not getting the kind of work she wants. So far, the attention she is getting is negative, something she doesn't like since she is still looking for acceptance. Like every other episode of Baaghi, this one too had plenty of scenes which could have been chopped down. There is no denying the fact that Saba Qamar is an amazing actress but making her copy Qandeel Baloch to an extent that some of the scenes actually look like a parody wasn't a wise decision! Sitting through these scenes was tough since there wasn't anything even remotely likeable about this side of Kanwal's personality. This was the first episode in which the writer (reluctantly) showed Kanwal resorting to shortcuts for getting attention but it was primarily due to the advices her friend gave her which once again exempted Kanwal Baloch of all responsibility!
One of the many reasons why I find it really hard to connect to this character is that although this woman left her house and has been on her own for so long yet she has always been shown as an innocent and naive individual who has no idea what the consequences of her actions would be. Kanwal could have been shown as a street smart woman who planned these things on her own. I have always felt that in an attempt to make people around her responsible for whatever she has done since day one the writer has failed to give Kanwal a definite personality. Also, there has been absolutely no character development so far – when will this baghawat start? Although Kanwal has a more modern outlook now but she isn't half as strong as she was when she was Fauzia Batool. The dialogues and conversation about people being hypocrites was another attempt to make Kanwal Baloch look like a dhood ki dhuli hui bechari aurat – a portrayal which very often clashes with everything Kanwal has done so far! I find it really hard to see her as someone who is struggling to earn a living.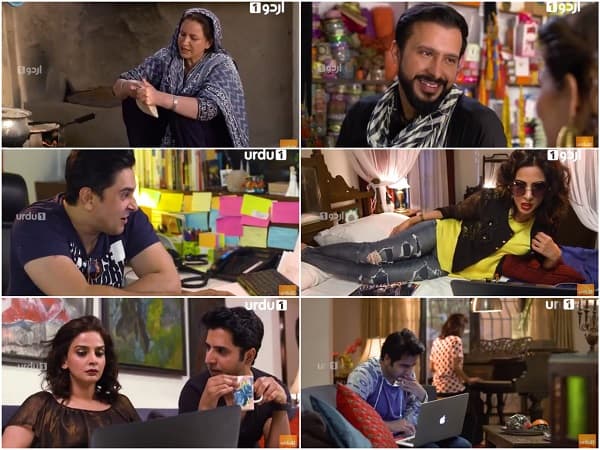 Abid's character unfortunately is just as one-dimensional as that of Kanwal and his scenes are highly repetitive. This episode followed the same pattern as the previous episode, most of the episode was dedicated to Kanwal, a scene which showed Abid showing his true colors, another scene in which Kanwal's brother was smoking and one which showed how Kanwal's family was struggling financially. The scenes covering Kanwal's facebook videos were painfully long and didn't add much to the story. So far this drama also promotes the ultimate cliché that there are hardly any good men in the world!! Will Osman Khalid Butt's character be the first positive male character in the drama? I sure do hope so! At this point I am sick and tired of watching Kanwal's weirdness as well as her rona dhona! She was a bechari as Fauzia and now she an even bigger bechari as Kanwal!
How many of you watched this episode? Don't forget to share your thoughts about it.