This was yet another episode of Baaghi which showed multiple people trying to exploit Kanwal Baloch's "fame". Kanwal Baloch has been shown as someone who has great pride and believes in working hard even though she is getting fame from her facebook videos but that particular shortcut is also been shown as something she does to "vent out". Therefore it can safely be concluded that Kanwal never made these videos to get famous but she made them to share her views with anyone who is interested in hearing them! However, her get-up for her "special appearance" on social media and her body language etc somehow does not count as cheap tactics to get fame! I have always felt that the writer has tried extra hard not only to make a victim out of this character but is also constantly making excuses for Qandeel Baloch! In a way the writer is justifying her actions by showing that she was never looking for the kind of attention she got and also proving that she was a really naive girl who didn't know the first thing about being diplomatic.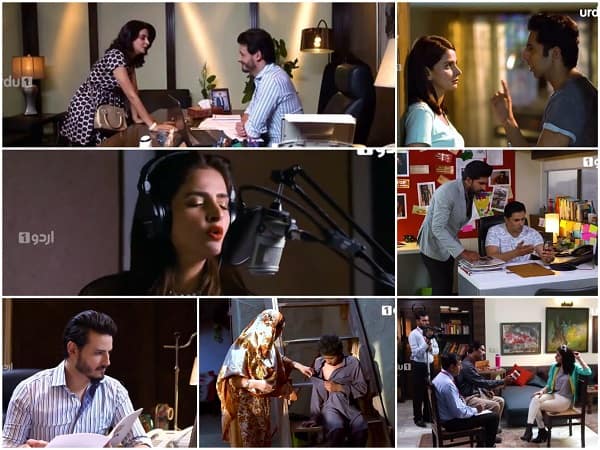 Kanwal Baloch's meeting with those people who came to interview her was the biggest joke! Someone who has been trying so hard to get into the industry should have jumped at the opportunity to meet someone who could possibly help her in furthering her career. Kanwal Baloch's response to the call however was casual and her attitude with those people even more careless. Basically, everything we have seen so far prove that Kanwal speaks her mind and holds her self-respect very dear yet she isn't out there looking for a real job yet she can afford a fairly decent lifestyle!
Kanwal's brother yet again got into a fight because of her appearance on television this time around. Even though Kanwal left her family a long time back but she is influencing her family in more ways than one. Everything has drastically changed and her family is in dire need of money…something which has been shown over and over again! Yes, we get the message, can we please move on? The preview of the next episode suggested that her family will need money more than ever and that is probably why she will eventually accept that offer from Goher!
Shehryar's character turned out to be a "dude in distress"! It is disappointing to see Osman Khalid Butt being typecast in these bechara roles. Shehryar has his own dukhi background therefore he isn't a knight in shining armor but someone who also needs saving!
The story is going around in circles and the drama is extremely slow paced. The scenes covering Kanwal's journey and her track in general is highly repetitive. Right from the beginning Baaghi's script has been too plain, the characters are unappealing and the story lacks depth and vision. No amount of star power can make up for a weak script and poor characterizations.