Just like every other episode of Baaghi the viewers were not only shown what a perfect daughter and sister Kanwal was but different characters in the play kept on reasserting this notion repeatedly. So, I hope everyone out there watching this show has learned the lesson we were taught in this episode – daughters like Kanwal are a blessing – this would mean that all those women out there who are using unethical means to help their families financially are heroes about whom books should be written and a biopic should be dedicated to each one of them! However those daughters of the soil like Marium Mukhtiar for instance do not deserve anything more than a telefilm and there are so many more who actually are role models and did a great deal and I hope that some day our drama makers will be making biopic about them too! Once again, Kanwal's sole concern was her father and in order to make Kanwal look like a perfect human being everyone else around her was yet again transformed into either a hypocrite or a manipulator!
The fact that this story doesn't have substance is also apparent from the way this drama is being promoted. For the longest time Osman Khalid Butt's entry was used as a "bait" and this time around Qandeel Baloch's controversial dance video was used as a way to attract the viewers. The developments in the story have hardly been used to attract the viewers so that they would tune into the show. Irfan Khoosat, Saba Faisal and Nadia Afghan's performances were remarkable in this episode. Saba Qamar is a little too casual now and her character is predictable and boring. Shehryar was shown worrying sick about Kanwal in every single scene and although he feels attracted towards Kanwal but he is confused for obvious reasons. Kanwal likes him but she has more important things in life to worry about which is probably the reason why she has completely forgotten about her son as well!!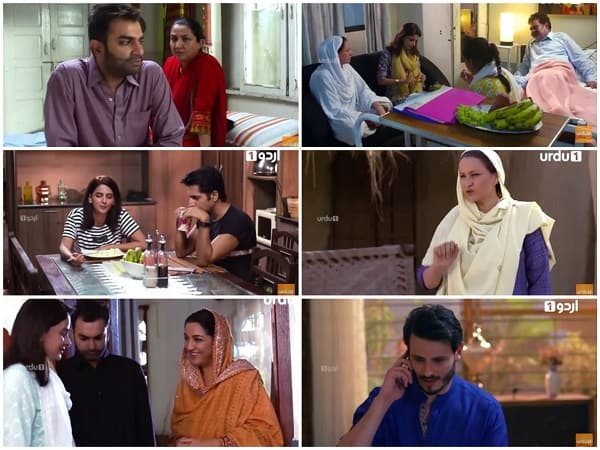 Once again this episode showed that Kanwal was forced into doing something she didn't agree with and she is more than willing to do whatever she needs to do to earn money because apparently there is nothing wrong with it as long as she is doing all of it to help her parents! All of a sudden Kanwal's actions have been justified more than before and Kanwal isn't even enjoying the "celebrity status" and the money she is getting as a result! As far as I remember, the writer said that there was going to be a lesson in this drama and they were not going to glorify Qandeel Baloch in any way but so far there are no lessons and they are most certainly glorifying Qandeel Baloch as well.
All I can say is that I have seen much better dramas which covered the problems girls who support their families face, Thakan was one such drama in which Saba Qamar played the lead. It had a much better storyline, the characters were far more appealing and the producers didn't use any shortcuts to get ratings. Also, Saba Qamar has played more solid roles in her career, her role as Kanwal Baloch is surely not the highlight of her career! Even though I never had huge expectations from this drama but even then it has been a terrible disappointment in more ways than one.