Baba Jani Episode 5 Story Review – Tonight's episode of Baba Jani marked the beginning of a new life for Asfand. This beginning was simple and smooth even though Asfand's sisters did whatever they could to make things complicated. Asfand waited for his sisters and his special day was incomplete without them but he was ecstatic to finally share his life with Sadia. Asfand is wiser today than he was few years back but he is still as loving as he was before.
This New Beginning Meant Something Different For Everyone
In tonight's episode the viewers saw how Asfand and Sadia's marriage had a different meaning for everyone involved, directly or indirectly. For Asfand this marriage meant stability and the way he looked at Sadia suggested it was also like a dream come true for him. Asfand did not see a sick and frail woman in Sadia, he saw someone he eagerly wanted to spend the rest of his life with. Asfand has been shown as someone who takes relationships very seriously therefore he started working on his relationship in his own way right from the very first interaction he had with Sadia. He is also someone who does not expect much from anyone and believes in giving more but at the same time likes to be pampered. The breakfast scene showed just that!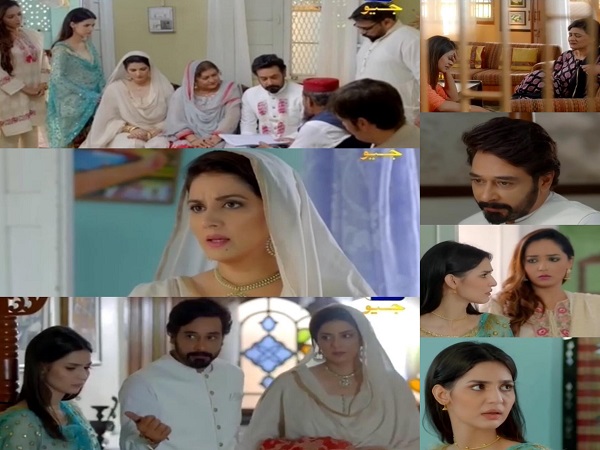 For Sadia, Asfand's concern and his personality overall turned out to be a pleasant surprise. She molded herself in this new role instantly and just like Asfand she showed her affection towards him by doing whatever she could. At the same time, she conveyed her happiness and gratitude with her smiles. Nimra did not welcome this change in her life and like any other youngster she did not accept Asfand as her step-father. Nimra's love for her father and her lack of acceptance of this situation was shown through different scenes. She walked away and was upset when the nikkah was taking place, she also clung to her belongings because she found it difficult to accept this change. She cried herself to sleep later on and refused to go with Asfand and her mother for dinner. Nimra was shown as a teenager who was angry, upset and confused. Sadia on the other hand was shown as a practical woman who knew that this marriage and a husband like Asfand was the best solution to her problems. Naila decided to pay her brother and bhabhi a visit only after her husband reminded her that if Najiba accepts the bhabhi first, Naila will feel left out. Najiba on the other hand stayed stubborn right till the end of this episode. Her stance was aggressive and her confrontation with Khala ended up making Asfand even more angry.
Asfand and Mehwish's Meeting
This was something most of the viewers were waiting to see and some of them were wondering if this would lead to something more. This meeting was written and executed well. This was a chance meeting and one in which there were no such references to the past which would make it look like either one of these characters were still in love with each other. Mehwish was angry for obvious reasons and Asfand handled the situation like a gentleman.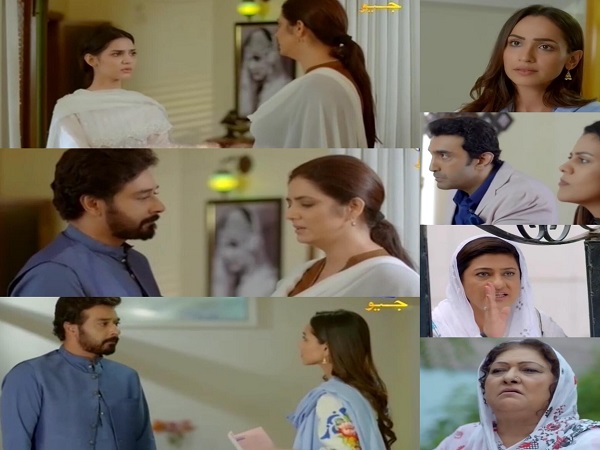 Performances and Dialogues
The performances tonight were realistic and on point. The styling and the makeovers in this drama too have always been natural and pleasing. Savera Nadeem looked radiant as a bride which was somewhat unconvincing since she is someone who has been fighting a really serious disease for a long time now. Savera Nadeem and Faysal Qureshi's expressions tonight said more than any of their dialogues did. The way these two individuals felt about each other was more obvious from the way they looked at each other than anything else. Madiha Imam was also brilliant in all the scenes. I do feel however that Sadia and Nimra have had hardly any interaction. Their relationship has not been explored which is why there are times when you feel like a background or introduction is missing. The dialogues in this episode were simple but affective. There were no filler scenes in tonight's episode, the editing was perfect which resulted in a seamless narrative.
Overall Impression
The simplicity and clarity with which the story has been presented so far has been the number one reason why Baba Jani continues to be a must-watch drama. The subject matter is brand new and it has been presented in a visually pleasing manner on screen. The lighting, camerawork and styling has been perfect. Faysal Qureshi has been faultless as the good-natured, forgiving and graceful male protagonist. Baba Jani offers something different and it does so with love!