Baba Jani Episode 6 Story Review – Tonight's episode of Baba Jani had more than its fair share of nand bhabhi issues. Although the bhabhi has been shown as the wise one in this relationship but even then there was nothing even remotely likable about the family politics. Asfand's relationship with Sadia and Nimra was the highlight of this episode but Naila and Najiba completely overshadowed them because of the screen time they got.
Where Is Nasir?
Asfand and his relationship with the people who actually value him has been the best part of this drama but this episode focused more on how Najiba and Naila intervened in Asfand's life more than anything else. Nasir was a positive person in Asfand's life who balanced out the sisters' negativity and who was introduced as an important character but he was completely missing from this episode and had nominal role to play in the last episode. His wife was there for Asfand but her husband wasn't – something which did not make a lot of sense. Asfand's scenes with Nasir always showed a different side of his personality since he was with someone he did not have to look out for but it was always the reverse. He was shown as someone who did not want anything in return for his friendship and concern therefore it was really important that he should have been part of every episode. Also, there should have been at least one more scene in which Asfand tried to get in touch with his khala again. Although Mehwish told him off the last time he went to see his khala but even then someone like Asfand would surely try harder to look after her since he partially blamed himself for what happened to her.
Asfand and Umair's Meeting
The dubbing was terribly off in the scene covering Asfand's meeting with Umair, this scene was more like a scene from the dubbed Turkish plays and definitely not the best part of this episode. Najiba's character so far has nothing new to offer. She wants her brother all to herself and is not the one to sit back and watch someone else enjoy Asfand's wealth or his attention. While Najiba does not keep her feelings to herself, Naila does not reveal how she feels about Sadia in front of her brother. Their "tactics" are different but the characters and their motives are pretty much the same. Najeeba said to Asfand tonight that he was not old enough to play the "role" he wanted to play in Nimra's life – something which is probably going to be the main objection in the upcoming episodes as well.
Change in Nimra's behavior
The change in Nimra's behavior has been covered convincingly. She is taking her time warming up to her step-father and with this episode she opened up a little. Madiha Imam has done a brilliant job of translating Nimra's hesitation, her distant behavior and her anger flawlessly on-screen.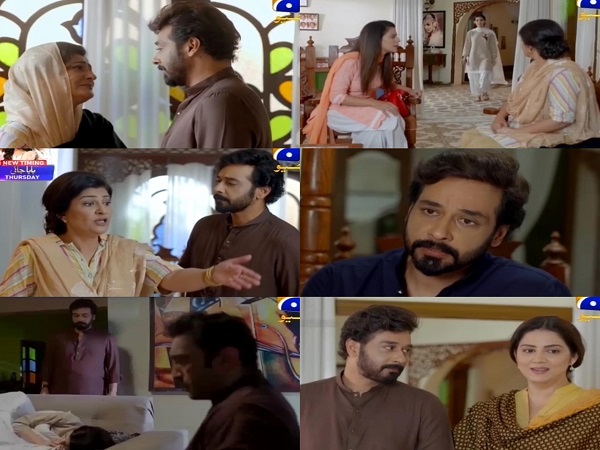 Overall Impression
Asfand's character is undoubtedly the most refreshing part of this drama. Asfand's scenes with Sadia and Nimra are always touching but in this episode Najiba and Naila's characters stood out more than anything else. There were some scenes tonight in which Sadia and Asfand both said exactly what the viewers wanted them to say. When Sadia said to Asfand that she was still having a difficult time believing that all of this was actually happening and Asfand shared why he felt exact the same way was one such scene. The scene in which Asfand said to Sadia that he knew that Najeeba must have said something to her was also such a scene which once again showed that he knew what his sister was capable of doing but he chose to forgive her every single time. Faysal Qureshi is extremely likable as Asfand and I am looking forward to the time when the story will focus more on his relationship with his step-daughter.
This wasn't the best episode of Baba Jani but this drama overall has been different and convincing so far therefore I am pretty hopeful that it will only get better in the upcoming weeks.