Baba Jani Episode 8 Story Review – The story is gradually moving forward with every passing episode and Asfand's relationship with Nimra and Sadia continues to be the most appealing aspect of the drama. Asfand's character never disappoints but the supporting characters do not have the kind of presence or impact which could make their tracks more enticing.
Saqib Moves In With Asfand
Tonight's episode opened with Saqib blackmailing his way into Asfand's house. Asfand is over-conscientiousness which is why he offered help when Saqib narrated his majbooris to him. Asfand's sisters and their families know how to manipulate him only too well. Asfand is not naive but at the same time he cannot turn a blind eye to his sister's problems. He is dutiful and has certain principles and he is convinced that even after everything he has done for his sisters, he owes them more.
Asfand's vulnerabilities and the extent to which he goes to accommodate others can sometimes be frustrating to watch but you always understand why he is like that. His back story and his thinking has been shown in a convincing manner therefore his actions are always relatable. Tonight when he chose to tell Saqib off rather politely even though he knew what Saqib was doing, it wasn't the most satisfying reaction, but definitely one which was completely in line with his character.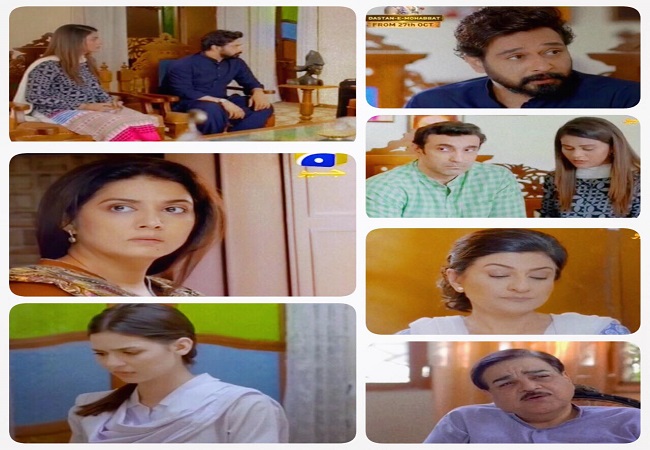 Asfand Supports Sadia and Nimra In His Own Way
The way Asfand supported both Nimra and Sadia was touching yet subtle. He does not like confrontations and gives everyone benefit of the doubt. This is the reason why he chose to show Sadia he cared by telling her he will wait for her when she got up from the dinner table after Saqib's taunt. He also noticed that Nimra was not mingling with anyone in the house and something was bothering her. Later on, when he saw Saqib upstairs he decided that leaving Nimra alone with him would be a bad idea. Most importantly his conversation with Nimra was one of the best parts of this episode. I must say that it would have been so much better if Nimra and Asfand had more scenes together.
Asfand's Meeting With Farida Khala
Asfand finally met Farida Khala. This meeting was long over due! Everything Farida Khala told Asfand brought back memories. He obviously felt responsible for how Mehwish ended up especially because Khala also mentioned that her marriage was delayed because of Asfand. The flashback scene showed why Asfand was feeling so guilty and why he was so upset.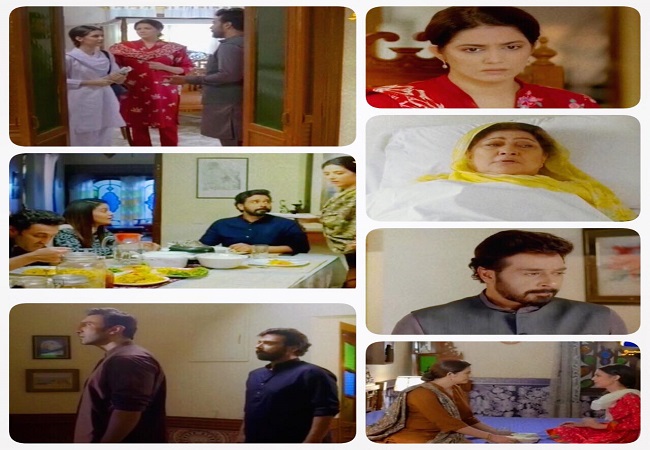 Naila's Conversation With Sadia
Naila did what she does best when she tried to convince Sadia that Asfand was still in love with Mehwish. She also praised Mehwish over and over again and enjoyed playing on Sadia's insecurities. For the first time it seemed like Sadia really was disturbed and doubtful. Some of Sadia's reactions tonight also showed that she was more expressive and confident now.
Will Asfand Try To "Save" Mehwish?
How can someone like Asfand live with the fact that someone he once loved is unhappy now partially because of him? It is highly likely that Asfand will try to save Mehwish and will do something to get her out of this situation.
Performances and Direction
The performances were on point tonight. Faysal Qureshi, Madiha Imam and Savera Nadeem are brilliant in their respective roles. Sundas Tariq is also performing superbly. Saba Hameed is doing justice to her character but her character has nothing new to offer ever, it is the same thing over and over again! Naila's character is slightly more interesting than that of Najiba's because her actions have been affecting Asfand's life in some way or the other.
The first few episodes were directed and edited brilliantly but lately the scenes do not have the kind of flow which keeps you glued to your television screen. Also, the scene in the hospital was not impressive since there was no basic medical equipment around. Khala Farida made an appearance after weeks and that too was highly unconvincing.
Final Thoughts
This episode had one of the most important developments in the story to its credit. The family politics tends to be tedious to sit through especially when the scenes are repetitive but Asfand's track is interesting enough to keep you coming back for more. The fact that Nasir is completely out of the picture is impossible to ignore and a big flaw in the narrative.
Fatima Awan