Baba Jani Episode 9 Story Review – Asfand continues to be a one-of-a-kind hero who is wise and caring at the same time. Asfand's sisters on the other hand get on your nerves, Najiba is more annoying than everyone else and her scenes can easily be forwarded because they are more or less the same in every episode.
Sadia, Nimra and Asfand's Heart-Warming Relationship
The relationship these three individuals share is touching and their scenes are a treat to watch. Nimra is gradually getting more comfortable around Asfand. The way Asfand showed his love for Nimra was sweet and the manner in which Sadia thanked him every time was also really nice. Savera Nadeem's expressions were brilliant in this episode because there were so many scenes in which she had to express how Sadia was feeling through her expressions. So far, Sadia has been shown as an intelligent woman but she also seems to be falling for Naila's trap. Naila understand that a woman in Sadia's situation will naturally have a lot of insecurities therefore she is doing whatever she can to trigger them. Sadia has also been shown as a simple woman therefore she will in the next episode do what Naila asked her to. Once again, I hope Asfand's reaction will prove to be the reason why her confidence is restored. Asfand, Sadia and Nimra's relationship dynamics have been covered convincingly in all these episodes. Sadia and Asfand both are likeable characters and it is not difficult to understand Nimra's situation. Madiha Imam is absolutely brilliant in this role and Faysal Qureshi has done complete justice to his character as well.
More Family Politics
The family politics in this drama continues to be the same in every episode. The sisters keep on coming up with new plans to prove to Asfand that Sadia is not as sincere with him as he thinks. Their scenes should have been chopped down. Asfand's reactions however are always a breath of fresh air. We continuously watch leading men in dramas being manipulated by either their mothers, sisters or wives therefore watching a man who has learned his lesson and does not fall for the manipulation is definitely pleasing to watch. The fact that Asfand wasn't always like this and he learned from his mistake makes his character more human as well as likable. Najiba once again tried to create a misunderstanding between Asfand and Sadia, it did seem like perhaps this time Asfand will fall for the trap but on the other hand he once again showed that he was capable of judging scenarios himself.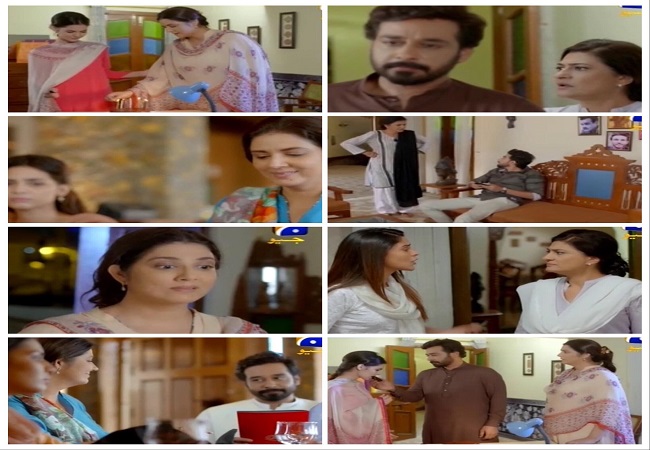 The Weak Points
The timeline was seriously confusing in this episode. Did it cover an entire day or two days? It was difficult to understand when the birthday started and at what time it ended. Apart from this, Najiba's scenes really should be chopped down because they are highly repetitive. The scene in the restaurant could have been shot more convincingly because it looked like they were all sitting in someone's dining area. The phone call to Nasir looked "fake" – impossible to connect to – since he has been completely missing in the past few weeks.
The Strengths
Baba Jani is not faultless but it definitely deserves due credit for showing a man in a different light, that is its main strength and the reason why I tune into this drama every week. Usually the writers use a foolish and gullible hero as an easy way to take the story forward therefore I truly appreciate the fact that Baba Jani offers something completely different and does so convincingly. Savera Nadeem and Faisal Qureshi look great together and their character too are extremely likable. I was not expecting Savera Nadeem's role in the drama to be so substantial therefore that has really been a pleasant surprise. I also feel that the real story has not even started yet, it will start when Asfand has to take up the role of Baba Jani for good. Mehwish will return in Asfand's life at some point, that is also something to look forward to especially because Asfand blames himself now for ruining her life. Looking forward to watching what this drama has in store for us!
The Preview
The preview of the next episode showed that Sadia decides to get a makeover and her sister in laws make fun of her. It also showed Saqib harassing Nimra – will Asfand finally put his foot down and ask Saqib to leave?