This third episode of Bakhtawar was fast-paced just like the previous two. It covered a few days in Bakhtu's life and ended with an incident that might just prove to be a complete game changer for the protagonist. Zaviyar Nauman's character was also introduced in this episode but it is evident by now that Yumna Zaidi/Bakhtawar is the star of this show. Everything and everyone else is simply going to be an extension or addition to the main track so far that seems to be the case. The name Bakhtawar and the character's journey so far have great contradictions; I am sure this is not coincidental. The girl whose name implies that she would have great luck supporting her throughout her life is swimming against the tide ever since the drama started. She continues to be determined but she has her weak moments as well. Bakhtawar's dialogues in this particular episode truly stood out.
Bakhtawar's story is difficult to "believe" even for someone who knows it is inspired by true events. Since this story is novel and does not only show how difficult it is for women to live and breathe freely but also highlights that even as a man life is not a bed of roses. This novelty coupled with impressive performances makes Bakhtawar a must-watch even though at times the execution of some of the scenes and developments is not as convincing as you would want it to be.
Change of Identity
The opening scene of this 3rd episode was the perfect beginning to an episode that was both entertaining and meaningful, overall. Bakhtawar's response to her mother when she started crying went to show the mindset with which Bakhtawar was raised. The dialogue Ansoo tu betiyun walun ke muqaddar mein likhe hote hein, tm bete ki maa ho tumhein kabhi rona nahin pare ga said a great deal not just about this character but unfortunately it is also a statement that holds true for a majority of the people in reality as well. I found it rather surprising that Bakhtawar was more than willing and ready to go outside and face the world immediately after this transition. What we saw in the previous episode suggested that Bakhtawar's decision to live her life with this new identity was impulsive. Therefore even though her frame of mind was shown subtly through suppressed tears, the sudden confidence did not work for me. This was one aspect of the story that shouldn't have been covered in haste. Since Bakhtawar did not plan all this beforehand or at least the viewers were not shown that she did, her new wardrobe was also a mystery. Having said that, Bakhtawar's story resonated on so many levels as the episode progressed and the troubles she faced with her new identity were shown realistically.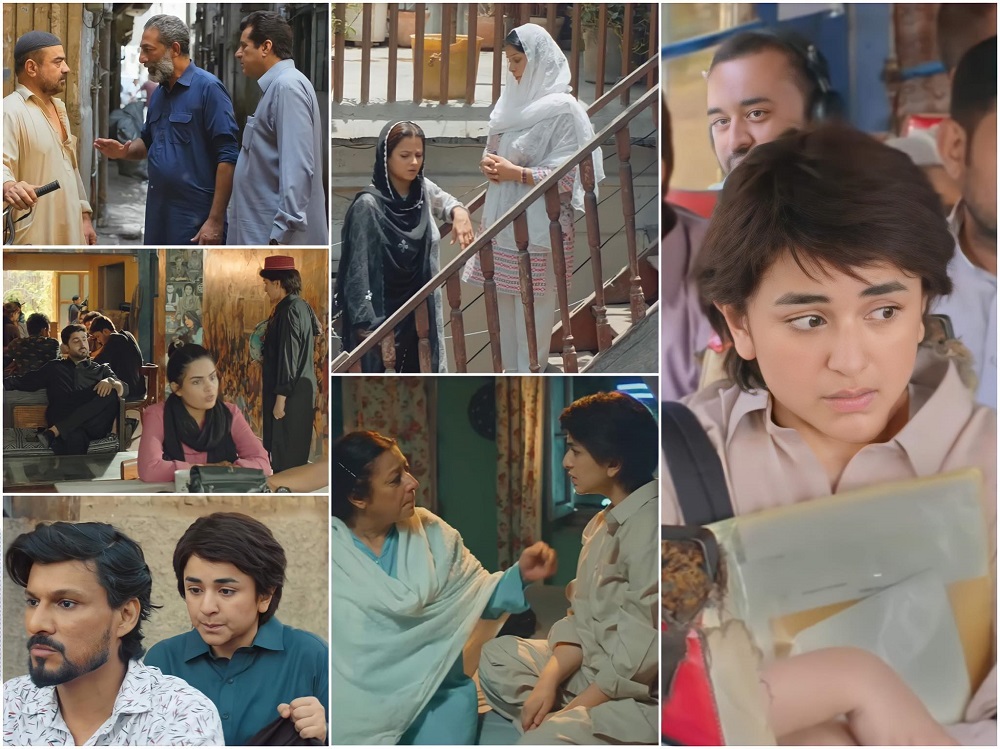 At first, the transition brought with it the kind of confidence that Bakhtawar couldn't display while she was living her life as a female. However, as the story progressed, the downside of this transition was also shown. She was offered jobs that were meant for men and she had a really difficult time fitting in with the male crowd. This was such a remarkable way of showing the kind of peer pressure men face and how they are forced to do certain things because of their gender. Men are expected to toughen up and be rebellious otherwise they don't fit in the crowd, especially at such a young age. One of the unconvincing elements of this episode was Bakhtawar's new 'friend' taking her to a place that was meant for the rich. However, this turned out to be a turning point for Bakhtawar who had more realistic expectations now after being rejected by multiple employers. She was clearly disappointed but knew that she had to start working in order to earn a living.
Bakhtawar's mamu's search for her and the close call added a thrilling aspect to the story. There is a constant threat that he might find them and all of this could end which makes this story exciting. Bakhtawar's scenes with her mother were acted out so well that I found myself looking forward to them. Huma Nawab is exceptional as the soft and terrified mother who has enough faith in her daughter to let her make all these choices. Yumna Zaidi carried herself so well throughout this episode and she did especially well in scenes when Bakhtu had to face situations that were brand new and made her uncomfortable.
Zaviyar Nauman's character was introduced at the end of this episode as an affluent young man who lived most of his life abroad but came back to live in Pakistan. The viewers got to know a little bit about his character through Iqbal bhai. The dramatic events that followed went to show that this particular track will also be moving forward at a fast pace.
Final Remarks
This latest episode of Bakhtawar was not 'perfect' but it was meaningful, entertaining, and fast-paced. We have watched many dramas which highlight the problems faced by women in a man's world but this story gives a completely different spin to that particular storyline. Bakhtawar has my undivided attention. I am looking forward to watching how the story will be taken forward in the upcoming episodes. We have a protagonist with tons of potential therefore even though some of the dynamics might not be executed in a perfect manner; her story holds your interest.
Are you watching Bakhtawar? Share your views.