Opening Thoughts – Stuck In A Rut:
This episode of Balaa didn't really take the story forward but focused on how the dynamics of Taimoor's household changed because of Nigar. I do understand that they are showing everything for a reason but I find things too unconvincing especially Shama's blindness & forced innocence. I hope to see a shift in the scenario & I also hope they don't drag Nigar's mental superiority for too long!
Nigar's Evil Mind Games:
Nigar knows Shama in & out that is why she is exploiting her innocence to the fullest. We all know Nigar is evil but then there is no fun in the game considering how Shama is deliberately getting exploited at the hands of Nigar herself. Yes, it is good that Shama wants Taimoor to be happy & have a normal relationship with Nigar but then she knows Nigar enough to calculate that everything that she says is not as simple as it sounds.
Nigar came up with a plan of pushing Shama away from Taimoor & Shama obediently obliged? It didn't even make sense to be honest. Yes, Shama is respecting the boundaries that Nigar is setting but then Nigar is not a stranger for Shama to not really understand what she is trying to achieve? Everyone in that family including Taimoor was aware of Nigar & her nature before they got married so how come Taimoor isn't able to figure out that the difference in Shama's attitude could be because of Nigar? It could be her doing? Taimoor has spent a lifetime with his mother to know that she will never say or do anything to emotionally upset him or anyone else for that matter so yes, seeing Nigar running a puppet show & Shama acting like her puppet is not too exciting!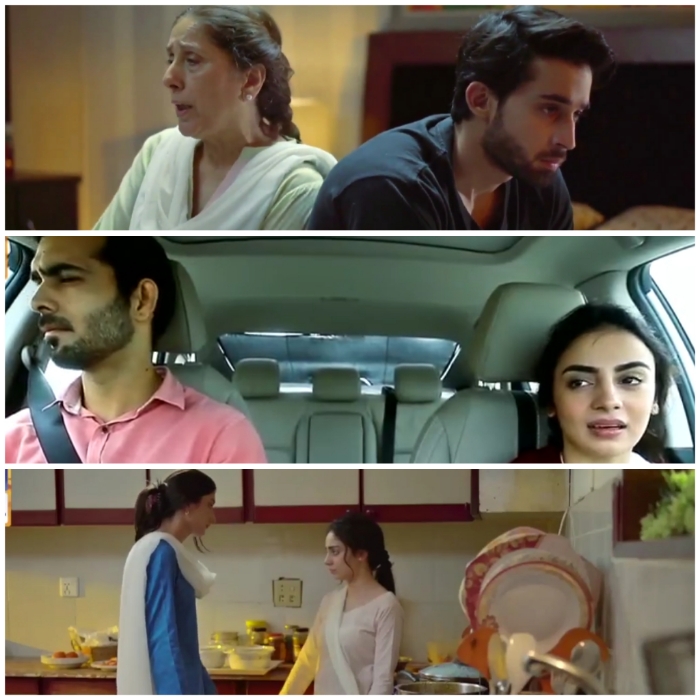 Batool is the only sane one in this family because she sees Nigar for who she is but even Batool isn't saying anything. Batool could see that Shama was disturbed, she was upset but even Batool didn't bother talking to Taimoor to put things into perspective.
Shama pushed Taimoor away on Nigar's suggestion, she also scolded Nigar in front of Taimoor that too on Nigar's suggestion, but even then Nigar made an issue about laundry so I guess that should have acted like lightbulb moment for Shama that despite doing everything as per her wishes, Nigar is adamant on ruining the atmosphere & dynamics of the house so she should back-track a little & analyse things before becoming too submissive. I wish Batool opens up & tells Taimoor the reality because like she said, she knows that Shama is only going to suffer in the end by agreeing to everything that Nigar is demanding from her.
It is obvious that Batool will probably get rejected by the mother of the guy she likes & then she will have no choice than to get married to Junaid. I didn't feel anything for Shama to be honest because she dealt with Zafar & Nigar enough to know that they will only create issues for her & her family so now to see her getting distressed wasn't striking any chord!
Closing Thoughts – Scenario Should Change:
Overall, this episode of Balaa despite being decently executed didn't do much in terms of story. I would like it more if they show someone counter-arguing Nigar & Shama not just giving into everything that her daughter in law says. The acting of everyone & the direction is spot on though. Please share your thoughts about this episode of Balaa.
Keep Supporting,
Cheers,
Zahra Mirza.