Opening Thoughts – What's The Point:
Ohkay so, this episode of Dil Mom Ka Diya had nothing special to offer. It is becoming monotonous to the core. We get it, Ulfat is evil but what are they trying to convey & portray? Is the story ever going to move forward & are they ever going to show us the humane side of Ulfat? While watching this episode, the only question that I had on my mind was 'what's the point'?
Ulfat Is Evil & Everyone Else Is Annoying:
So, they literally took a whole new episode to finally reveal the truth that Afzal actually hit Ulfat & then like always, he was feeling guilty. Afzal has always felt apologetic even when he was not wrong so now he had a genuine reason to be apologetic so there was nothing new in this scenario as well.
The editing of Dil Mom Ka Diya has been quite choppy which really takes the flow & continuity of the situations away. When the baby girl was born, Salma named her Afza in front of Ulfat & now all of a sudden, they showed that after eavesdropping on Afzal & his niece, Ulfat found out that it was Salma who named her baby? As if Ulfat was not present there & in fact even Afzal was making excuses saying some Molvi Sahab suggested that name, trying to cover up? Nonsensical situation. Again, I am not sure what they are trying to suggest by showing Ulfat's cold & indifferent attitude towards her daughter especially!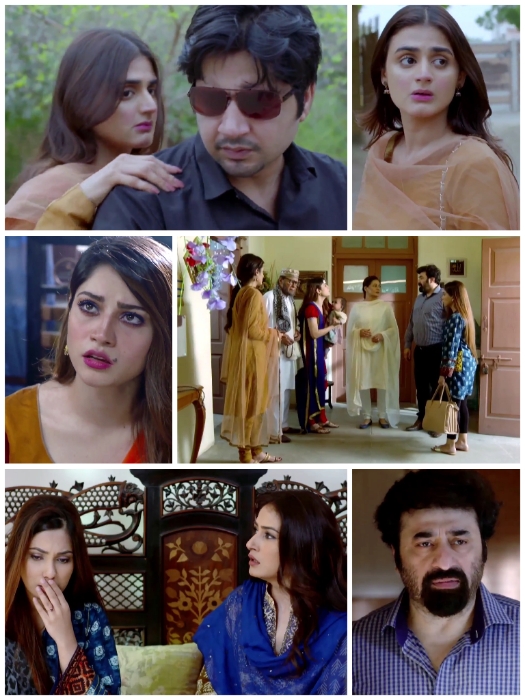 This episode of Dil Mom Ka Diya started on such a bizarre note where sweet Tamkinat & sweeter Azhar had a spat that too over Ulfat & Afzal? Just does not make any sense whatsoever. Also, the entire situation of Azhar demanding an explanation about Tamkinat's former engagement & she not telling him was dragged. If it would have been Aqmal, things would have still made some sense ke chalo he doesn't live in that house to actually know how evil Ulfat is but for Azhar to trust Ulfat & fall prey to her trap absolutely made me question his sensibility. Also, Tamkinat aur Azhar kitnayyyyyy sweeeet hain na I mean I am saying this in a good sense but still their utterly butterly sweetness was giving me a toothache. Can they both ever talk to each other without glycerine tears in their eyes? Too much hi ho gaya hai matlab!!!
To be honest, next time if I make a list of annoying parents, Ulfat's parents are going to top that list with flying colors. Seeing the amount of input Ulfat's father has in her life-long blunders makes me think it wouldn't have changed anything if they had suggested that he didn't recover from his heart attack after getting Ulfat married to Afzal in the hospital because Molvi Sahab's character has been of no use anyways. Similarly, Ulfat's mother is another gone-case who told Tamkinat that she will speak to Azhar but when he came & she stopped her, the mum didn't utter a single word. Yes, in this episode she did give Ulfat a piece of her mind but then that much is so not enough for someone as evil as Ulfat. Also, when Tamkinat insulted Ulfat rightly so, her mum was the first person to snub Tamkinat? Seriously!?!
Well, Salma is another annoying character in this drama. The way she nit picks on every single thing that's related to Ulfat suggests that she has no life of her own & as if that wasn't enough that she has now started targetting Tamkinat as well. Also, didn't she get to do her armaan puray on Afzal's wedding that now when Azhar wanted a short & simple wedding, she again opened the box of her adhooray armaan? What an annoying character!
Farhat's character is such a déjà vu. This girl was dying to get married in Ishq Tamasha & was showing the same eagerness that she is now showing in Dil Mom Ka Diya, also not to forget the typical eye rolling included. I totally believe that Alizeh Shah is beautiful but she needs to choose better or different characters, playing choti behan desperate for shaadi at a tender age is not doing her any good – she is capable of so mucj more!
Closing Thoughts – Nonsensical:
This episode of Dil Mom Ka Diya didn't work for me & going by the preview, I am not sure seeing another heart attack will make things work either. Also, to show Ulfat doing something so extreme on her own whim is just too much. I am not really sure what the writer has achieved by adding all of this in her script – ratings or what? Nonsensical. Anyways, please share your thoughts about this episode of Dil Mom Ka Diya.
Keep Supporting,
Cheers,
Zahra Mirza.