OMG! Before saying anything, I think it's my duty to show concern to the viewers of this play & the readers of this review for their sense of hearing, because the level of screaming that has happened in the last couple of episodes was enough to deafen the whole mankind & even I feel my eardrums are hurting severely & my eyes are sore by looking at that spotlight as it has pierced the pupil of my eye. So, my dear readers, can you hear me? & if you can, please excuse me for my harsh language as this team certainly deserves some lukewarm water soaked kainchee chappals.
Adil was clearly missing wearing suits & stammering in front of Bashar like a slave, that's why he went back to being his old spineless self where he happily signed the deal & in literal sense, used his sister as an object to get back what he had lost. He thought he could afford losing his sister but not his non-existent hair & that is why the moment Rudaba's rukhsati was decided, Adil got the grass on his head back, showing the sense of satisfaction he gets by being a puppy that wags his tail in front of his master. I really don't understand why did he pull up a show of being a khud-dar bhai when he clearly lacked substance? When Adil knew he cannot fight with Bashar, then what was the drama for? To drag the actual drama? In the end he muttered like he was eating a paan & was a second away from spitting the red stream produced by it, out of his mouth. Yukh!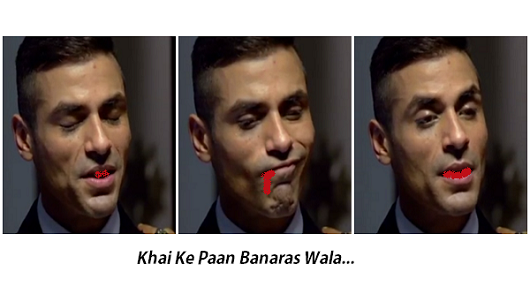 Oh, so this was the 'secret' the team was holding onto & for which they wasted 23 episodes to reveal what made Bashar such a Baji. Looks like the drama-makers really got inspired by the proverb which goes like 'khoda pahar, nikla chuha, wo bhi mara hua' because I am sorry, I was waiting for something big & thought something serious might've happened in the past but to see his mother being (sorry to be using the term) characterless, didn't stir an iota of sympathy for him & his whole family. Now I know why they all are such a buzzkill when it comes to love because it clearly runs in the family & just as their mother was jinxed at love, they all inherited that jinxed-at-love gene. To see the whole episode dedicated to the single conversation of father & son was such a yawn provoker because we're past that stage where we might've felt something, tiniest little something for this family but just because his mother couldn't hold her horses & unhain burhapay mai ashiqui soojhi thi, it just doesn't justify Bashar's inhumanity.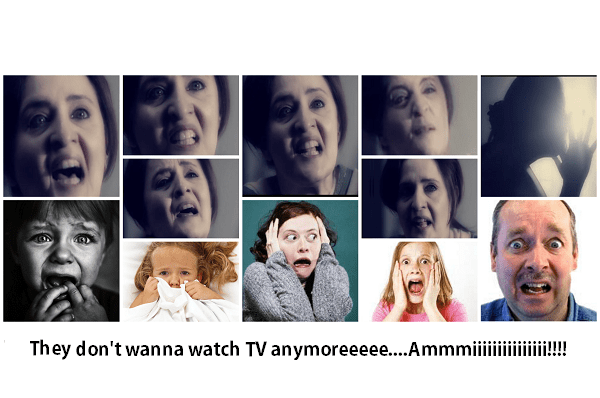 Bashar's father brain fed him into marrying someone who'd have a clean & pure heart but also he made sure to let him know that he should never get married to someone who had been involved in a relationship before, but Bashar being Bashar chose to ignore the latter advice as he believed in the former because no matter what, he thinks Rudaba has a clean heart, that's why even though he didn't want to get married to her, he still gave it a shot because this move also saved Tayyaba's life, so he thought it would be the best thing to kill two birds with one stone plus he does have a soft corner for Rudaba may be because he fell in love with her the moment he laid eyes on her.
Uff, as much as I want to feel something for Rudaba, her bad acting & equally bad expressions don't let me. It looks like her acting is imprisoned & trapped in her stomach & when she tries to bring it out, her stomach hurts; therefore we get to see those expressions that give us stomach cramps as well. To be honest, I think after such a bad acting & more of a bad-kismat, she should open a bottle of rat-kill & chug it down her throat because there's a limit to being such an annoyance & I mean isn't she tired of being one?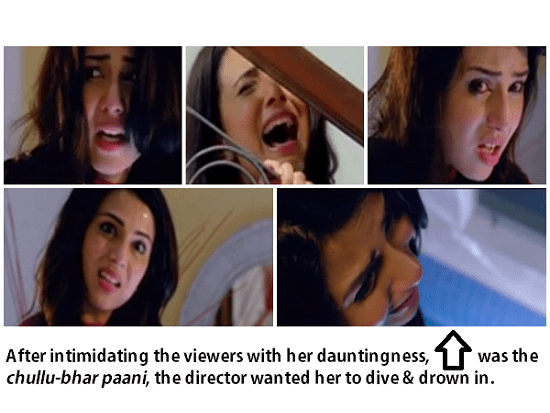 I am not sure but all the yells, shouts, screams & shrieks were painful to listen to. Like they say, raising your voice doesn't really prove you right & looks like by this time around, the team had understood that they weren't heading in the right direction, that's why they resorted to maximum volume all of them could produce but too bad, it still didn't do ANYTHING to save them from churning out a disaster. & yes, thanks to all those weird angles & extreme macro-shots I was able see their bloodless veins, not sure if the director decides to go more up-close & personal, we might end up seeing their nose boogers too. Pathetic is one word that comes to my mind for this drama right now. Share your thoughts please.
Keep Supporting,
Cheers,
Zahra Mirza.
PS: