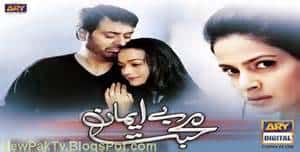 A few of our readers insisted on expanding our drama review section. So I'll be reviewing the drama Bay Emaan Mohabbat going forward. Written by Amir Raza and directed by Kashif Nisar and Sohail Irfan, the drama airs every Sunday on ARY Digital. We're six weeks into the drama already and till now we've established three main tracks. The first revolves around Dania (Saba Qamar) who's engaged to a man she loathes- Naeem (Adnan Shah Tipu). Dania belongs to a middle class background but dreams of living a luxurious life. Naeem is a simpleton who's biggest achievement was getting engaged to Dania. He's a lowly clerk in a government office and Dania hates everything about him. She constantly expresses her dissatisfaction to her mother (Laila Zuberi) but her mother tries to make her understand that she too had to settle for a man like her father since she belonged to a middle class family and one of the main struggles was finding a suitable spouse.
Despite her engagement, Dania is having an affair with her next-door neighbour Babar (Agha Ali). Babar is a frustrated, good-for-nothing guy who was coerced into getting engaged to his older cousin, Sobia (Uzma Hassan). Sobia happens to be Dania's best friend and confides every little intimate detail to her. Dania uses the information to her advantage to continue her affair with Babar. Babar scoffs at Sobia every chance he gets, in an attempt to make her hate him so she would call of the engagement since he doesn't have the guts to do so.
The final track is that of Maria (Samiya Mumtaz)- a blind lady who has inherited her father's enormous wealth. She is married to an opportunist, Nabeel (Nauman Ejaz) who runs her business for her. They have been married a long time but are childless. Nabeel is cheating on Maria with his co-worker who is a social climber. Maria suspects her husband is unfaithful and has hired a private detective to snoop around.
In the recent episode, Naeem has secured a part-time evening job at Nabeel's organization so this is probably how their lives will intertwine in the coming episodes. Bay Emaan Mohabbat is a simple story about desires and the outcomes of those desires. So far, it's progressing at a steady pace and although there are no real WOW factors, it's engaging nonetheless. To put it simply- Love, Life, Lahore!
Have you been watching Bay Emaan Mohabbat? What character do you like/ dislike? Do you think you'll continue watching it till the end?
Your in watching,
Kanwal Murtaza